The history of our Italian packaging machines.
Everything began in 1969 when Francesco Torre was working on the first packaging machines and oven projects, in his small workshop; among these, the first shrink wrapping machine with chamber was born, already compact and monobloc, perfect for small shops and handicraft shops.
In the wake of the success, in 1982 minipack®-torre s.r.l. (LLP) was founded and shortly after became minipack®-torre S.p.A. (LTD), and from this moment thanks to the production of Italian automatic and non-automatic packaging machines, the range increased: external suction and vacuum packaging machines with chamber were developed. Today, the automatic machines offer includes:
Vacuum sealers
Shrink wrapping machines
Sleeve wrappers
Today: Italian automatic 4.0 compliant packaging machines
Today, the best Italian automatic packaging machines have different recognised and shared features. For example, their level of automation contributes to a higher operator safety; the operation constantly calibrated and controlled by a computer system allows technicians to avoid heavy and repetitive operations, optimising costs and time required for the production.
Since some automatic packaging machines of the Pratika line of minipack®-torre satisfy these, and other, requirements, they were certified 4.0 compliant: exemplary models of the 4.0 Industry.
All-Italian range of automatic packaging machines
The Italian automatic packaging machines of our line are designed for the needs of large industrial companies, for processing laboratories or large-scale food businesses. Let's see some of them.
Automatic shrink wrapping machines
The Pratika line includes all the automatic packaging machines with heat-shrink film:
Pratika 55 Smart is small and compact with integrated shrink oven. The "come back" to the operator option ensures that the pack runs on the belt until it returns to its initial position, within easy reach of the operator.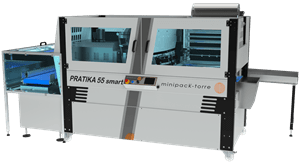 Whereas, Pratika 80-T MPS is the biggest of the range. It is able to pack products up to 700x360 mm in continuous sealing, with a rate of 3000 pieces per hour. It is Made in Italy with an international heart: electric and electronic components are valuable Schneider-Electric.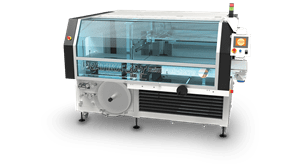 Automatic sleeve wrappers
It is not possible to have more Italian automatic packaging machines: the minipack®-torre sleeve wrappers are perfect to be integrated into the production line, thanks to the automatic management of incoming and outgoing exchange signals.
The automatic sleeve wrappers differ from each other due to the motorised belt – single or double – and sealing bar length – from 500 mm up to 1150 mm.
Do you need automatic packaging machines? Relay on minipack®-torre and its all-Italian production: take a look at the complete range!