Packing pharmaceuticals is a very delicate task: while the package protects the medicinal product to be able to transport it easily, it also needs to comply with the storage parameters for the active ingredients and safety parameters for patients, guarantee the usability of the medicinal product and easy identification.
That is why pharmaceuticals are packed by special stainless steel machines and the process consists of 3 steps:
Primary packaging
Secondary packaging
Tertiary packaging, if needed.
Do we not make this type of packaging? Or is it important to you for the CEO?
The 3 steps of pharmaceutical packaging
The 3 steps of the pharmaceutical packaging process meet all product storage requirements:
Primary packaging. Blisters, sachets, vials, bottles and tubes: anything that is in direct contact with the medicine and is used to preserve the effectiveness of its active ingredients.
Secondary packaging. The box containing the primary packaging and that protects it from damage.
Tertiary packaging. Any packaging for long-distance transport.
The packaging also acts as a medium for the CE marking (with the production batch identifying the supply chain) and to code the expiry date.
Hygiene is essential at every stage of packaging
Health and safety are parameters to comply with not only when packaging has been completed, but throughout the packaging process. Stainless steel machines provide a valid support in terms of health and safety.
Stainless steel, as the name implies, is a material particularly resistant to oxidation and corrosion: the outermost layer, in contact with oxygen, is the first to passivate and forms a layer of oxide that protects all the underlying ones from corrosion.
Moreover, stainless steel is virtually non-porous: no dirt molecules or of detergent or solvent residues can get stuck in its structure, which constantly guarantees the utmost cleanliness and compliance with hygiene standards.
The most suitable pharmaceutical packaging machines
In view of these needs, we can recommend some packaging machines that are perfectly suitable for medicinal products: two heat-shrink ones – a semi-automatic one and an automatic one with an L-sealing system – and two heat-shrink tunnels.
MODULAR 50 STAINLESS STEEL
Semi-automatic packaging machine with L-sealing system, flexible, handy and able to operate on any material. The sealing system is electronically controlled and can store different programs, which simplifies all the stages of pharmaceutical packaging. Maximum production output and top safety at a reasonable price.
MODULAR 50 Stainless Steel can be fitted with Tunnel 50 in two versions: Digit Stainless Steel or Twin Stainless Steel.
TUNNEL 50 DIGIT STAINLESS STEEL
Heat-shrink tunnel entirely made of stainless steel, specifically designed for the special needs of the pharmaceutical (and food) sector. It lets you set up to 9 customisable packaging film heat-shrink programs and manually adjust the belt height. The belt conveys the product and the outfeed roller conveyor is standard on the line.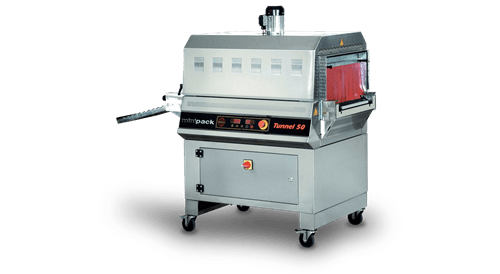 TUNNEL 50 TWIN STAINLESS STEEL
Twin Stainless Steel is ideal to package small products at very high speed, obtaining safe packaging with an optimal design: exactly what you need for packaging pharmaceuticals. Indeed, it has a double heating chamber with separate control, an exceptional thermal insulation capacity, and high conveyance and heat-shrink speeds.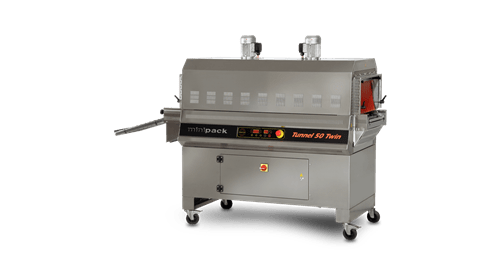 PRATIKA 56 MPE REVERSE STAINLESS STEEL
Pratika is a fully automatic heat-shrink packaging machine, ideal to sustain the high production rate of a medium-sized company. This is a high-tech packaging machine (controlled by a Schneider Electric PLC), whilst also being very easy to use (also thanks to the colour touch-screen display).
It guarantees high operating speeds thanks to the double hatch, to be able to work on both sides. It has an L-sealing system, perfected by the Center Sealing device. It can package both individual packs and sets of products.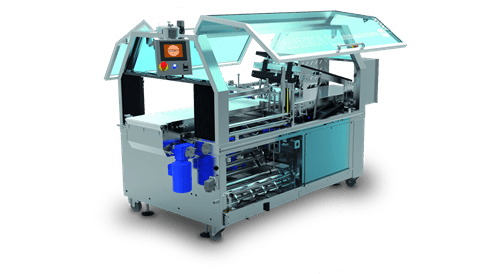 Not sure about which machine is best-suited for packaging pharmaceuticals?