Packaging machines specific for small packages and individual packages
New arrivals in minipack®-torre: our flow wrap machines, horizontal packaging machines for the packaging of fresh food but also non-food products. In a flow wrap machine, the sliding of the products takes place inside a single packing film, which is welded in three points: two transverse and one longitudinal welds.
Completely electric Flow-Pack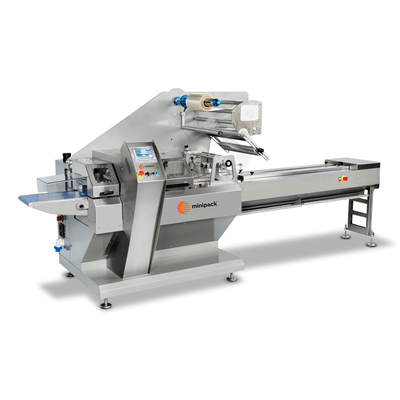 Horizontal mini flow wrap machine
The packaging obtained pairs high tightness and excellent aesthetic performance: a flow wrap pack, in fact, has the shape of a pad and can be instantly recognized for one detail: the so-called fin, that is the longitudinal weld area between the two flaps of the thermoplastic film.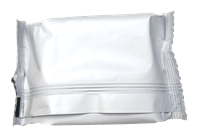 When choosing a flow wrap packaging
Flow wrap packaging is designed to grant integrity and aesthetics:
it is particularly recommended for the most perishable items, such as food, because it maintains the product's qualitative characteristics;
it emphasizes the actual shape of the product.
Moreover, flow wrap machines work quickly and are extremely versatile.
Flow wrap machines applications
What can you pack with a flow wrap machine? Flow wrap packaging is frequently used to pack sweet foods, small hardware and medications:
Brioches, chocolate bars, sweets, chewing gums, bars, small cakes, wafers
Dry baked goods, such as crackers, breadsticks, etc.
Small items
Some types of pills or tablets in single pack
but also detergent pads (for dishwashers or washing machines), soaps, etc.
The film can be made from different materials (BOPP, retractable film, rolled OPA/PE or similar), a feature that gives even more versatility to a packaging machine that already lends itself to countless uses.
Our flow wrap machines: 100% electronic
The flow wrap machines that we have included in our range are two completely electronic models, designed to make easier usually boring operations such as cleaning and maintenance. The process management is also made easy and intuitive, thanks to the PLC framework with 7'' touch-screen: the format changes are fast and it is possible to record the parameters and the recipes for a faster start of the packaging cycle when dealing with the same product.
Last but not least, the size of our Miniflow machines is smaller than the average: they are more compact and occupy less space, making the packaging of products more agile. They are therefore ideal for small-medium enterprises productions.
Discover minipack-torre flow wrap machines best suited to your packing needs!