Carton sealers
Welcome to the future of carton sealing! In a rapidly evolving packaging industry, the importance of reliable and efficient carton sealers cannot be understated. We are thrilled to unveil Minipack's latest offerings in this domain – the brand-new KARTA TAPE series.
Let these machines captivate you with their precision, efficiency, and unparalleled performance. Learn more about:
The KARTA TAPE series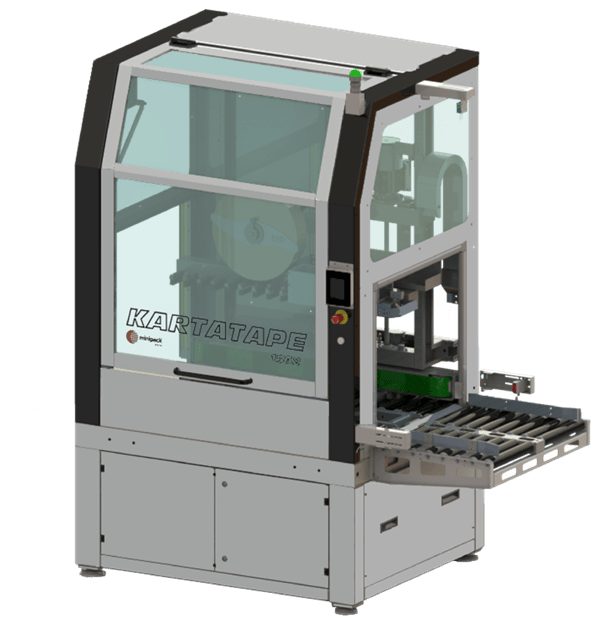 Kartatape 1562 - This machine features a patented and technologically advanced carton taping unit, offering high-level performance. It is an automatic self-dimensioning gummed paper taping machine equipped with a patented quick reel change kit and a motorized lower arm for easy opening. Energy is saved by the drive belts starting only when a carton box is present.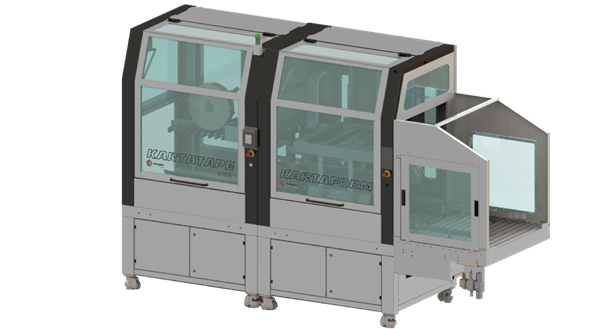 Kartaform-Kartatape - This model is an automatic flap closer + self-dimensioning gummed paper carton taping machine. The system features a patented quick reel change kit and a motorized lower arm for easy opening. This solution also includes axis movement with brushless motors, ensuring advanced performance.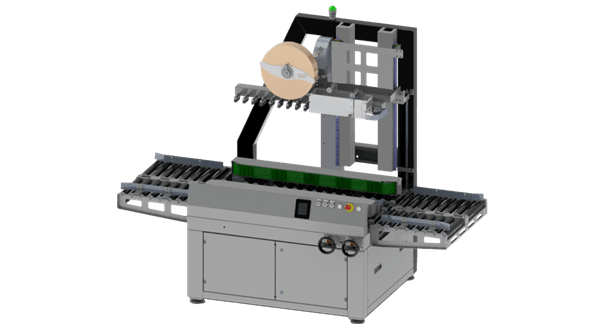 Kartatape M-1562 - An automatic carton taping machine with manual adjustment, featuring a patented quick reel change kit and a motorized lower arm for easy opening. Also equipped with an energy-saving system, it features LED indicators on the drive belts and has a patented, technologically advanced taping unit.
Contact us for more information
Features and benefits of our carton sealer machines
Our carton sealer machines offer a wide range of features and benefits that will revolutionize your packaging operations:
Designed with the latest advancements in packaging machinery, the KARTA TAPE series ensures a seamless and efficient sealing process;
Thanks to the automatic product size detection system, the machine allows only the amount of material needed for wrapping to be used, thus reducing material waste;
The machine uses a paper tape with plant-based adhesive that is activated by water, making the packaging plastic-free, thus more sustainable and fully recyclable;
Paper tape forms a 100% tear bond with the paperboard fiber, reinforcing sealed containers and making it extremely difficult to tamper with the seal;
Carton boxes can be sealed in any environment, hot or cold: the quality of the packaging remains unchanged;
The random carton sealer creates a package with greater strength and stability, providing greater weight support. This means that products can be stacked on top of each other without risking damage.
Applications of KARTA TAPE sealing tape machines
From e-commerce warehouses and manufacturing facilities to boutique stores and logistic centers, the applications of these carton sealers are endless. Whether it's the bulk sealing of cartons for shipment or the one-off packaging of a unique product, the KARTA TAPE series fits the bill.

Maintenance and care
To keep your KARTA TAPE carton sealer functioning at peak performance, regular maintenance is crucial. The good news? With Minipack, maintenance is a breeze.
Our machines are built to last, and with periodic checks and basic upkeep, they'll serve your sealing needs for years to come. Additionally, our dedicated support team is always on standby to assist you with any technical queries or support needs.
Why choose Minipack?
Choosing Minipack is a decision rooted in reliability, innovation, and excellence. Our commitment to providing top-tier packaging solutions sets us apart in the industry.
Here's why you should choose us:
Experience: With decades of experience in the packaging industry, Minipack is a name synonymous with quality and reliability.
Comprehensive support: Our customer-centric approach means you'll always have a team of experts ready to assist, whether for machine installation, troubleshooting, or general queries.
Innovation at its best: At Minipack, we are committed to constantly upgrading our products, ensuring that our customers always have access to the latest and best in packaging technology.

If you are looking for a high-performance carton sealer that marries efficiency with robustness, the KARTA TAPE series by Minipack is your ideal choice.
Dive into the future of carton sealing and experience the difference today!