minipack®-torre offers you a wide range of packaging machines suitable for every type of professional need: from vacuum machines to bag sealers, from shrink wrapping machines to flow packs, including bagging machines and shrinking tunnels.
Learn more by clicking on the corresponding item: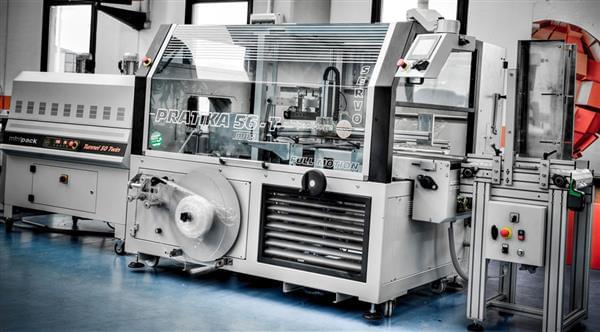 The packaging machines preferred by professionals in many sectors
Over time, minipack®-torre packaging machines have won the esteem and trust of a great many professionals in a wide variety of production sectors: the reason lies in their quality, of course, which is the result of constant dialogue and collaboration with them precisely, the professionals who have to cope with different packaging, packing and product preservation needs every day.
Our packaging machines for the food sector (vacuum chamber, shrink wrap, flow pack, bagging machines) for example, are designed and manufactured with the invaluable support of star chefs, so as to fully meet the needs, desires and expectations of restaurateurs all over the world.
All our packaging machines are CE certified: they meet all quality and safety standards, with a focus on industrial automation processes and energy saving.
100% Italian quality packaging machines
Our packaging machines are 100% made in Italy because every component is designed, machined, assembled and finished within the walls of our company. The minipackLAB (our R&D department) studies prototypes, the minipackSTEEL carpentry works sheet metal and assembles the parts until an efficient and productive machine is created, and Quality Control makes sure that quality and safety standards are totally met.
Whatever the type of packaging machine is, it doesn't matter: the care and attention we put into making it is always the same.
We constantly invest in developing more and more effective technologies, such as perfecting the form-fill-seal method for vertical packaging machines and improving liquid packaging for vacuum packaging machines.
Small guide to the use of packaging machines
It is clear, however, that not all packaging machines are the same or intended for the same purpose: for example, a vacuum packaging machine has a very different function from a flow pack machine.
Vacuum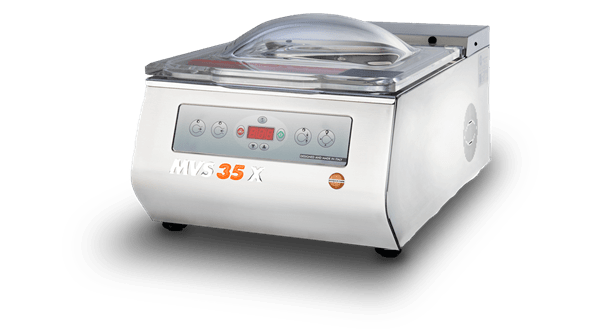 Vacuum packaging machines are the most widely used in the food sector: food production and processing lines, as well as supermarkets, butcher shops, delicatessens, bars and restaurants. By applying a vacuum to the food and sealing it in the special film, the machine preserves it from spoilage and preserves all nutritional properties. The shelf life is increased.
In particular, we find:
External suction vacuum packaging machines (suitable for domestic or semi-professional use)
Chamber vacuum machines (professional) which in turn are divided into single or double tank (for high packing rates) and translating and automatic tank (for industrial productions).
Chamber vacuum packaging machines
Chamber vacuum packaging machines are an indispensable ally for restaurants and industrial activities that need to ensure the perfect preservation of food, in fact, these machines are able to guarantee a very high degree of vacuum (about 99%) and can easily preserve even liquid and semi-liquid products, unlike those with external suction. Minipack®-torre's signature chamber-shaped vacuum packaging machines are also extremely easy to use and are made of the best materials to ensure maximum safety and hygiene. Our vacuum chamber machines are also divided into machines with carriage and tabletop:
Chamber vacuum sealers with carriage: they feature practical wheels so that they can be moved conveniently. They are also easily programmable and particularly suitable for packaging large products;
Tabletop chamber packaging machines: characterized by a very compact design, these packaging machines take up very little space, in fact, they can be conveniently placed anywhere. Extremely innovative, a countertop bell-shaped packaging machine by minipack®-torre has as many as 10 user programs to choose from.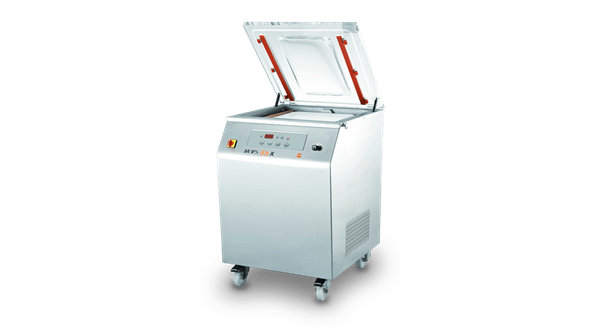 In the picture: Trolley vacuum MVS52x and tabletop vacuum MVS41xp
EVAC 65 automatic vacuum packaging machine
Regarding automatic models, minipack®-torre has created EVAC 65, the vacuum packaging machine designed specifically for meat packaging and characterized by a high level of technology, ease of use and versatility. Ideal for use within food laboratories, thanks to this packaging machine the operator only has to place the product to be packaged on a special belt. Then, the machine will take care of the entire packaging process quickly and accurately.
In the following video we can see EVAC 65 at work:
Shrink wrap machines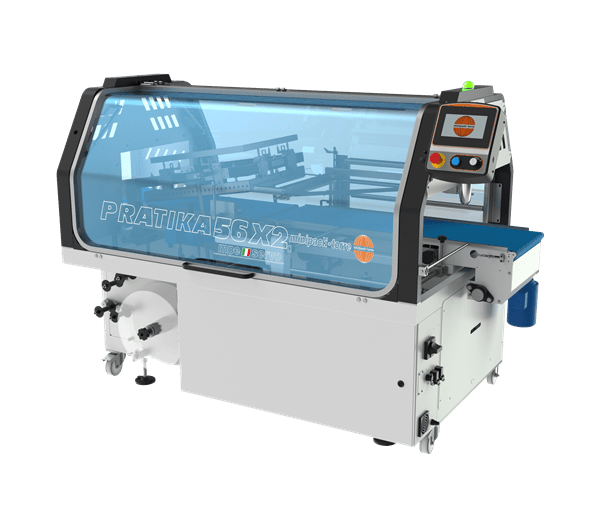 Shrink wrap machines meet the needs of safe, durable, convenient and aesthetically pleasing packaging. Shrink film, in fact, adheres perfectly to the surface of the product, protecting it from external agents and welcoming it into smooth, shiny, clean packaging. Shrinkwrapping is widely used in the fruit and vegetable sector, but also for frozen foods, for example, or various objects.
Shrink wrappers can be:
countertop or trolley-mounted
angular or continuous
automatic, semiautomatic or manual
with or without integrated shrink tunnel
Bundling machines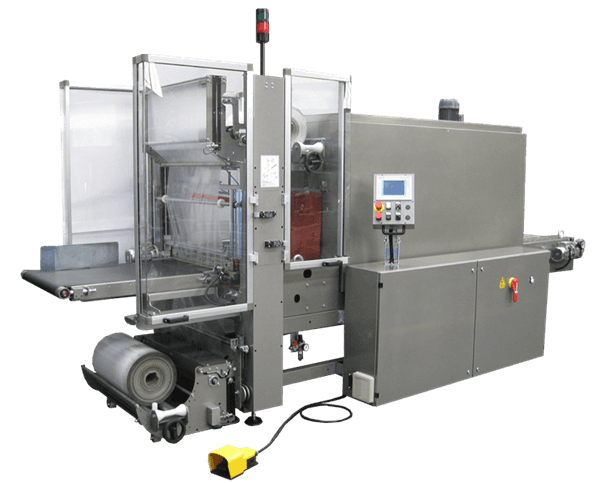 Bundling machines are the only belt packers capable of making bundles, or multipacks, either from individual products to be bundled or from already bundled items. The most common application is the bundling of water bottles, cans of legumes or canned goods, and glass bottles.
Semi-automatic and automatic models are available.
Bundlers can be:
with in-line infeed
with 90-degree loading belt
with inverter or high-speed system
with multiline divider
with seamless film
In the following video, here is one of our shrink wrappers, the MS 90 AL, at work:
Flow pack
Flow pack packaging machines are among the most versatile belt machines. Thanks to the type of pack it can make, which is the typical pad sealed at the ends and longwise, the flow pack can be used to pack single portions of savory baked goods (crackers, breadsticks, etc.), sweet (brioches, cupcakes, cookies, chocolate, candy), as well as ice cream, frozen vegetables, and so on. The food sector is not the only one concerned, but with a flow pack you can also package items such as pellets, potting soil, figurines, etc.
The film can be of different materials (BOPP, retractable film, OPA /PE laminates, or the like), making the machine very versatile and suitable for many different uses.
Bagging machines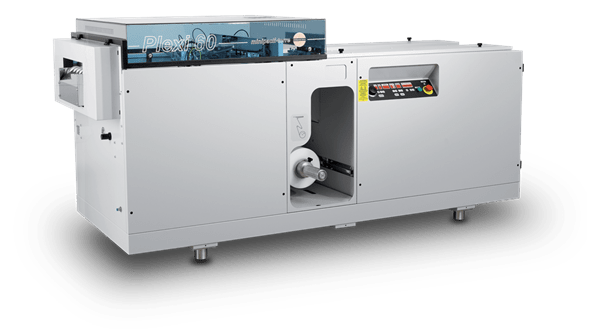 Bagging machines are the only ones that can make bags, mostly of food products but not only: they are also suitable for publishing products, for example, so they pack magazines, newspapers, or small parts, screws, bolts, etc. together.
Bagging machines can be:
vertical (specific for the food industry)
horizontal (ideal for companies with large production volumes)
Not sure which packaging machine to choose? Take a free test
If you need a packaging machine but do not know which is the best for your business, you can contact our sales office at any time. Our team is at your disposal to provide you with further information, to fix a consultation without obligation, or to organize a free packaging test: you can test the results of our packaging machines working directly on your products.