packaging machines for clothes and textiles
The range of minipack®-torre packaging machines for the textile industry
minipack®-torre, a leading company in the heat-shrink machine manufacturing market, offers a full range of packaging machines for clothes and textiles suited to meet any production need.
Small launderettes, hotels, spas, household linen rental companies: these are all companies that need to pack their products to ensure top service levels for their customers.
The best-selling packaging machines in the industry
The minipack®-torre packaging machine models fully meet the requests for speed, reliability and a fast format changeover – essential characteristics for the needs of the textile industry. 100% MADE IN ITALY, our machines are built with certified materials and the best electronic components to ensure reliability and high performance. Our wide range is available to meet any request in terms of productivity and product size.
The best packaging machines for clothing and textiles
The range of manual bell-shaped machines meets any need in terms of low productivity. The Media and Modular semi-automatic machines with shrink tunnel are heat-shrink packaging machines ideal for those who need to handle various products and require flexible packaging due to irregular workload patterns, with the option of choosing whether to heat-shrink the film on the product or just seal the package.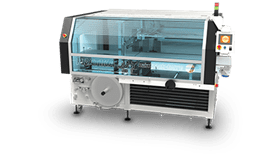 The Pratika range is the best automatic packaging solution and can be used on large automatic packaging lines. It incorporates all the experience acquired by minipack®-torre over 40 years of business and ensures top performance levels.
minipack®-lab consulting at your disposal
minipack®-lab, our R&D department, is at your service to examine packaging requests, also in terms of design. Thanks to cutting-edge design systems, our engineers will be able to solve your problems and together we'll create a packaging line tailored to your needs. Packaging clothes, tablecloths and sheets is no longer an issue with the minipack®-torre heat-shrink packaging machines!
Get in touch with us and we will find the best-suited packaging machine for your needs!