bakery packaging machines
The best machines for packaging pasta, bread and bakery products
minipack®-torre, leading company in the heat-shrink packaging machine market, has always worked with bakers, pastry chefs and pizza makers to offer the best machines for packaging food and in particular for packaging pasta, bread and bakery products in general.
These sectors have changed over the years and we now receive a high demand from supermarkets, communities, canteens, private companies and delicatessen shops to have bread, pizzas, cakes and various sweet products in packaging with a pleasant design and safe in terms of hygiene.
The best-selling packaging machines in the industry
Packaging machines for bread
minipack®-torre packaging machines for bread fully meet food packaging requirements: hygiene, high performance and packaging design. 100% MADE IN ITALY, our bread packaging machines are built with certified materials and the best electronic components to ensure reliability and high performance. Our wide range is available to meet any request in terms of productivity and product size.
The range of manual bell-shaped machines includes bread packaging machines that meet any need for low productivity, where bakers do not need large numbers, but want to provide a service to their clientele. The Modular semi-automatic machines with tunnel are ideal for those who have various products to pack and wish to pack bread and require flexible packaging due to irregular workload patterns, with the option of choosing whether to heat-shrink the film on the product or just seal the package. The Pratika range is the best automatic packaging solution. It incorporates all the experience acquired by minipack®-torre over 40 years of business and ensures top performance levels.
In the video below, you can see how Pratika 55 Smart works:
Packaging machines for pizza
Unlike bread, pizza is almost always packaged with heat-shrink film. The reference is, therefore, represented by pizza packaging machines with heat-shrink technology, which in the minipack®-torre range are available in manual, semi-automatic and automatic models. The manual pizza packaging machines are bell-shaped machines, developed directly from the pioneering idea that, forty years ago, revolutionised the heat-shrink packaging industry. We have already mentioned the semi-automatic Modular line machines and the automatic Pratika range, which include perfect products for packaging pizza.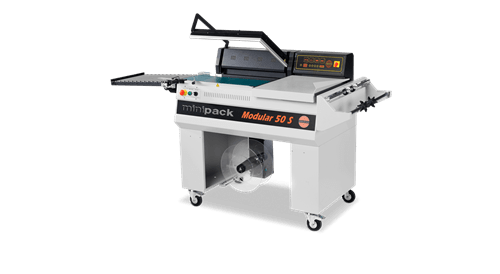 In photo: Modular 50 S, electronic semi-automatic L-seal packaging machine
Pasta packaging
Pasta is packaged mainly in heat-shrink film bags, which are produced by special vertical bagging machines with a three-side sealing mechanism. For these requirements, minipack®-torre has designed the X-BAG machine, perfect for packaging pasta even of different sizes, thanks to fast and efficient format change technology. Another advantage of this vertical packaging machine is versatility, which results from the possibility to use any type of flat sheet film. Thanks to these and many other advantages, X-BAG is certainly one of the best solutions for packaging pasta on the market.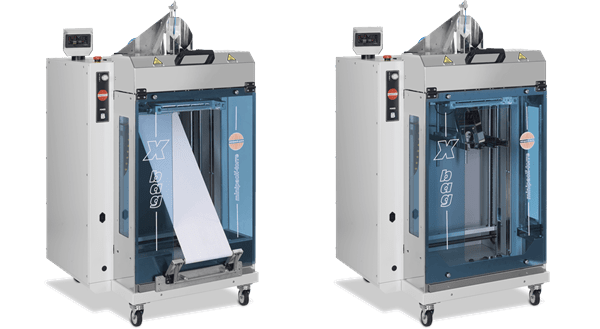 In photo: vertical bagging machine X BAG EVO
Biscuit packing machine & cookie packaging machine
For packaging biscuits, cookies and other confectionery products there are different solutions depending on the manufacturer's requirements. Among the most commonly used packaging methods there are trays packed in heat-shrink film or heat-shrink film bags that are similar to those used for pasta.
For biscuit and cookie packaging, minipack®-torre offers its full range of heat-shrinking packing machines which, as we have seen, are available in manual, semi-automatic and automatic models, and the X-BAG vertical packaging machine, the versatility and efficiency of which are extremely productive even for packaging biscuits and bakery products of any size.
Another method commonly used for biscuit and cookie packaging is the flow-pack, a compartment in which minipack®-torre can offer compact and high-quality solutions, fully electric. Miniflow 380 is a perfect biscuit packing machine thanks to the format change technology and the speed: the machine can produce up to 80 packets of biscuits per minute. Miniflow 600 is also a perfect machine for cookie packaging, guaranteeing larger sizes than Miniflow 300 and increased productivity (up to 120 packets of biscuits per minute).
In the video below, you can see how Miniflow 380 works:
The minipack®-torre team of experts is at your service
minipack®-lab, our R&D department, is at your service to examine packaging requests, also in terms of design. Thanks to cutting-edge design systems, our engineers will be able to solve your problems and together we'll create a packaging line tailored to your needs.
Packaging bread, pizza, cakes and sweet products is no longer an issue with minipack®-torre's packaging machines!
Get in touch with us and we will find the best-suited packaging machine for your needs!