Industrial vacuum sealer
An industrial vacuum sealer is characterized by the speed of packaging, the ability to pack products of very different sizes, the reliability over time, and not only that. Let's see together which requirements industrial vacuum packaging machines must meet and discover some models of the minipack®-torre range.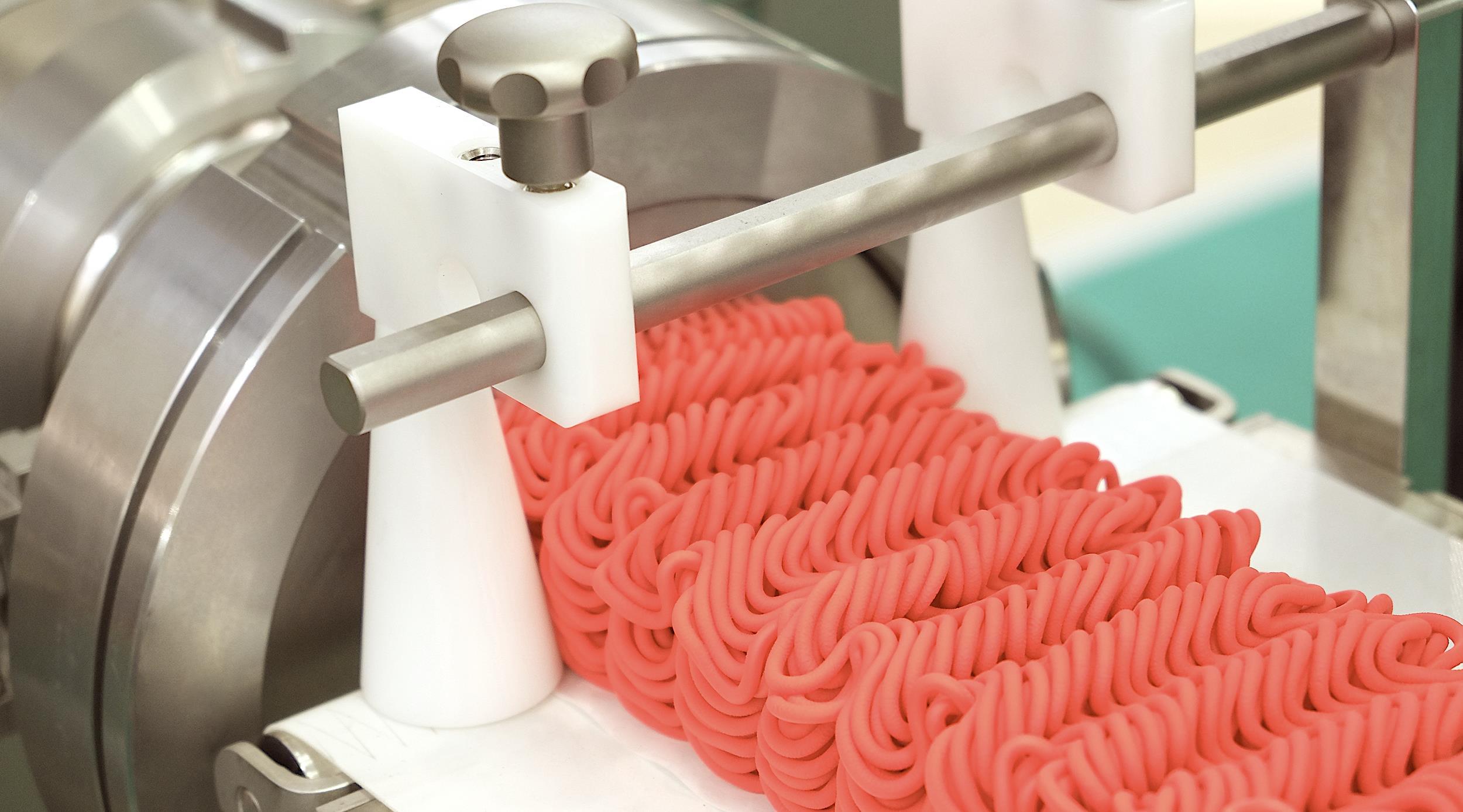 An industrial vacuum sealer is designed to meet the precise requirements of the sector, i.e. high production rates, speed, large formats. To comply with international standards, it must also be certified and, where possible, include technological components and digital functionality.

Let's take a closer look at all these features, with a focus on minipack®-torre industrial vacuum packaging machines:
What to look for in an industrial vacuum sealer
If you need to integrate your production line with a new industrial vacuum sealer machine, be sure to choose a machine with these features:
Packaging speed. In industrial environments it is essential to optimize times and costs, therefore the speed of the processes is fundamental; that's why an industrial vacuum sealer must pack at a fast pace, and that's why the best choice is always a double tank or shifting chamber machine.
Duration in time. An industrial vacuum packaging machine works for hours and hours without ever stopping, adapting to the company's production rhythms: to reduce the need for maintenance and the risks of wear or malfunction due to intensive use, it is important to choose machines made with quality components (stainless steel sheets, shockproof coatings, latest generation technological components). At the same time, normal cleaning and sanitizing operations must be facilitated by the machine structure itself.
Digital features. The possibility to automate certain functions, and to give commands in a simple and intuitive way, are also two essential features of industrial vacuums. The green light is therefore given to color touch screen panels, preset programs, guided parameter setting, sensors for vacuum reading, label printing systems.
Certification. It is mandatory, but it is also the only legal way to guarantee the safety of the machine as a whole and the quality of its components.
It is essential, then, that the quality of the result is up to industry standards: maximum vacuum levels in each package, safe and impeccable sealing; in the case of industrial vacuum sealers for food, the extraction of air must not cause a drop in weight or dry the product or alter its organoleptic properties.
Industrial vacuum machines minipack®-torre: the Swing line
minipack®-torre has created and, over time, perfected its range of industrial vacuum packaging machines: this is the Swing line, with shifting chamber machines in stainless steel or aluminum.
COME AND DISCOVER THE FULL RANGE
STAINLESS STEEL INDUSTRIAL VACUUM SEALER
The stainless steel Swing are industrial vacuum packaging machines designed for large companies, especially those in the food and pharmaceutical-medical sectors. The AISI 304 stainless steel structure makes the machine even more reliable, in line with the hygiene and safety standards required by the regulations, and they are all rigorously CE certified.

Moreover:
The shifting closure of the chamber guarantees high speed in the packaging process.
Analog volumetric sensor allows monitoring of vacuum and ATM packaging
Up to 10 different programs can be stored
Vacuum cycle with stop
Soft-Air device for controlled air return
All controls are accessible via digital control panel.

MV 50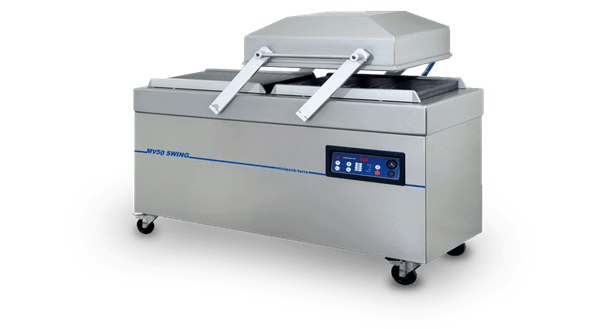 620 mm sealing bars
max power 3.5 kW
vacuum pump 100 mc/h

MV 75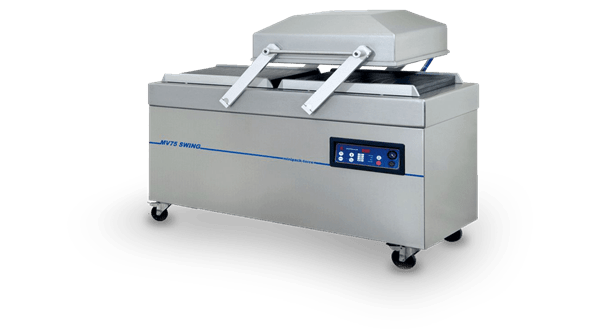 with 620 mm sealing bars
max power 7 kW
vacuum pump 160 mc/h

MV 85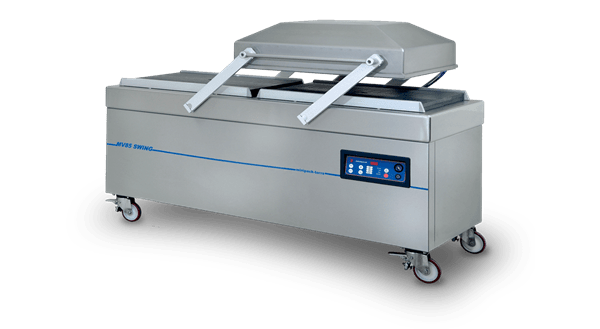 with 840 mm sealing bars
max power 7 kW
vacuum pump 300 mc/h

MV 95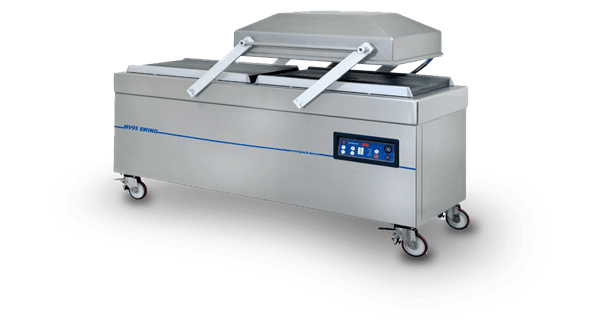 with 1100 mm sealing bars
max power 7 kW
vacuum pump 300 mc/h
ALUMINIUM INDUSTRIAL VACUUM SEALER
Aluminum Swings represent cheaper versions of our industrial vacuum sealer machines, but without discounts on robustness; they are suitable for small production realities, especially in the food sector, and share all the features and functions of the Inox line.

One difference is the shifting chamber, made with a metal base and a PMMA window that allows to directly observe the phases of the packaging process.
MV 60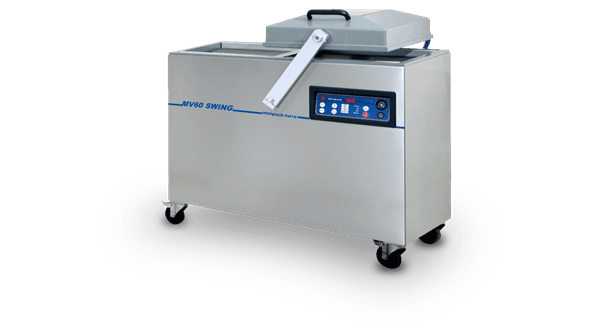 with 450 mm sealing bars
max power 3.5 kW
vacuum pump 63 mc/h

MV 70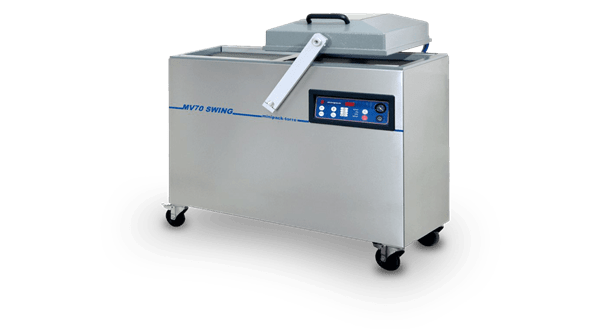 with 550 mm sealing bars
max power 4.5 kW
vacuum pump 63/100 mc/h
Do you want more information about our industrial vacuum machines? Contact our experts: they will be happy to answer all your questions.