ENERGY SMART
Tabletop manual dispenser for food packaging - Stainless steel
Ideal for the packaging of food products (fruit and vegetables, meat etc.) that need to be packaged with special food stretch film (maximum roll width 400 mm).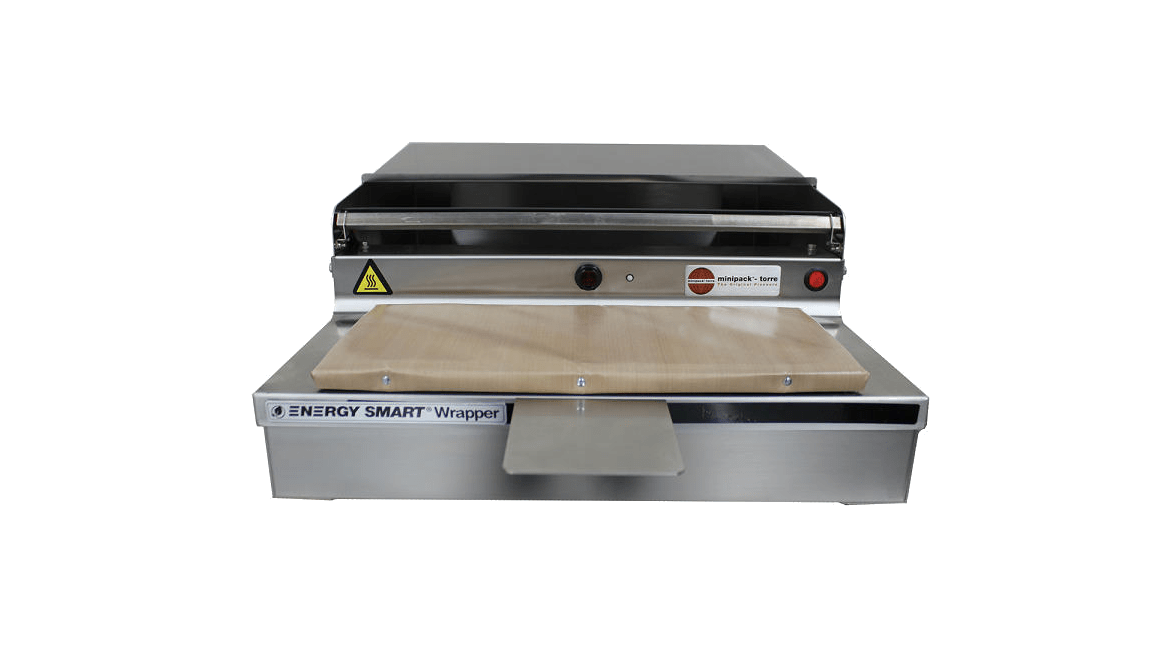 THE NEW MINISPENSER countertop for food packaging
The NEW ENERGY SMART WRAPPER is an innovative system that incorporates an "Instant On" seal plate with the ability to go from ambient to seealing temperature in 3 seconds. The high speed seal plate in combinations with a photo eye actuator, allows the operator to seal a product on demand and to save energy when the wrapper is not in use.
Due to the rapid response of seal plate and residual heat existing withing plate after actuation, the seal plate heating cycle can be significantly shorter than 3 seconds, expecially when the operator seals several packages in succession. A temperature control device within the seal plate regulates the temperature of the seal plate to ensure the temperature peaks at 185°C (370°F).
As a part of our quality producers, the seal plate has been thoroughly tested. It is important for the operator to manintain the non-stick cover in good condition, not only for safety, but also to protect the seal plate from damage. It is recommended to replace to the cover at least once every three months to protect the seal plate and maintain a sanitary surface.
Need more info?

Get in touch now and we'll answer all your queries!
technical features
| | | |
| --- | --- | --- |
| Electrical power supply | V | 220-230 |
| Machine dimensions | mm | 510x537x252 |
| Machine weight (Net/Gross) | kg | 10 |
| Frequency | Hz | 50/60 |
| Max. Instataneous Current | A | 8 |
minipack®-torre shall not be held liable for typos or printing errors in this catalogue. It also reserves the right to make changes to the specified features without prior notice. All trademarks are property of their respective owners and are hereby acknowledged.
Technical drawing