Packing Machines
For over 50 years, minipack®-torre has been designing and manufacturing packing machines for all industrial sectors. On this page we present the whole range of machines produced by the historical Italian company.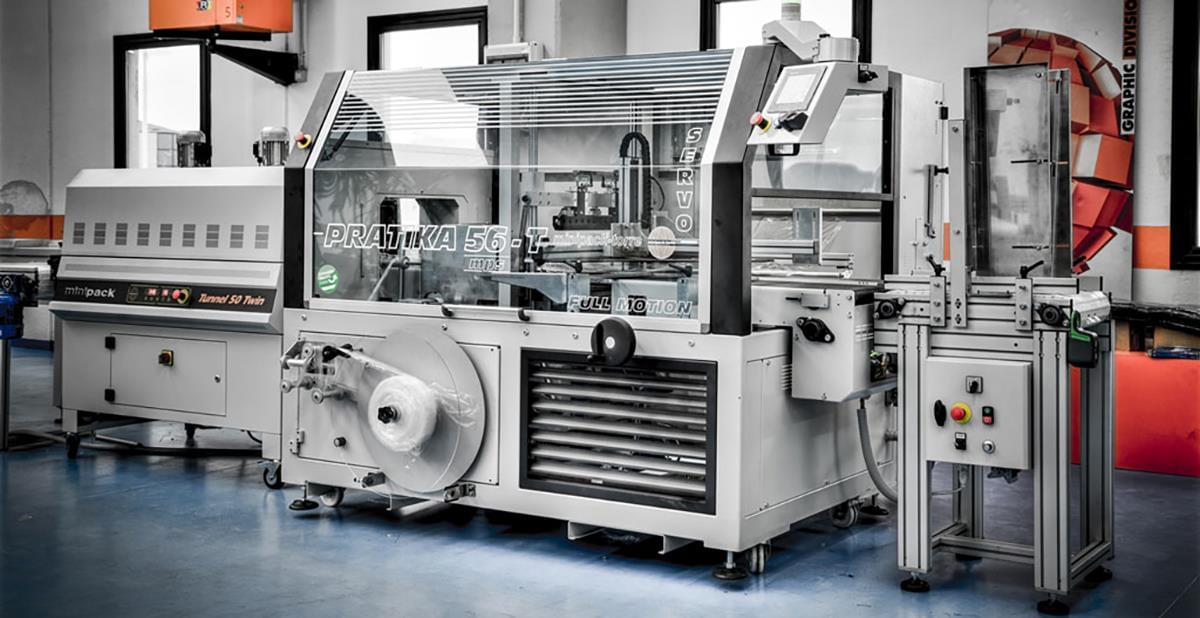 Minipack®-torre has been manufacturing packing machines since the '70s, when Francesco Torre filed the patent for the first chambered shrink wrap machine. Since then, it has been a succession of ideas, research, development and successes, inside and outside Italy.
Here's some of our best sellers:
Flow pack packing machines
Employed to pack several types of products, flow pack is one of the most popular packing methods. For industrial packing requirements, minipack®-torre has created a line of fully automatic flow pack machines, equipped with high technological content and innovative features: the Pratika range, which includes several models. Here are some: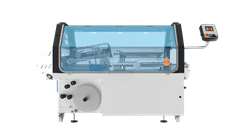 Pratika 56 MPE X1: flow pack packing machine with sealing bars of available dimensions 600x400 mm. The peculiar feature of this machine is the is the ability to do operations from both sides, thanks to its double hatch.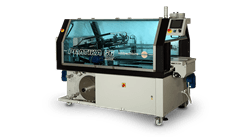 Pratika 56 MPE Reverse Inox: The peculiar feature of this packing machine is the possibility to operate on both sides, guaranteed by the double hatch. The reliability of the minipack®-torre brand is combined with great versatility. With sealing bars size of 600x400 mm, the machine is also available in the stainless steel version, ideal for packing in the food sector.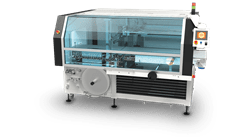 Pratika 80-T MPS: thanks to the continuous sealing system, this machine guarantees packing without any length limit. The maximum width of the sealing bars is equal to 700 mm. Due to this feature and to the high technological and electronic contents, the machine is currently the most appreciated model of the entire Pratika series.
Packing machines with shrinkable film
Packing in shrink films provides undisputed aesthetic qualities that make this technology particularly appreciated in many sectors, among which the food industry stands out. Shrink packing is also comfortable, quick to carry out and not very expensive. If you need to pack your products with this type of packaging, we recommend one of the following machines:
Pratika 55 Smart: The new entry of the Pratika range is a true gem designed precisely for the needs of shrink wrapping. The machine is equipped with a built-in retraction tunnel to shrink the film that is previously wrapped around the products. All of this fully automatic, according to the Pratika philosophy.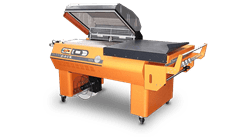 FC77A PLC: chamber shrink wrapping machine, this model combines the precision and convenience of chamber packing with the performance of a fully automatic mechanism. All of this with the utmost simplicity of use, also guaranteed by the latest generation touch display.
Bundling packing machines
Bundling is a type of packaging ideal to wrap multipack products in a fast, practical and precise way. Thanks to the resistance of the film that is normally used, bundling is also used to pack heavier products such as bottles of water or detergent. Minipack®-torre offers a full range of automatic and semi-automatic bundling machines, here are some of the main models: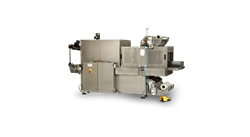 Bundling machine MS 50 L: It is an automatic packing machine, designed to be integrated easily in the production line thanks to the automatic management of the line infeed and outfeed exchange signals. All of this without sacrificing the typical compactness of the bundling machines by minipack®-torre, the safety equipment and the semi-automatic switch.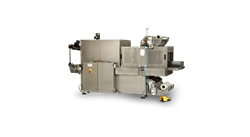 Bundling machine MS 115 AL: it is the widest automatic model of the series, with sealing bar reaching 1150 mm. In addition to presenting all the features of the automatic bundling machines by minipack®-torre, the model is also equipped with motorized tape placed both before and after the sealing bar.
Bagging machines
Bagging machines are used to pack multiple products in envelopes of various sizes. Much used in the food sector, for example for the packing of biscuits, snacks, rice etc., bagging machines are also used in other fields, for example in the publishing sector for the packing of magazines and newspapers. The minipack®-torre range of bagging machines includes three models for all requirements: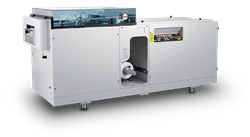 Plexi 60: horizontal packing machine, fully automatic, Plexi boasts a welding system of the latest generation that allows it to pack up to 60 products per minute. Maximum speed and precision for the packing of magazines, newspapers, video games, editorial products and all kinds of objects.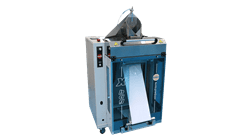 X-BAG Evo: vertical packing machine, X-BAG is a form-fill-seal perfect for packaging small products in envelopes. The machine guarantees exceptional versatility: first, because it allows a fast format change, reducing the downtime; second, because it can support any kind of standard flat film.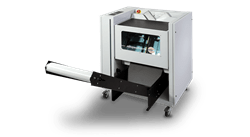 MAILBAG: MAILBAG is a fully automatic vertical bagging machine, designed specifically for the packing of editorial products such as magazines, catalogues, bulletins and publications of all kinds. Maximum simplicity of use, extremely compact dimensions, built-in counter and digital control display: all the minipack®-torre innovation at the service of simplicity.
Packing machines for industrial vacuum packaging
Vacuum packing is mainly used in the food sector, where it is particularly appreciated thanks to its ability to preserve food in the long term without altering its nutritional and organoleptic characteristics. For the industrial sector, minipack®-torre produces a line of automatic vacuum packing machines, ideal for large food laboratories: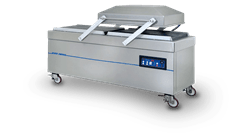 MV 95 SWING INOX: top range of the SWING line, this vacuum packing machine has 1100 mm sealing bars that allow to pack also products of considerable size. Available in all models of the series, the sliding clodure of the chamber guarantees maximum packing speed, without ever giving up precision and reliability.
Minipack®-torre: Italian packaging machines since 1969
Italian packaging machines are renowned for their exceptional quality and precision. With a rich history of craftsmanship and innovation, minipack®-torre has perfected the art of creating state-of-the-art packaging solutions.
Our machines are designed to streamline the packaging process, ensuring efficiency and reliability. Whether it's for food, pharmaceuticals, or other industries, our Italian packaging machines offer versatile options to meet diverse packaging needs. They are equipped with advanced technology and robust construction, guaranteeing durability and long-term performance.
Additionally, our packaging machines prioritize user-friendliness, with intuitive controls and easy maintenance. Investing in Italian packaging machines means investing in top-notch equipment that can elevate your packaging operations to new heights. Experience the excellence of Italian engineering and elevate your packaging efficiency with these exceptional machines.
Are you interested in one of these machines? Find out all the models available by visiting the product page or feel free to contact us for any information.