The packaging needs of different industrial sectors require the integration of automatic machines in production lines, requiring efficient and versatile solutions for packing specific product types.
To meet these requirements, minipack® torre has designed a full range of automatic packaging machines equipped with various packaging technologies, and therefore suited for packaging different products.
Here is a summary of our offer:
Automatic packaging machines for shrink wrapping packages
For fast and impeccable packaging, we have designed the PRATIKA range, a line of latest generation automatic packaging machines with state-of-the-art technology. The range includes the following models:
Pratika 56 MPE X1: fully electrical and servo-assisted, suitable for operation on both sides thanks to its double hatch.
Pratika 56 MPE Reverse Inox: equipped with a double hatch to work on both sides; is also available in stainless steel version;
Pratika 56-T MPS and Pratika 80-T MPS: the two machines stand out for continuous automatic sealing, which removes any length limit of the packed product. As for the width, Pratika 56 reaches 400 mm, while Pratika 80 reaches 700 mm.
When combined with a shrink tunnel, the PRATIKA automatic packaging machines become the perfect solutions for shrink film packaging.
Automatic packaging machines with integrated shrink tunnel
In the Pratika range, a new machine with integrated shrink tunnel was recently introduced, designed to provide a compact solution that combines the packaging and shrink functions in a single machine: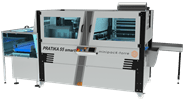 Pratika 55 Smart with tunnel included, it optimises space and labour requirements with the exclusive come-back patent that requires only one operator. All comfortably controlled via touchscreen control panel or USB and SD communication interface.
Automatic sleeve wrappers
Sleeve wrappers are packaging machines used in all sectors that produce multi-packages, or bundles where multiple products are packaged in a single sleeve. Some of the best known examples are water or milk bottles, packs of detergents, shampoos or pharmaceutical products.
Minipack®-torre produces two main types of automatic sleeve wrappers: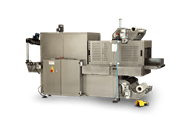 Sleeve wrapper MS 50 L in semi-automatic or automatic version with motorised belt. Perfect for production line integration, this machine has a 500 mm sealing bar but is also available in versions with 700 mm and 900 mm bars.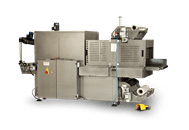 Sleeve wrapper MS 70 AL in semi-automatic or automatic version with motorised infeed and outfeed belts. The special feature of this machine is the presence of the motorised belt both before and after the sealing bar. The machine is available in versions with 700 mm, 900 mm and 1,150 mm sealing bars.
Do you want more information on minipack®-torre automatic packaging machines?