Heat-shrinkable packaging technology is based on the application of thermal energy to a transparent film, to make handy and aesthetically attractive packages and sealed packages. The product to be packaged is placed inside the packaging machine and wrapped in a layer of film. The heat sealing bar seals the package by applying heat to the film.
The advantages of heat-shrinkable packaging go beyond the appearance: the transparent film is made with a combination of polyethylene and polypropylene, featured by high mechanical resistance, good transparency and low costs.
Properties of the transparent film
To start with, the film intended for heat-shrinkable packaging stands out for its extreme versatility: it can be used to package foods - especially fruit and vegetable trays, which require flawless sealing due to their perishability - but also blisters and vials of medicines and a variety of large and small objects.
And that's not all. It also guarantees:
Impermeability: the film is water resistant, and therefore perfect to protect the packages against rain, moisture and even condensation.
Resistance, because the film supports all types of mechanical stress in a trouble-free manner. It does not cut or tear even when the packages are being transported and stored.
Aesthetics: packages wrapped with stretch film are uniform and attractive; the perfect transparency enhances the contents of the pack, preserving it to perfection.
Minipack-torre® solutions for heat-shrinkable packaging
Minipack-torre singles out 3 macro-categories of packaging machines among the leading products for heat-shrinkable packaging
Chamber and manual angular heat-shrinkable packaging machines for small businesses
Semiautomatic packaging machines for medium-sized businesses
The PRATIKA range, for industrial businesses.
Manual heat-shrinkable packaging machines
Manual packaging machines, fit for small-sized businesses, are divided into chamber machines and angular machines.
The chamber machines stand out for their small size and compact shapes: they can be placed in narrow spaces in a trouble-free manner. They are easy to clean and sanitise, and the forced ventilation system allows them to be used even for long work sessions without the risk of overheating. Therefore their operation is always efficient and consumption is reduced.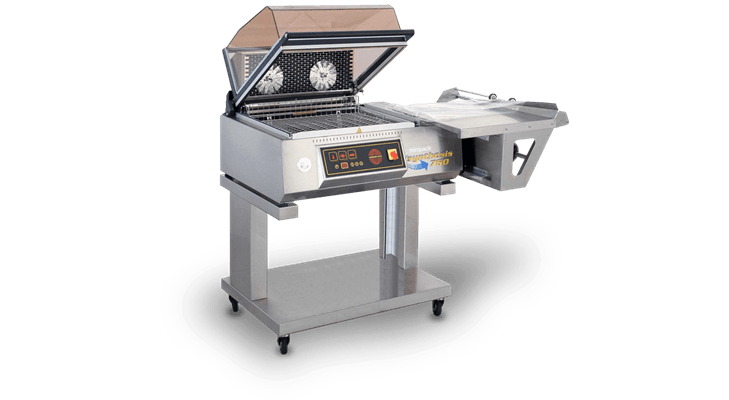 The leading product for angular machines is ECOMODULAR. With a wide sealing surface (570 mm x 420 mm) and an efficient temperature control system, it is definitely the most widespread shrink wrap machine in the sector. It is available in 2 versions: with fixed plate and with product evacuation belt.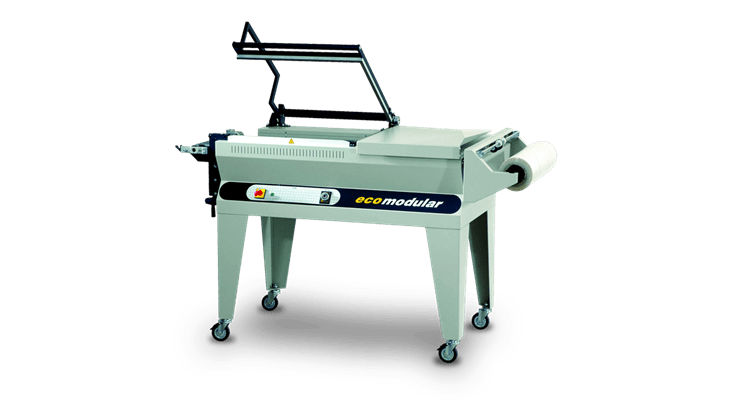 Semiautomatic
Heat-shrinkable packaging for medium sized businesses is entrusted to semiautomatic machines: MODULAR and MEDIA. They are all equipped with an electronic control sealing system, unmatched on the market as far as innovation is concerned, and they allow you to set customised sealing programs.
Versions in Steel IT make them perfect for applications in the food and pharmaceutical sector: in fact coating with this material prevents the proliferation of bacterial loads on the surfaces of the machine. The result is maximum hygiene during each process.
MEDIA machines can be told apart from MODULAR due to their compactness: the heat shrinkable packaging machine and the shrink tunnel are paired in just one machine.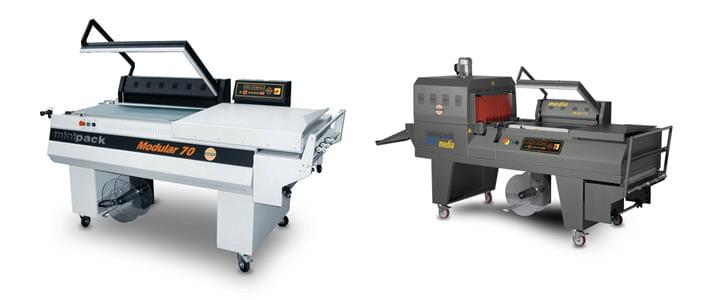 Automatic
Automatic operation is reserved to the heat-shrinkable packaging machines of the PRATIKA range. Designed for industrial use, the line can be integrated perfectly inside production lines.
Cutting edge and efficient, angular or continuous sealing: PRATIKA machines guarantee high performance, completely automatic system, interconnection with computer systems, user friendly interface, remote maintenance and remote control.
Applications range from the food, pharmaceutical and textile industries. Thanks to their high technological content, they have been awarded with the certification "Product 4.0 Compliant".
Read also: Automatic shrink wrap machine: the models by minipack®-torre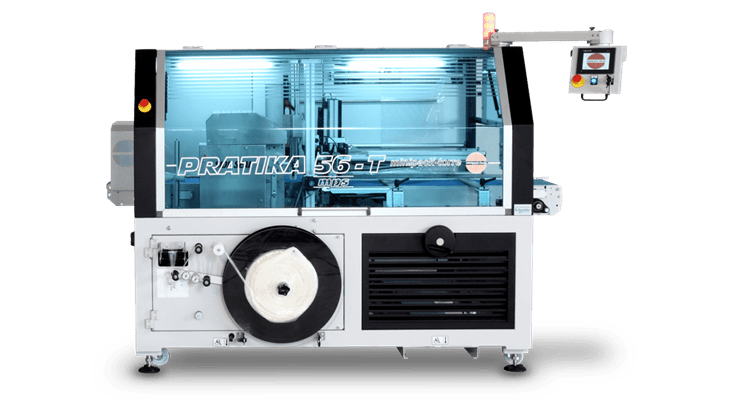 Discover all the available heat shrinkable packaging machines on minipack®-torre!