The heat shrink wrap machines ideal for industrial packaging
minipack®-torre offers you a wide range of shrink wrap machines, perfect for industrial packaging for both food, such as bread and biscuits, both non-food products (such as gifts, magazines or gadgets) that you want to protect from dust and external agents. All our heat shrink wrap machines are easy to use, and the most advanced models are equipped with control displays, to ensure the utmost convenience. Our shrink wrap machines are not only functional, but also boast an innovative and elegant design.
The range of heat shrink wrap machines available is aimed at both small and large businesses, offering manual or automatic solutions that meet all shrink-wrapping needs:
shrink wrap machines with chamber
angular wrap machines
automatic heat shrink wrap machines.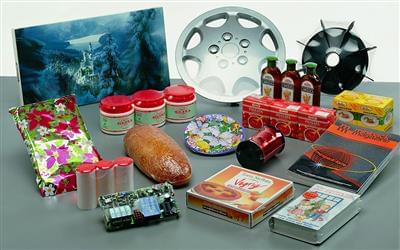 Shrink wrap machine: what it is and how it works
Shrink wrapping is one of the most widely used packaging methods, thanks to its aesthetics and practicality. The operation is simple: the heat shrink wrap machine packs the products in a special film which, when exposed to a heat source, shrinks until it adheres perfectly to the product itself.
The heat shrink film is made of polypropylene and polyethylene: bright, soft and versatile, glossy and trasparent, resistant and eco-friendly. Different reels are available, starting from 200 mm with 5 cm increments, and heights from 250 mm to 650 mm.
Also thanks to this film, the result of a heat shrink machine packing process is particularly aesthetically pleasing.
Our shrink wrap machines do not threaten the integrity of frozen food
The risk of a heat shrink wrap machine is of damaging particular products, such as frozen food or chocolate: the temperature of the tunnel could melt them. For this reason, minipack®-torre shrink wrap machines work fast: the time requested to wrap the package are always far lower than time necessary to melt ice or chocolate.
Inox heat shrink machines
minipack-torre's range of heat shrink wrap machines also includes some machines made entirely of stainless steel: the choice is driven by the properties of the metal alloy, known for its particular resistance to corrosion. For this reason, stainless steel heat shrink machines are the most suitable when high standards of hygiene are required: for food and drug packaging applications.