Bars, delicatessens, but especially restaurants often need to vacuum pack liquids to preserve sauces, soups, fresh juices, blended mixtures, or the bases of their recipes to use them as needed and prevent them from perishing.
Not only that, but vacuum packs are also widely used because they allow the space for storing ingredients to be optimised.
There is only one type of suitable machine for all these packaging requirements: a hood vacuum machine. Why?
Liquids cannot be vacuum packed with just any machine
If you think you can vacuum pack liquids with a classic external suction machine, unfortunately, you're mistaken: a machine with external suction draws in the air, precisely, by means of suction and tends to extract from the package the liquid too, thwarting your attempts.
The only way to vacuum pack a liquid is to use a hood vacuum machine. In fact, the vacuum is created within the volume of the hood; any pack placed in that space will be vacuum packed when the air is removed from the hood, without there being direct suction from the pack.
Various types of hood vacuum machines
The hood vacuum machines are the only truly professional vacuum machines: in fact, they are the only ones that guarantee an almost total vacuum percentage of 99%. There are various types, designed to meet the most diverse requirements; we mainly refer to:
Worktop hood machines. As the name implies, they are very compact machines, which easily fit on the worktop. They are perfect in small artisan shops, supermarkets or shops.
Trolley hood machines. The trolley versions are hood machines on wheels, and are therefore mobile: they can be easily moved from one place to another, such as different departments in a large supermarket or production lines in a company.
Minipack®-torre includes both worktop and trolley packaging machines in its range of liquid vacuum packing machines: let's see a few examples.
The minipack®-torre range for liquid vacuum packing
Our wide range of hood vacuum machines includes both worktop and trolley models, with sealing bars of different sizes to expand the range of packable products as much as possible.
Worktop:
MVS31 X. Worktop vacuum machine with 1 x 31 cm front sealing bar; the dimensions of the machine with open lid are very compact: 39 x 50 x h 67 cm, so it fits snugly on any worktop. Despite the simplicity and compactness, it has some innovative features, such as the front display that allows you to set up to 10 customised programs. To prevent any seepage of liquids in the board, it is fitted with an adhesive touch keyboard, hermetically applied to the front of the body.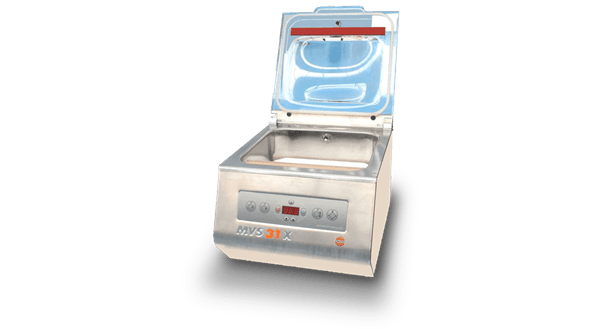 MVS41 XP. Worktop vacuum packaging machine with 1 x 62 cm frontal bar and 2 x 31 cm side bars; the machine is slightly larger but still compact (83 x 54 x h.70 cm). The technological level also increases: in fact, the degree of vacuum obtained in the package can be tracked and specific labels can be obtained with all the processing information.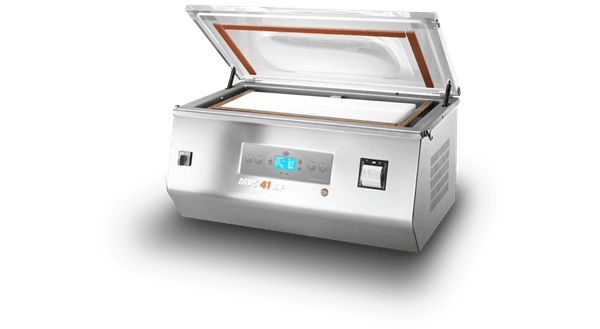 Trolley versions:
MVS45L X. Trolley version vacuum packing machine with 1 x 45 cm frontal bar, while the height of the worktop reaches 89 cm. Easy to use but extremely functional: you can set up to 10 customised programs and, even in this case, the display is hermetically sealed to prevent seepage of liquids. Special sensors calculate the vacuum level in the chamber and the machine can be set according to the atmospheric pressure conditions at different altitudes.
MVS65 XP. Trolley version vacuum packing machine with 2 x 65 cm side sealing bars, the worktop is 89 cm high. It allows you to track the vacuum inside the package and to set up printing of a label that sums up the processing features. The display allows you to quickly set up the packaging operations and to instantly view any technical servicing that may be required.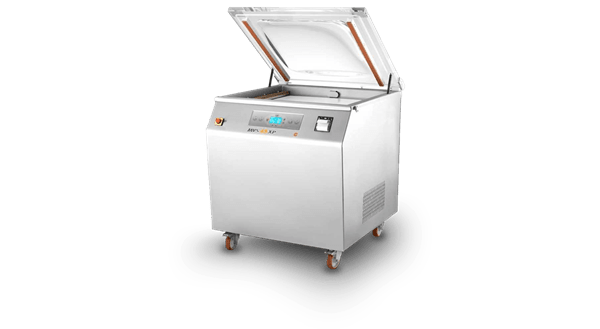 Would you like to find out about all the sizes and features of the liquid vacuum machines by minipack®-torre? Visit the specific section!