The packaging needs of various industries require the integration of automatic machines into production lines, demanding efficient and versatile solutions for packaging specific types of products.
To meet these needs, Minipack-torre has designed a complete range of automatic packaging machines equipped with different packaging technologies, suitable for packaging different products.
Here is a summary of what we offer:
Automatic shrink wrap packaging machines
For fast and flawless packaging, we designed the PRATIKA range, a line of state-of-the-art automatic packaging machines equipped with cutting-edge technological content. The range includes the following models:
Pratika 56 MPE X1: a technologically advanced yet versatile and "user- friendly" shrink wrapping machine;

Pratika 56 MPE Reverse Inox: equipped with a double hatch for working on both sides; also available in a stainless steel version;

Pratika 56-T MPS and Pratika 80-T MPS: the two machines are distinguished by automatic continuous sealing, which breaks down any length limitation of the packed product. In terms of width, the Pratika 56 reaches 400 mm, while the Pratika 80 goes up to 700 mm.

When combined with a shrink tunnel, the automatic packaging machines of the PRATIKA range become perfect solutions for shrink film packaging.
Automatic packaging machines with integrated shrink tunnel
A brand new machine with an integrated shrink tunnel was recently introduced in the PRATIKA range, designed to provide a compact solution that combines packaging and shrinking functions in a single body: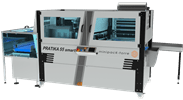 Pratika 55 Smart with incorporated tunnel optimizes space and labor requirements with the unique patented come-back that requires only one operator. All conveniently operated via touchscreen control panel or USB and SD communication interface.
The machine is also available in the PLUS version, which is more compact (2.2 m2) and enhanced by a strong mechanical and electronic technology content, among which we specifically highlight:
the electrically-assisted rather than pneumatically-assisted supply, which bypasses the need to install a second supply line for the compressor;
the color touchscreen control panel for an even easier user experience.
Automatic sleeve wrappers
Sleeve wrappers are packaging machines used in all industries that make multi-packs, or bundles which combine several products. Some of the best-known examples are the packaging of water or milk bottles, that of detergents, shampoos or pharmaceuticals.
Minipack-torre manufactures several types of automatic sleeve wrappers, examples of which we provide below:
MS 70 AL Sleeve wrapper in semiautomatic or automatic version with motorized infeed and outfeed belts. The distinguishing feature of this machine is the presence of the motorized belt both before and after the sealing bar. The machine is available with 700 mm, 900 mm and 1,150 mm sealing bars;

R 70 20 V Sleeve wrapper, with a multi-row divider, allows multi-row products to be packed with film + flap or film + cardboard tray, also taking care of tray formation by lower rotating devices that receive the flat pre-cut board;

WRAPJET 20 Sleeve wrapper with seamless film operates without the need for a sealing bar. The result is a significant increase in speed and efficiency.

Automatic flow pack packaging machines
If you are looking for a versatile automatic packaging machine capable of delivering safe and esthetically pleasing packages, flow pack machines may be right for you. 
Famous for creating the so-called "pad" packaging typical of candies, cookies, but also dishwasher tablets and generally all those individually packaged products, an automatic flow pack machine offers several advantages, in fact:
it is ideal for packaging a great many products, both food and non-food;
it is practical and compact in size;
the maintenance and cleaning operations are quick and easy;
it features a PLC panel with 7" Touch-Screen to facilitate format changes and store different packaging parameters;
it is fast, reliable and durable.
Minipack-torre offers two main automatic flow pack models:
MINIFLOW 400 EVO, capable of packaging products with a max. range of 180 mm, it can reach 100 packs per minute;

MINIFLOW 600 EVO, with a 300 mm sealing bar, it can reach up to 120 packs per minute.

Automatic bagging machines
Minipack-torre offers automatic vertical bagging machines perfect for all bag types and models. They feature the classicform-fill-seal mechanism, which allows bags to be sealed quickly and accurately.
X-BAG EVO is the ideal solution for those who need to quickly bag small quantities of materials (fresh food, small parts, spare parts, instruction manuals, small-sized industrial components, etc.) of different sizes and with different types of film.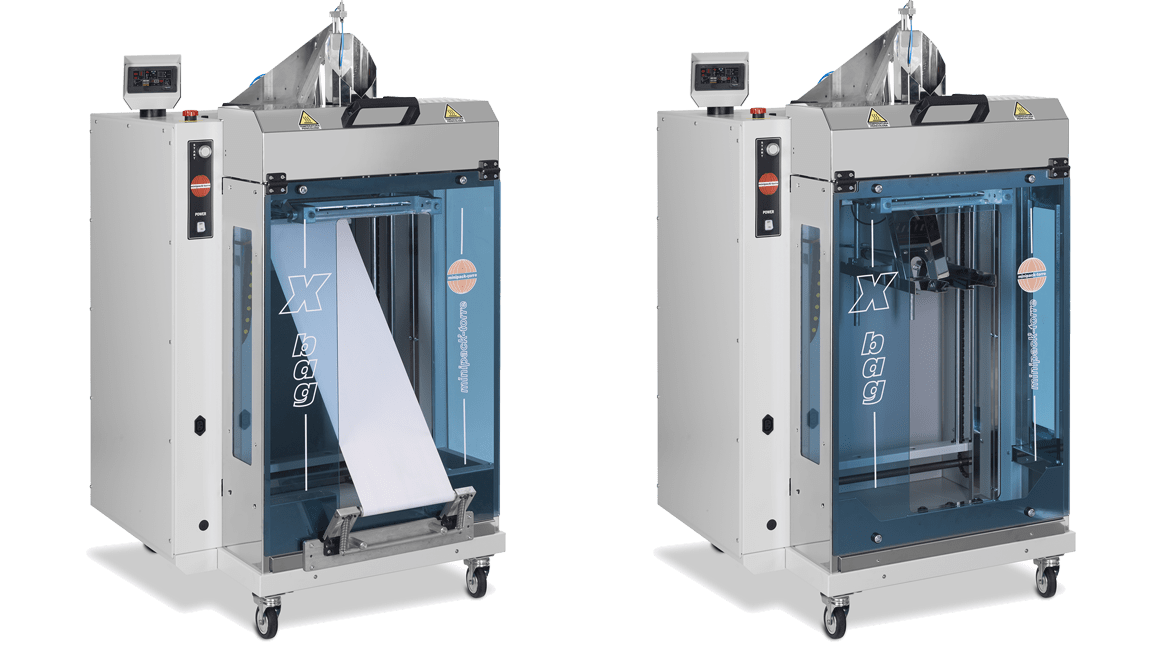 MAILBAG, on the other hand, is ideal for magazines, newsletters, catalogs and publications. Self-adjustment of the product length is regulated by a photocell, the cutting temperature is electronically controlled, and the piece counter is built-in.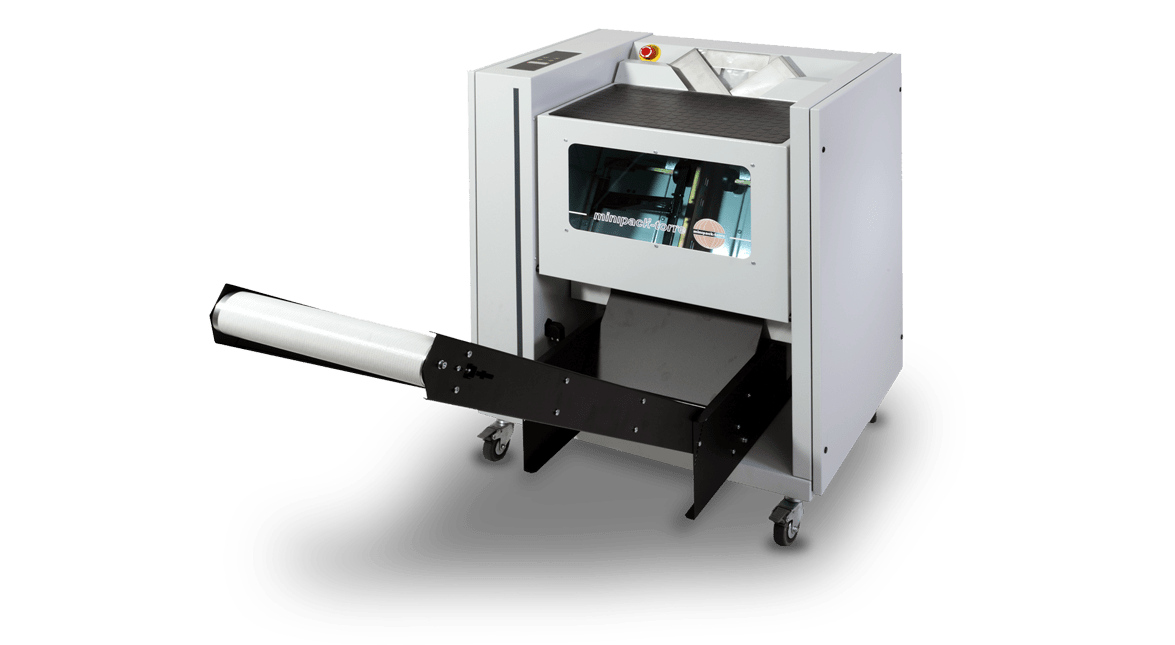 The advantages of automatic packaging machines
The use of an automatic packaging machine offers many advantages in industrial production. 
With a machine designed to optimize your packaging process, you can:
reduce production costs through smart automation that optimizes resource utilization, eliminating material and time wastage. Increased packaging speed enables you to meet tight deadlines and quick turnaround times, giving you a competitive advantage in the marketplace;
entrust the accuracy of your packaging to cutting-edge technology. Automatic packaging machines perform repetitive operations with meticulous exactitude, eliminating human error and ensuring uniform, high-quality packages. Your product's image will benefit, as will the satisfaction of your discerning customers;
customize the packaging of your products with simplicity and elegance. Configure the automatic packaging machine to fit different sizes and shapes, creating distinctive, customized packaging that catches consumers' attention. 
Let us guide you in choosing the right automatic packaging machine for your business!