Candy Packaging Machine
Minipack-torre designs packaging machines for every need: discover all the solutions suitable for packing hard or soft candy, wrapped candy, gummies and more.
Are you looking for a professional candy packaging machine to be integrated in your machinery? minipack®-torre machines are the best choice you can make: discover all the solutions suitable for packing hard or soft candy, wrapped candy, gummies and more.
Candy packaging: safety and appeal
When you have to package candies, you need to choose the right tool to protect your products and make them look attractive. To protect the product, in particular, the best choice is to use a packing film specific for food: resistant, hygienic, tear-proof, water-proof.
Our candy packaging machines lets you choose the best film you want: it is suitable for different types of film, from polyethylene to polyolefin, from macro-perforated to coupled film, from biodegradable to carten to printed films. This variety make you get the best result in terms of appeal.
The latest generation candy packaging machines
The best type of candy packing machines offered by minipack®-torre are bagging machines and flow pack machines. Let's discover their characteristics.
Bagging machines
Our bagging machines are equipped with an innovative sealing system that allows bags to be sealed quickly and accurately. According to the type of business, you can choose between horizontal or vertical bagging machines.
Vertical bagging machines, in particular, are the best for candy packing.
X-BAG EVO is the latest generation vertical bagging machine offered by minipack®-torre and it's a perfect candy packaging machine. Thanks to its simplicity mixed with its high technologic level, this machine is able to guarantee quality and reliable packaging.
Let's discover the main advantages of this candy packaging machine:
It's a simple to use, maintain and install alternative to manual packaging – that is a bad time-consuming practice – and to automatic packaging too – that involves large, complex and inadequate machines.
Thanks to its compactness, our candy packaging machine can be places in any kind of work space, even the most restricted ones.
It has lower operating and maintenance costs, plus it saves on packaging materials.
Reduced downtime and increased productivity.
From a technical point of view, these are its main features:
X-BAG EVO can operate in continuous or pulse-based mode.
Two independent type of sealing: horizontal and vertical.
Schneider Electric Colour Touch Screen
Hermetic three-seal closure.
Flow-pack machines
Flow-pack machines are a great alternative to bagging machines for candy packing. With this type of packaging, the sliding of the products takes place inside a single packing film, which is welded in three points: one longitudinal and two transverse welds.
Packaging rates are quite high and the packages are not only very safe but also aesthetically pleasing, making them perfect for food products to be placed in displays.
Minipack®-torre offers three models of flow-pack machines: Miniflow 400 EVO, Miniflow 400 and Miniflow 600.
All these models are completely electric and offer the following advantages:
They can facilitate cleaning and maintenance operations;
They are very easy to use, thanks to installation of a PLC framework with 7'' touch-screen;
Format changes are fast;
When dealing with the same product more than once, it is possible to record the parameters and the recipes for a faster start of the packaging cycle;
They are more compact and occupy less space.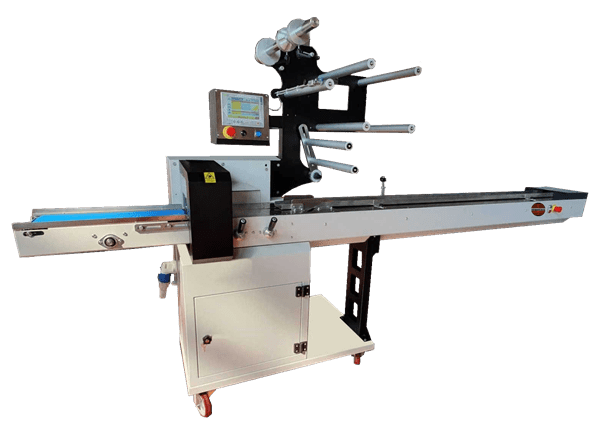 In photo: Miniflow 380 candy packing machine
If you are looking for reliable and high quality packing machines, minipack®-torre is exactly what you business needs. Take a look at the video to discover more about our reality:
Would you like to know more about our candy packaging machine?