eVac 65
Automatic vacuum for processing laboratories - PLC and Touch Screen control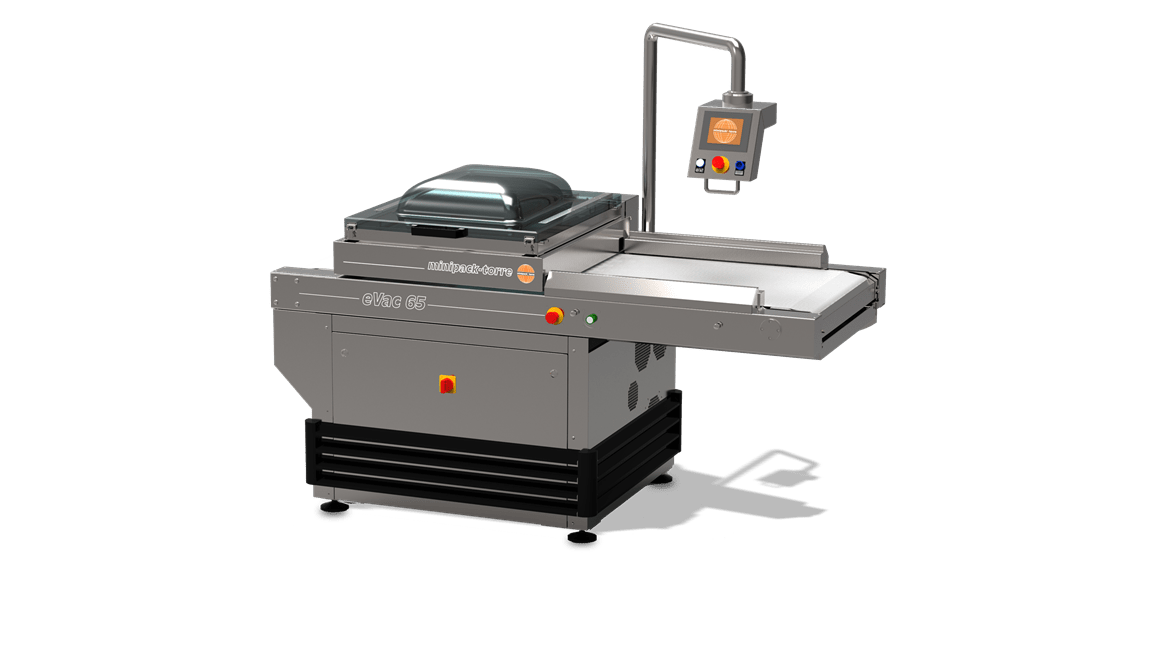 EVAC 65: the new automatic vacuum packaging machine with highly technological content
An innovative, compact, high technology and cheap automatic vacuum packaging machine has been born in minipack®-torre Food Division research dept. eVac 65 is a food packaging machine suitable for medium/large dimension product packaging in processing laboratories. Its fast and simple automatic working with a high output grants a huge advantage both in labour terms and production times.The bag with the product inside is put by the operator on the conveyor belt, running from right to left,and it is dragged into the vacuum chamber. Everything has been studied to obtain the highest efficiency and speed, starting from the color touchscreen control panel which allows a fast and intuitive program set-up with several options, functions and diversified cycles. eVac 65 allows the vacuum packaging of several quality, thickness and size vacuum bags.
A series of unique features
The new eVac 65's huge advantage is its completely electric-powered working. Beside this granted energy saving, this vacuum sealer machine can be located everywhere without the need of any compressor or any pneumatic feed connection. Its completely transparent cover allows the best control of product processing, thanks to its inner low consumption LED light bar. Its stainless steel AISI 304 bodywork and its conveyor belt which may be slowed down with its specific program guarantee the highest hygiene and easy cleaning operations.
Exclusive specific vacuum program for meat
eVac 65 is an en excellent meat vacuum packaging machine: in fact, it hosts an exclusive specific vacuum program for meat and derived products, where more cycles are carried out in order to make the fibrous product structure softer. Possibility to set-up the desired vacuum in % or of the remaining millibar.
Set up your machine with your mobile device
eVac 65 steps with times. Thanks to Schneider Electric's technology, it is possible to download a specific App which allows to transfer and reproduce the color touch screen display on tablets and smartphones. This allows to program the machine at distance, to ask for tele-assistance, check the output volumes and check any production stops. It is possible to set up to 100 specific programs with the name of the product to package, to define the vacuum %, the discharge and sealing times, to activate a single or both sealing bars, to set the hood opening height and pump timing.
Need more info?

Get in touch now and we'll answer all your queries!
Technical features

Transparent PMMA cover
Cover movement with stepper motor
Revolving cover for a simpler and faster maintenance
LED light inside the chamber
Control panel in compliance with IP65
Automatic product insertion and discharge
Product guides
Washable and tension-adjustable conveyor belt
Conveyor belt with stainless joint for a rapid removal in case of cleaning and maintenance operations
BUSCH 200 m3/h 400V 50Hz 3Ph pump
Completely electric-powered machine, no need of compressed air
2 sealing bars (650 mm useful width)
Sealing with cooling times
AISI 304 Stainless steel bodywork
Pedal working control (optional)
Shrinking tunnel (optional)
technical features
| | | |
| --- | --- | --- |
| Electrical power supply | V | 400V |
| Phase | ph | 3 |
| Dimensions of sealing bars | mm | 650 (2 side) |
| Conveyor belt width | mm | 650 |
| Conveyor belt height from the ground | mm | 861 |
| Vacuum pump | mc/h | 200 |
| Max speed | cycles/min | 2 |
| Machine dimensions | mm | 1907x1200x h.1345 |
| Machine weight | kg | 635 |
| Chamber available dimensions (Tank+lid) | mm | 670x760x h.200 |
minipack®-torre shall not be held liable for typos or printing errors in this catalogue. It also reserves the right to make changes to the specified features without prior notice. All trademarks are property of their respective owners and are hereby acknowledged.