Sustainability has become a global priority, therefore it is critical that companies adopt environmentally-friendly solutions to reduce their environmental impact. Sustainable packaging not only shows a commitment to environmental protection, but also offers tangible benefits such as reducing operating costs and attracting increasingly more aware consumers.
In this article we will explore some examples of sustainable packaging that your company can adopt and provide useful tips on how to get them:
Environmentally sustainable materials for packaging
Let's discover together some examples of these eco-friendly materials and explore their applications:
Recycled paper: produced using paper fiber from waste and recycled materials, it is a versatile and widely available option, and is suitable for making boxes, bags and lightweight packaging.
Cardboard: it is a durable and recyclable material that is ideal for making boxes and protective packaging. It can be easily customized and can be used for excellent product presentations.
Bioplastic: this is a "plastic" derived from renewable sources such as corn starch, sugar cane or potatoes. It is biodegradable and compostable, with lower environmental impact than conventional plastic. It can be used for the production of bags and flexible packaging.
Mater-bi: this is another example of biodegradable and compostable "plastic", produced mainly from corn starch. It can be used for the production of bags, film and flexible packaging.
Cellulose film: transparent and biodegradable, made from plant cellulose, the material is ideal for wrapping and protecting fresh food, replacing conventional plastic film.
PLA (polylactic acid): it is biodegradable plastic derived from renewable sources such as corn or sugarcane. It is suitable for the production of bottles, containers and rigid packaging.
Recycledplastic: using recycled plastic is a sustainable option because it reduces dependence on virgin raw materials and promotes recycling. It can be used for the production of a wide range of packaging, including bottles, containers and plastic film.
Gum paper tape: it is made from recycled paper and a starch-based glue, making it biodegradable and easily recyclable.
By choosing from these eco-friendly materials, your company can adopt a sustainable packaging strategy, reducing its environmental impact and promoting the image of a responsible and environmentally friendly company.
The right packaging machines for sustainable packaging
Starting with the materials we mentioned in the previous section, here are the packaging machines you can use to achieve more sustainable packaging.
Karta Tape, the ideal wrapping machine for gum tape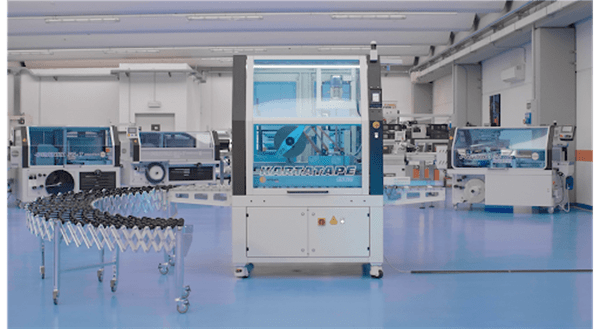 KARTA TAPE 1562 is a patented automatic self-sizing gummed paper taping machine. This innovative tape, also known as WAT (Water Activated Tape), is activated precisely by water and bonds instantly to fiber surfaces, both virgin and recycled. Thanks to its immediate destructive bonding, it ensures tamper-proof packaging.
The machine has different belt widths, ranging from 150 mm to 620 mm, and can be used for boxes of various sizes, with heights between 150 mm and 620 mm and lengths between 250 mm and 800 mm. Its power supply is 400V 3-phase with 50 Hz frequency. KARTA TAPE 1562 provides an efficient and reliable solution for the application of gum tape, ensuring safe and sustainable packaging.
Cellulose film and recycled plastic film packaging machines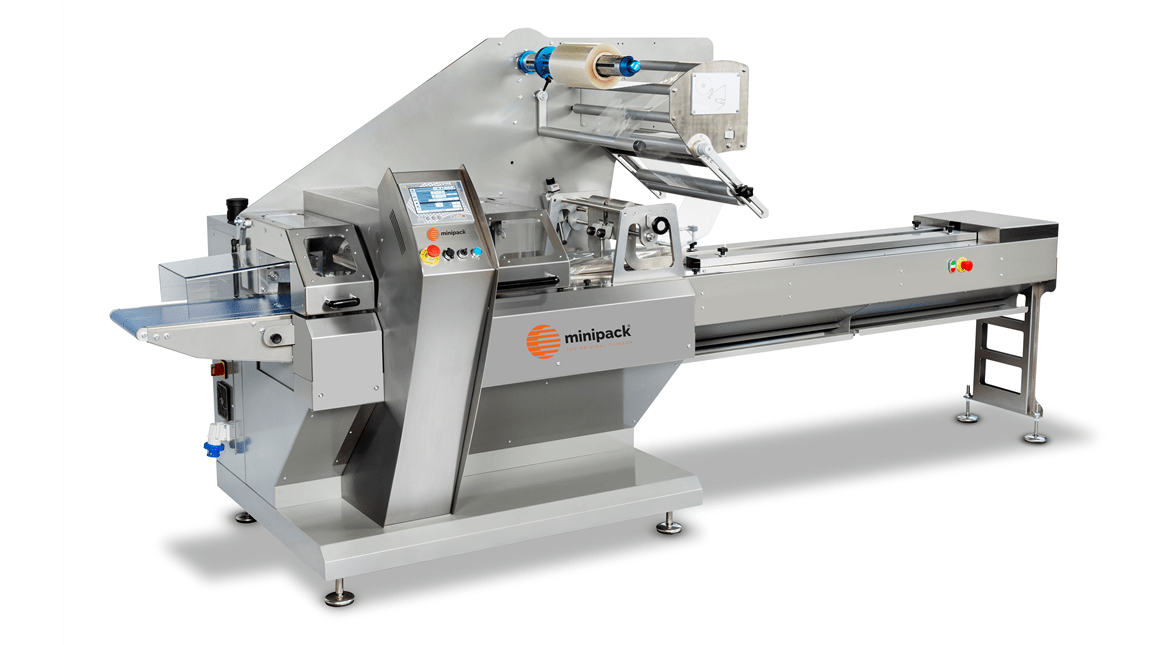 Miniflow 600 EVO is the fully electronic horizontal flowpack packaging machine from minipack®-torre. This packaging machine is a high-performance, versatile and technologically advanced solution for companies wishing to streamline packaging processes with high levels of productivity. Its design is focused on simplifying maintenance and cleaning operations, providing an optimized user experience.
Miniflow 600 EVO is particularly suitable for packaging a wide range of food and non-food products, such as brioches, cookies, cakes, breadsticks, sachet pharmaceuticals, candies, chocolates, sundry gadgets and much more.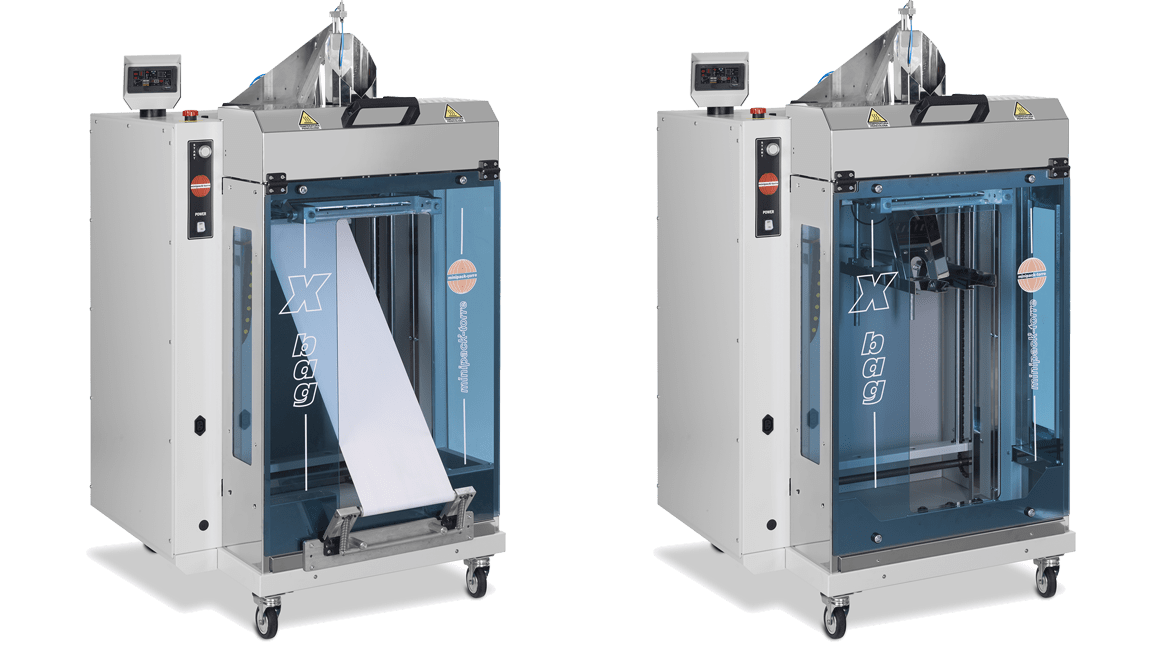 X-BAG EVO offers a simple and efficient solution for quick bagging of small quantities of material. This machine is particularly suitable for packaging fresh foods, small parts, spare parts, instruction manuals, small industrial components and more, using films of various sizes and types.
X-BAG EVO's convenience and maneuverability enable continuous or jogged operation, and thanks to its compact size, it can be placed in any environment, even in tight spaces.
PLA packaging machines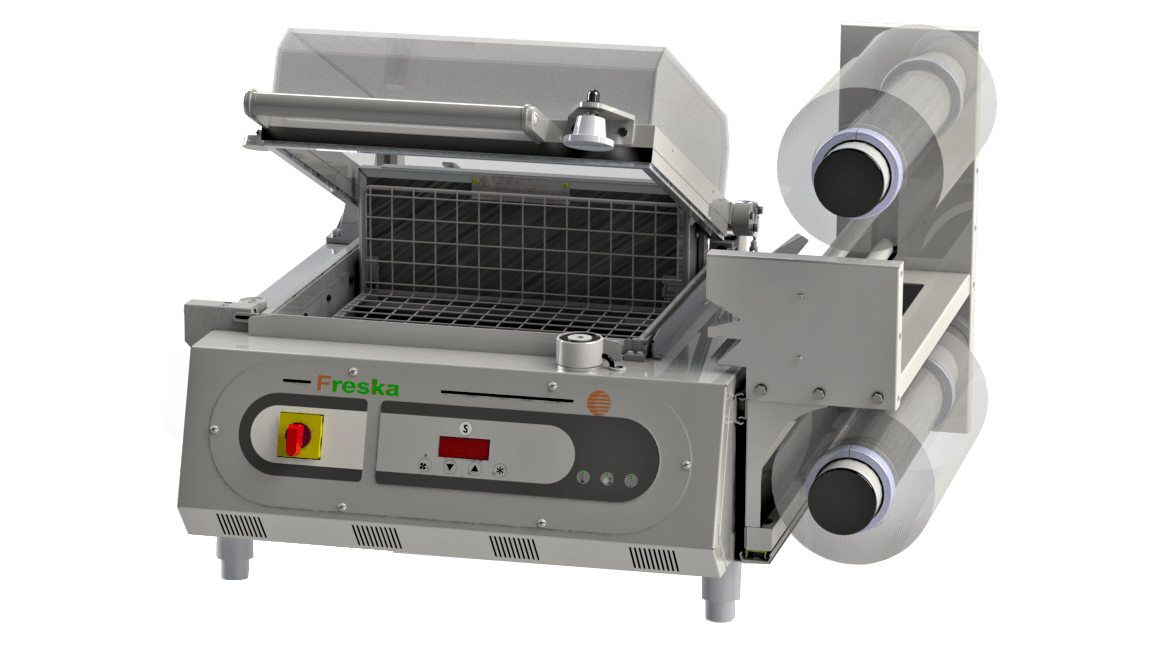 The Freska packaging machine is the new universal solution designed especially for supermarkets. This revolutionary machine allows all types of commercially available trays to be packaged without the need for custom molds. The film adheres to any product, whether it has a tray or not. In addition, Freska allows all types of films and pouches to be packaged, making it ideal for packaging meat and any other food. An innovative feature of Freska is the ability to simultaneously install two reels, even with different characteristics, always ready for use. This saves time when changing the reel.
Freska offers three functions in a single machine. It works like a heat sealer, without the need for universal molds, and can pack any type of tray, including cardboard trays. It also acts as a stretch dispenser, wrapping any product with recyclable film, whether with a tray or without. What is more, it acts as a sealing machine, producing envelopes of any shape and sealing any kind of material.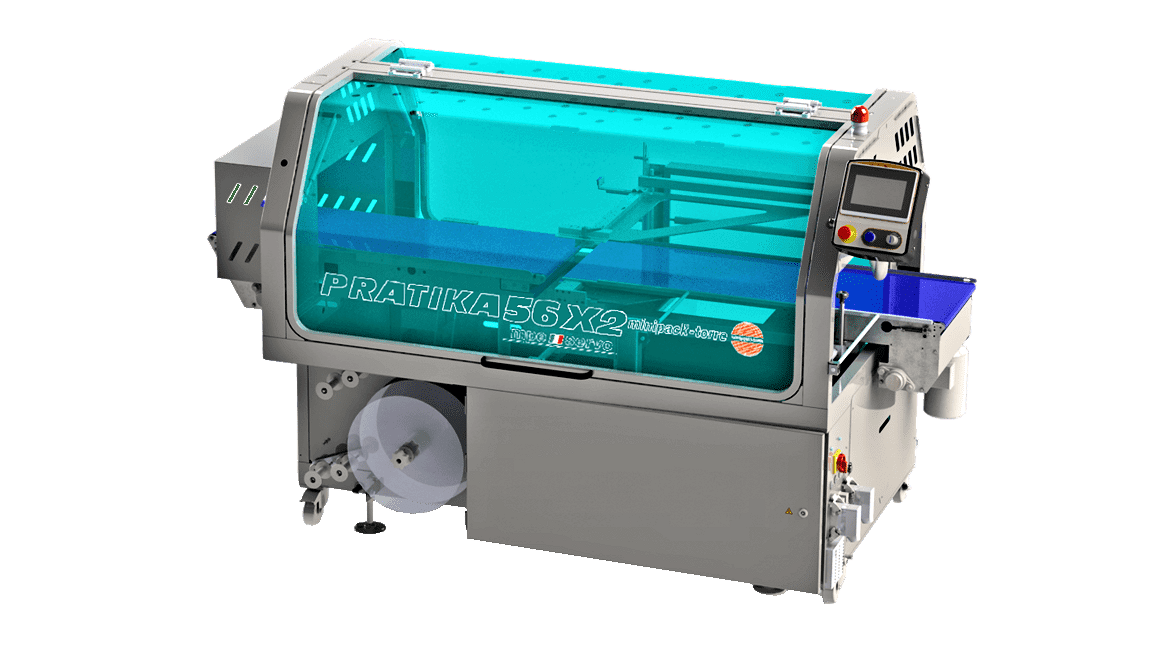 Pratika 56 MPE X2 INOX is an automatic double-door shrink wrapping machine designed to offer an advanced and easy-to-use solution in packaging.
The machine is a perfect combination of reliability, high performance, versatility and safety, redefining the standards of automatic shrink wrap machines. It provides an excellent option for those seeking a reliable and innovative shrink wrapper, with superior ease of use and state-of-the-art performance.
It is time to embrace change and make a difference in the world of packaging!