Chamber vacuum machine
A chamber vacuum machine is the best solution if you need optimal vacuum levels in the packing. Discover minipack®-torre best models and find yours.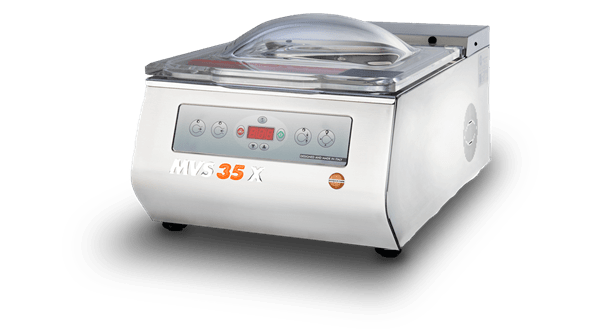 A chamber vacuum machine is the best ally when you need to be sure that your products are perfectly packaged. This type of vacuum is normally used in restaurants and supermarkets as the chamber mechanism is able to ensure perfect food preservation, without compromising quality.
Anyway, this professional vacuum machine can be used also for other products packaging.
Here you can find the different types and models offered by minipackⓇ-torre.
Tabletop chamber vacuum machine
This type of chamber vacuum machine is innovative, revolutionary, compact design and small.
It is also very easy to use, as it is equipped with an intuitive control display and a control panel that allows you to set up to 10 customized programs. Here are the models available:
MVS31 XP
MVS31 XP tabletop vacuum machine has a 310 mm sealing bar and is a very innovative model. It gives the possibility to print the labels for each machining, on which are printed the most important information about the packaging operation.

Moreover, this chamber vacuum machine has a very interactive control panel that allows a quick setting of operations.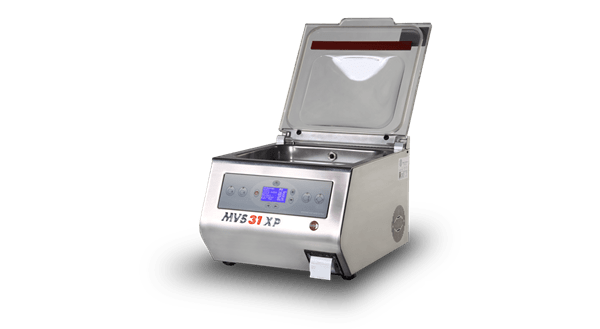 MVS45 XP
MVS45 XP is another innovative tabletop vacuum machine with a 450 mm sealing bar, so it is bigger than the first one.
This model too offers the possibility to print a label with the essential information about the machine functions and a control panel in order to help the operator in the programming of technical interventions.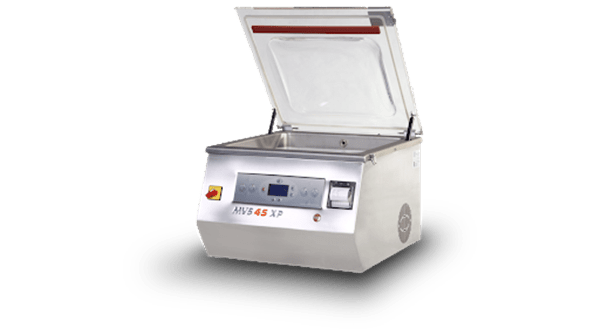 Chamber vacuum machine with carriage
Chamber vacuum machines with carriage are the best solution for packaging big products.
This type of chamber vacuum machine is very compact and with a modern design, so it is very pleasant to see and it is also very efficient. Here are the available models:
MVS45L XP
This is a trolley vacuum machine with a 450 mm sealing bar. Just like the models described above, MVS45L XP is very innovative and technologically advanced.
It has an efficient panel control that allows also to obtain a preliminary diagnosis of technical issues on the machine directly from the display.

For those who work in the food industry, this chamber vacuum machine gives the possibility to retrieve the types of products that need to be packaged, divided by macro-categories (meat, fish, cheeses, vegetables, etc.)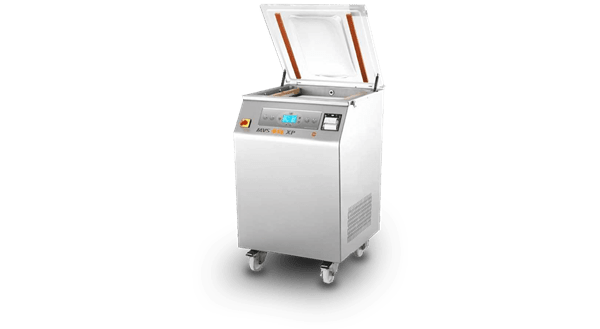 MVS65 XP
MVS65 XP is a professional chamber vacuum machine with automatic tracking and a 656 mm sealing bar.
It is perfect for the packaging of products with very big dimensions and its innovative display allows one to personalize the machine in order to meet the needs of the operator.

The entire new line of XP vacuum chamber machines by minipackⓇ-torre has obtained CE/ETL/NSF certifications.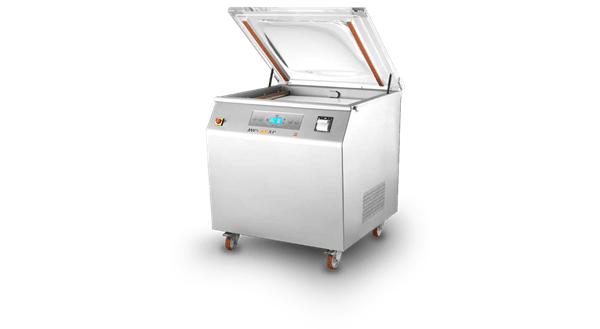 Why choosing minipack®-torre chamber vacuum machines?
Safe, certified and innovative: these are the main reasons why you should choose minipack®-torre.
Our chamber vacuum machines are made in stainless steel so they guarantee resistance and high suction power. They are also user-friendly and beautiful to see, thanks to their compact design.
Moreover, only the vacuum chamber machine ensures a very high degree of vacuum that guarantees an excellent preservation of the product.
In fact, vacuum chamber machines reach a vacuum percentage of 99%, and are the only ones that allow to preserve liquid and semi-liquid foods (sauces, gravies and the like) that would be sucked by an external suction machine.
Finally, it is important to remember that minipackⓇ-torre is located also in the US so we are able to provide our machines all over the country.
If you need further information about our chamber vacuum machines, our professionals are at your complete disposal!