When we talk about automatic shrinkwrappers, heat-shrink film is almost a must. Heat-shrink film is in fact the most efficient and most suitable material for this application, because it allows you to achieve unique results: resistant, hygienic and attractive packaging.
Let's see why.
How the heat-shrink film is made
The heat-shrink film is, technically, a multi-layer co-extruded. It is made of polyethylene, a material capable of excellent performance:
reaches 100 MY
resists heavier and multipack products (including, for example, the packaging of car batteries or tyres)
is very versatile and perfectly workable with any type of packaging machine.
In addition, it has the advantage of aesthetic performance: excellent transparency, brilliance, softness, glossy effect. All qualities that contribute to enhance the characteristics of the product and make it more attractive to the market.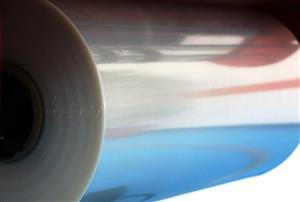 For all these reasons, an automatic shrinkwrapper finds its material par excellence in shrink film.
Our automatic shrinkwrappers with heat-shrink film
In the minipack tower range you can find more than 30 machines working with polyethylene film. Among these, many are automatic and equipped with integrated shrink tunnels; they are highly efficient packaging machines, suitable for tight working rhythms and designed to reduce production times and costs.
MS line: automatic with in-line or double belt infeed
In the MS line you can find different models of automatic shrinkwrapper with heat-shrink film able to create multipack packs from already grouped products. They are predisposed with in-line infeed, or with double motorised belt, before and after the sealing bar (AL series).
MS 70 L: SEMIAUTOMATIC SLEEVE WRAPPER WITH LINE INFEED - INCORPORATED TUNNEL - SEALING BAR 700 MM
MS-1 line: automatic with 90° loading belt
If, on the other hand, you want an automatic shrinkwrapper with an integrated shrink tunnel capable of creating product groups independently, a machine from the MS-1 line is ideal. Here, the 90° loading conveyor allows you to create multipacks from individual products.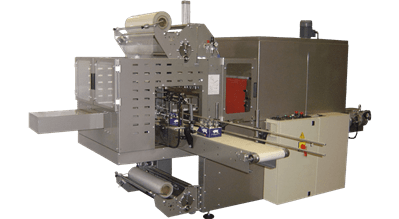 MS 90-1: AUTOMATIC SHRINKWRAPPER WITH 1-TRACK LOADING BELT AT 90° AND PNEUMATIC PUSHER – 900 MM SEALING BAR
HS and HS-1 line: high speed automatics
What you're looking for is a faster packing speed? Then the right choice is a shrinkwrapper from the HS line: thanks to the integrated inverter, they increase the speed of loading, unloading and packaging, with a significant time saving and efficiency gain.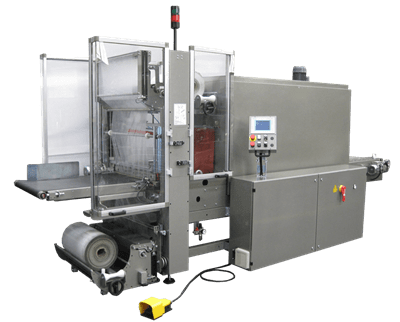 HS 70 AL: AUTOMATIC SHRINKWRAPPER WITH PLC, LOADING AND UNLOADING BELT - WITH 700 MM SEALING BAR
R-line: automatic with multi-line divider
The multi-line divider is the necessary functionality for all automatic shrinkwrappers with heat-shrink film installed in the production line: the divider, in fact, facilitates and speeds up the loading and the creation of the bundles.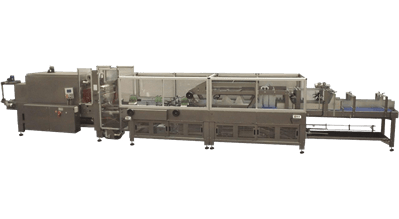 R 70 20 V: AUTOMATIC SEALING BAR SLEEVE WRAPPER WITH PLC, MULTILINE DIVIDER (6 TRACKS), AUTOMATIC LOADING OF CARDBOARD BUNDLES OR TRAYS, TRAY FORMER - WITH 700 MM SEALING BAR
WRAPJET line: automatic film-throwing machines
The last frontier of the automatic shrinkwrapper is a self-sealing heat-shrink film. And this is exactly the result we have achieved with the WRAPJET line: film-throwing packaging machines, capable of self-sealing while passing through the shrink tunnel, without the need for a sealing bar. The product stop moments on the belt are cancelled.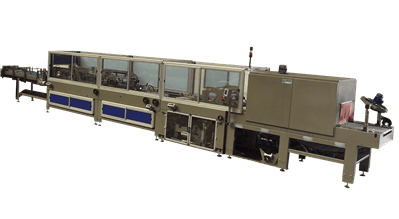 WRAPJET 20 V: AUTOMATIC SEAMLESS FILM SLEEVE WRAPPER WITH PLC AND MULTILINE DIVIDER (6 TRACKS) AND AUTOMATIC LOADING OF CARDBOARD TRAYS OR FLAPS, TRAY FORMER
Are you not sure which automatic shrinkwrapper is suitable for your business? Contact us: we will provide you with all the support you need. If you wish, you can also book a free packing test.