Water bottle packaging is one of the most classical applications of bundle packaging. They are constantly before our eyes, sometimes we curse them when we have to carry water bottles up and down the stairs at home.
This article explains:
Our water bottle packing machines
The range of minipack®-torre bundling machines is very varied and rich, with more than 50 different models. 7 are the main lines, each suitable for a particular application.
MS line
MS line is the basic line, with monobloc machines, very easy to use, and able to create single or multipack packaging from products already grouped.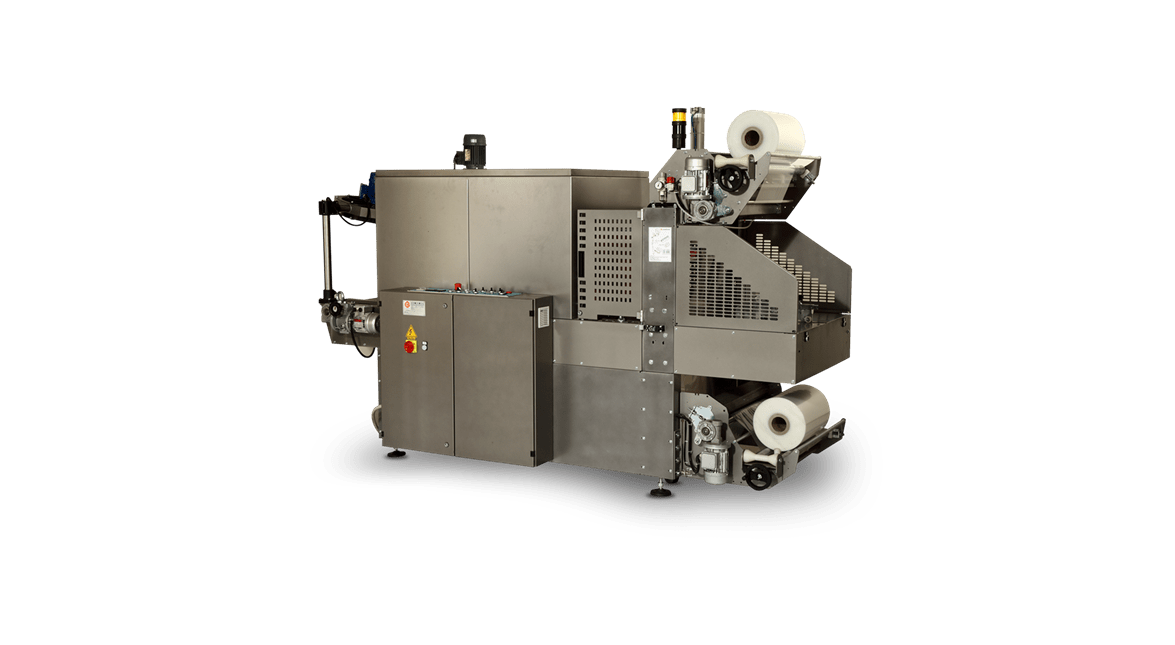 In the picture: MS 90 packing machine
MS L line
MS L machines are semiautomatic and designed for inline input.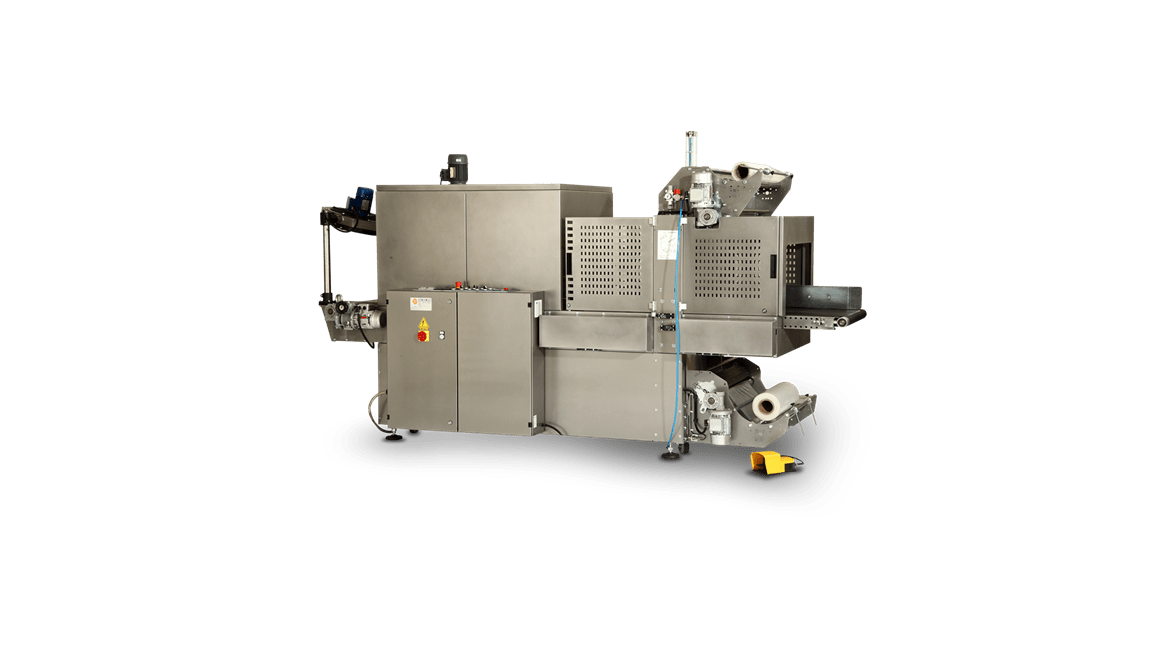 In the picture: MS 70-L packing machine
MS AL line
MS AL are shrink wrapping machines with double motorized belt, before and after the sealing bar.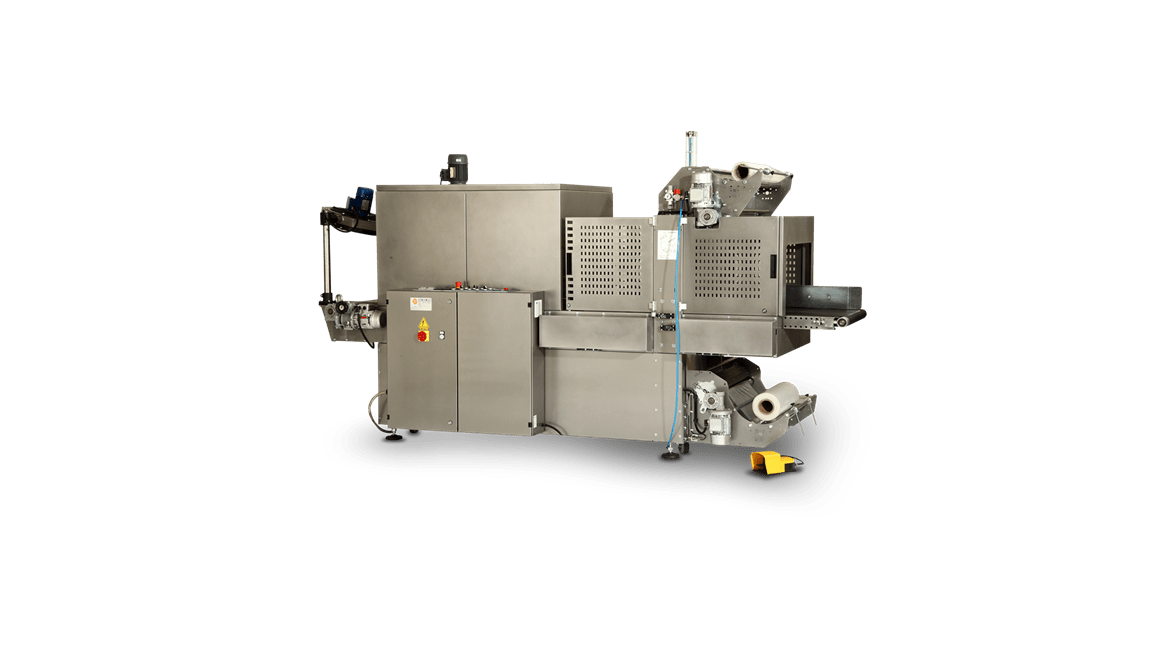 In the picture: MS 90 AL packing machine
MS-1 line
MS-1 machines are equipped with a 90-degree load ribbon, to create multipack packaging from separate products.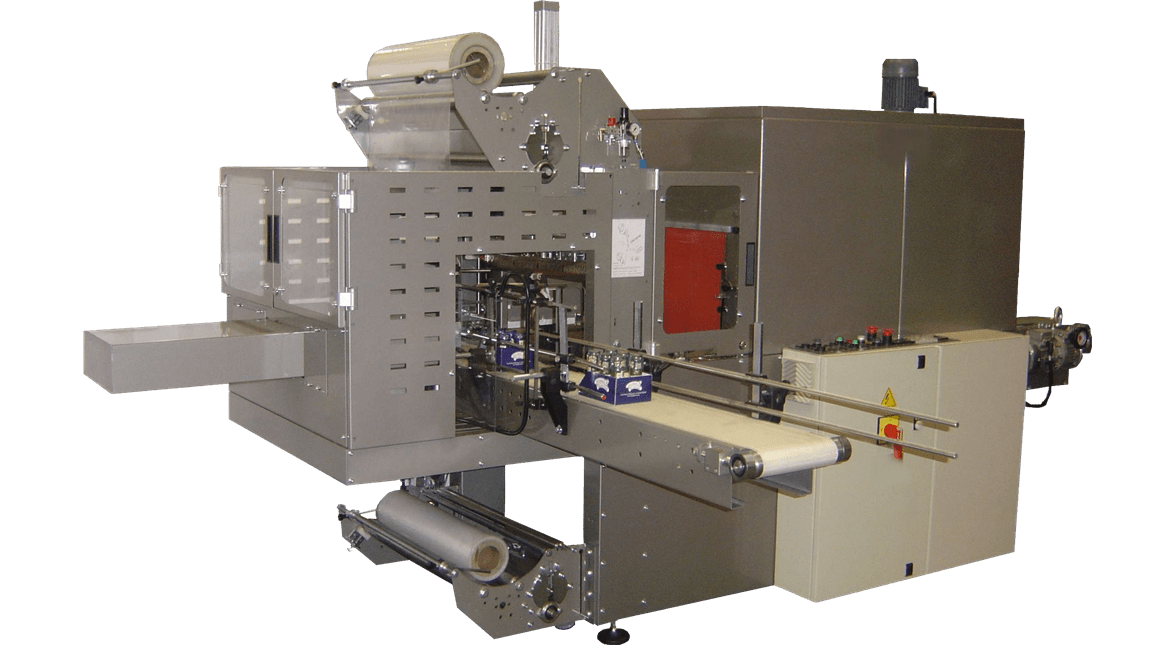 In the picture: MS 90 - 1 packing machine
HS line
HS (High Speed) are automatic bundling machines with an inverter that increases loading and unloading speed.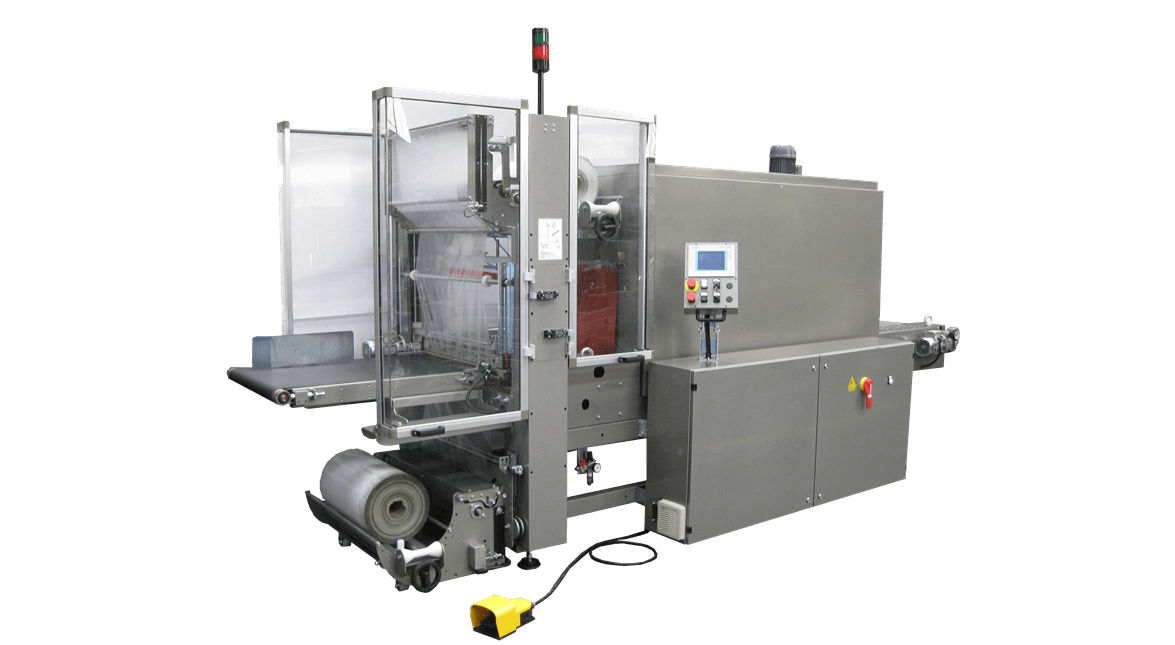 In the picture: HS 70 AL SPEED packing machine
R line
The R line includes all machines with multi-line dividers (up to 6 tracks). They can provide automatic loading of cardboard trays or flaps, tray former.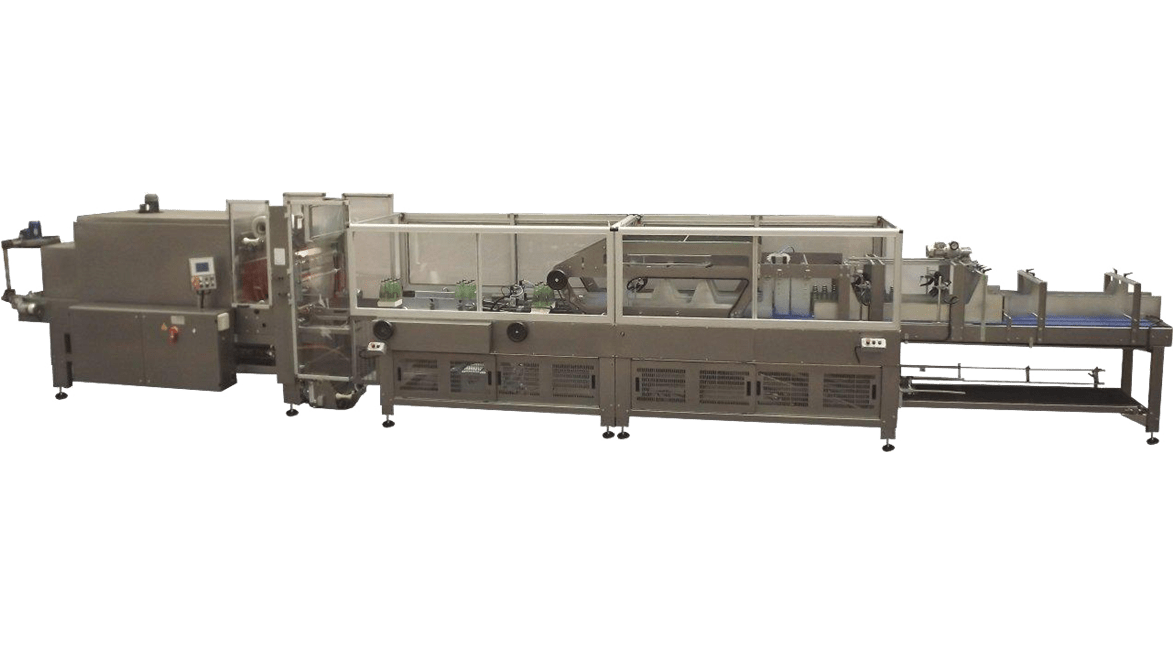 In the picture: R 70 20 V packing machine
WRAPJET line
The WRAPJET line is composed of film launch machines: the film in this case is self-sealing, without the need for a welding bar. The result is a significant increase in speed and efficiency.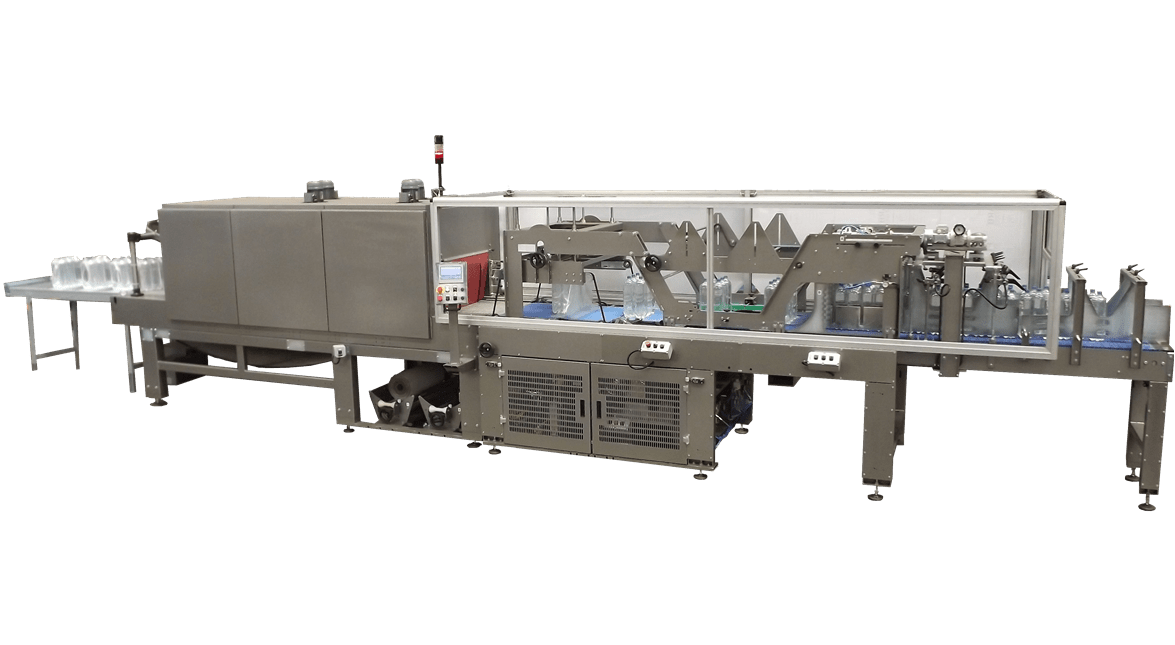 In the picture: WRAPJET 30 packing machine
How water bottles are packaged
Packaging with the sleeve wrapper machine is the production step that precedes the palletization of bundles and their shipment to the large-scale retail chains.
During this passage the bottles, once at the packaging machine, are divided into groups (generally to create 4 to 6 bottle packs) and then wrapped with shrink film, forming the so-called bundle. The bundles are, therefore, ready for the application of the handle with which to transport the water bottles to their destination.
The advantages of packaging with sleeve wrappers
This type of packaging not only allows you to have a more tidy warehouse, but carries several advantages:
It allows to comfortably carry more bottles at the same time;
Invites the customer to buy more bottles together, instead of a few at a time;
It is possible to print shrink film with the graphics you want;
It is easier to order the bottles on pallets for delivery and then expose them in the supermarket;
No additional clearance is added.
Packaging water bottles: different packaging formats
The minipack®-torre automatic sleeve wrappers are the best solution for those who want to integrate the packaging machine directly into the production lines of water or soft drinks in general. It is possible to package single or multiple products through the application of special polyethylene shrink film.
The Gramegna brand automatic sleeve wrappers are characterized by great compactness, high performance and excellent safety standards, ensures by a photocell that blocks the sealing bar activity in the presence of obstacles.
A sleeve wrapper is a packaging machine optimized for the use of polyethylene film, suitable for packaging that requires a thicker film. Usually, the sleeve wrappers are used to package plastic bottles, various types of jars, cans. However, these machines are flexible enough to pack all kinds of products, both single and multiple.
All our sleeve wrappers are certified according to current European regulations. The rich equipment of optional and functionality allows these machines to be particularly versatile, suitable for every packaging need.
Choose the models most suitable to your type of activity!