Minipack®-torre semi-automatic sleeve wrappers enclose all the experience of a historic brand, bringing great added value to those looking for fast and flexible packaging machines. Let's see the semi-automatic models available and all their advantages.
Minipack®-torre sleeve wrappers
In 2015, minipack®-torre expanded its range, which now includes a new line of sleeve wrappers.
A sleeve wrapper is a packaging machine designed for more resistant polyethylene film packaging: in fact, it is used to pack various plastic bottles, cans or jars. However, it is versatile enough to be used to pack any type of product.
A semi-automatic sleeve wrapper if it is designed for packaging discontinuously, outside the production line.
Semi-automatic sleeve wrapper: MS 700 and 900
The MS range models are the simplified version of a standard sleeve wrapper, while retaining professionalism: they are driven by an adjustable pusher to manually load the product on the input surface.
MS 700 and MS 900 share a number of innovative features:
A solid single-unit main structure, ideal for saving valuable space in medium to small-sized companies
A safety photocell that blocks the sealing bar if it encounters an obstacle in its path
An automatic system to unwind the film reel
Moreover, they are fitted with:
A conveyor belt with adjustable speed
A switch to change from manual to semi-automatic mode.
Optionals can be added in some models, such as a cooling unit of the outfeed pack and a reel centring system.
Each semi-automatic sleeve wrapper of the MS line packs both single and multipack products and thanks to its many features, it fulfils every packaging requirement. These machines can produce from 5 to 12 packs per minute.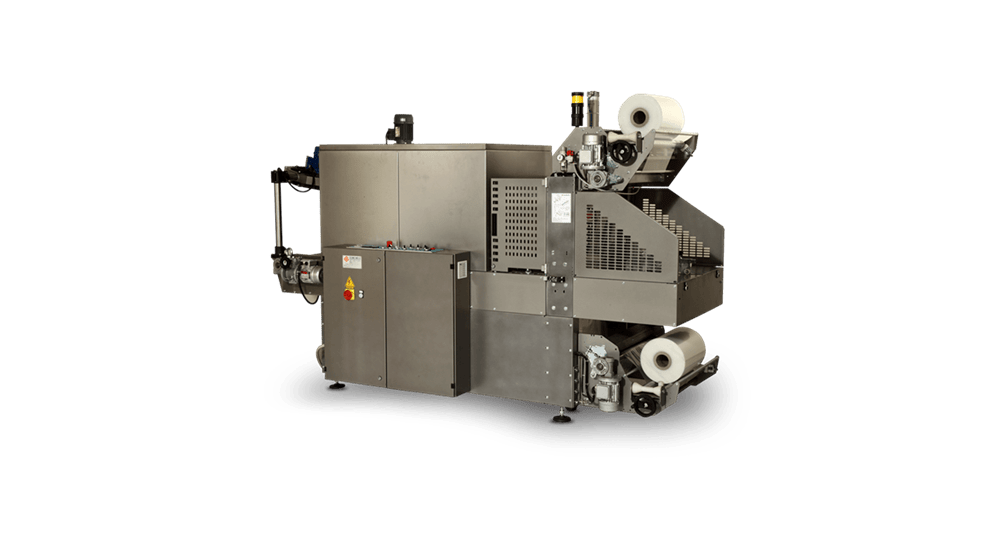 Semi-automatic sleeve wrapper: MS L and AL
The MS L and MS AL automatic sleeve wrappers differ by the motorised belt before and after the sealing bar and by the possibility of heat-shrinking products up to 1500 mm in length, single or grouped.
In addition to the single-unit structure and the safety photocell, already mentioned in the MS range, these models are enhanced by features that guarantee excellent performance:
A heat-shrinking tunnel insulated with rock wool and heated with resistors
PID temperature controllers to control temperature of the tunnel and the sealing bar
A gear motor with adjustable speed that controls the progress of the conveyor belt inside the tunnel
And not only, every automatic sleeve wrapper of the MSL and AL line has a switch to change from the semi-automatic to the automatic cycle. The set up of the infeed and outfeed exchange signal automation makes it the ideal solution for companies that want to integrate machines in the production line.
Discover all the sleeve wrappers of the Minipack®-torre range!