Powdered coffee can be packed in a single layer of protective film (primary packaging) or wrapped in a second package (secondary packaging). The typical silvery, vacuum-packed shell is the primary packaging. Several individual packs can then be bundled together, in compact and strong multipacks: this is the secondary packaging, made by automatic shrinkwrappers.
When to use the secondary packaging for coffee
But why do some brands use secondary packaging? The answer is more than one:
to simplify transport and storage by grouping multiple packages into strong, sturdy and space-saving packages;
to offer more variety to the consumer;
for marketing needs, e.g. packaging customisation.
The most suitable packaging systems to meet these requirements are, as we know, shrinkwrappers. Coffee bag packaging machine have precise features and operation.
How automatic shrinkwrappers work
Shrinkwrappers are packaging machines that allow to develop both single and multiple packaging, with polyethylene film. This type of film is particularly resistant and anti-breakage, but also brilliant, smooth and generally pleasant looking.
The automatic machines are the most suitable for coffee (and for food packaging in general); in particular, the most efficient are those with single or double motorised belt and in-line infeed, like those of the MS minipack-torre line. In fact, they are coffee bag packaging machine capable of making single packs as well as multipacks.
The best coffee bag packaging machine in our range
The best coffee bag packaging machine in our wide range are of two types:
with 90 degree load
with double pushers.
Both types are able to meet high packaging standards, thanks to their versatility, quick format changeovers and impeccable seals.
PACKAGING MACHINES WITH 90-DEGREE LOADING
MS 70-1 is an extremely versatile shrinkwrapper, because the 90 degree loading belt allows to group and pack different types of small to medium sized products. It can pack both single and multi-row products, with polyethylene film: in addition to coffee, cans of canned food, bottles, cases, etc..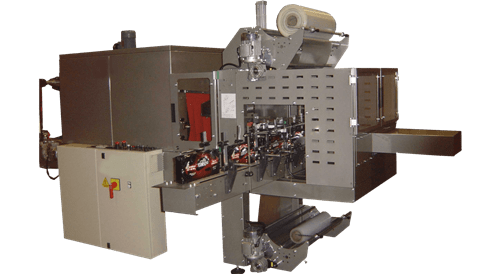 1 lane
1 Pneumatic pusher with multi-row preassembly
safety photoelectric cell
possibility to change the cycle from automatic to manual
45% lower energy consumption
production rate up to 12 bundles per minute
AUTOMATIC SHRINKWRAPPERS WITH DOUBLE PUSHER
These are shrinkwrappers designed and manufactured specifically at the customer's request.
For more information, please contact our sales office, indicating your needs.