In the food sector, shrinkwrappers are the ideal choice when it comes to packaging bottles and jars, but not only. They can in fact create single packs, but also and above all multipacks on a tray.
The advantages of a burden are manifold:
resistor
practicality
convenience of transportation
ease of storage
remarkable aesthetic performance.
However food line bundling machines are not all the same.
The best food line bundling machines
The most suitable machines for packaging food products (and pet food), and in particular with jars, bottles and food products in trays(bricks, cartons, boxes, etc.), are the single or double motorised belt shrinkwrappers, like those of our MS line.
The MS minipack towers are designed to make both single packaging and multipack from already grouped products.
Given the fast pace and speed at which the production lines work in food companies, the automatic machines of our HS line, or High Speed, are also particularly suitable: they are in fact equipped with inverters that increase the speed of loading and unloading of products.
Let's see in detail two of our food line bundling machines.
MS 70 AL: automatic, double motorised belt and built-in tunnel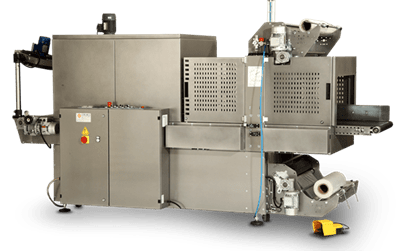 MS 70 L is a packaging system capable of creating single or multiple packages with polyethylene film. 4 are the characteristics that make it particularly suitable for use in food production lines:
Automatic management of the line infeed and outfeed exchange signals.
the possibility to pack products up to 1500 mm long
the motorised belt before and after the sealing bar (700 mm long)
the integrated heat shrink tunnel.
HS 70 AL: automatic, PLC and high speed inverter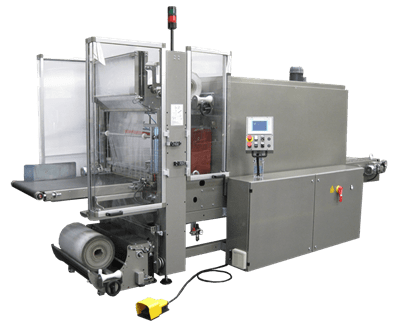 HS 70 AL is the evolution of the previous shrinkwrapper, whose speed and technological component it increases. The inverter, in fact, allows to adjust the speed of loading and unloading of products on and from the belt, optimising packaging times and, consequently, costs.
Among the food line bundling machines, this model is one of the easiest to use and maintain, and guarantees excellent results in all conditions. In addition, it is particularly efficient on tray products.
The other pluses are:
the electrical panel incorporated in the machine, managed by a Siemens PLC
the Touch Screen panel with 7" colour display
temperature control managed by PLC
Do you want to know more about our food line bundling machines? Write us: our specialists are ready to answer your questions and meet your requirements.