MVS35 X: the flexible and functional chamber vacuum sealer
The new MVS35 X chamber vacuum sealer model was refurbished.
Strengths:
Aesthetics
Display/Front control panel
The collaboration with important chefs in the realisation of the machine and the design of the display has allowed to enrich the functions offered by the control panel, taking into consideration the specific needs of professional users.
In this chamber vacuum sealer, the kit for the insertion of inert gases is also provided as optional.
The command panel allows you to set up to 10 custom programs. The display alerts in case of need for oil change.
The tactile control keypad is adhesive and glued on the front of the bodywork, in order to prevent liquids from entering the card.
The vacuum packing machine is equipped with an electronic sensor of the latest generation, which interprets the data directly from the board, reading the degree of vacuum realised inside the chamber; you can also calibrate the machine, once positioned in its location, to correct any variations in atmospheric pressure at different altitudes.
All the chamber vacuum sealers by minipack®-torre are equipped with safety boards against the risk of overheating of the welding rods.
Need more info?

Get in touch now and we'll answer all your queries!
Technical features

Stainless steel (AISI 304)
Vacuum cycle with stop
Bag scrap cutting device
Quick-coupling aluminium sealing bar
Clear plastic lid suitable for use with food
Volumetric vacuum sensor
PE-HD filling tables
10 customisable programs
Self-calibration
Sealing bar overload safety device
Oil and assistance warning light
CE/ETL/NSF certification.
technical features
| | |
| --- | --- |
| Electrical power supply | 120V 60Hz 1Ph 230V 50/60Hz 1Ph |
| MAX power installed | 0,9 kW (120V)0,82 kW (230V) |
| Maximum current | 7,5 A (120V) 3,5 A (230V) |
| Dimensions of the sealing bars | 310 mm (no.1 front) |
| Packaging cycle (Vacuum 99,9%) | Vacuum =7 s Air re-immission =7 s |
| Vacuum pump | 10 mc |
| Machine dimensions (lid open) | 390x617x634 mm |
| Machine dimensions (lid closed) | 390x617x317 mm |
| Machine weight (Net/Gross) | 45/53 kg |
| Available chamber dimensions (Tank+lid) | 325x243,5x184 mm |
minipack®-torre shall not be held liable for typos or printing errors in this catalogue. It also reserves the right to make changes to the specified features without prior notice. All trademarks are property of their respective owners and are hereby acknowledged.
Technical drawing
case history
Minipack-torre vacuum machines and cooking virtuosity: a winning synergy for excellent results in the new avant-garde cuisine.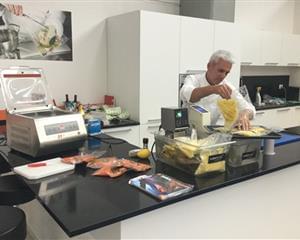 Last week, the well-known Milanese chef, Mr Danilo Angè, renown as culinary consultant and sous-vide cooking technique expert, showed the sous-vide cooking potential to Minipack-torre staff. Minipack-torre vacuum machines are the best ones for the sous vide cooking technique.