Discover the chamber vacuum sealers by minipack®-torre and start packaging in the best and simplest way!
Chamber vacuum sealers are the most used machines in food packaging, both in the restaurant field and in the industrial one. minipack®-torre offers a wide range of vacuum chamber machines, made of stainless steel. Our vacuum sealers:
guarantee resistance and high suction power
are easy to use and completely safe
are beautiful to look at, with their compact design and elegant lines.
The chamber vacuum sealer designed by the best chefs
The Vacuum line, born from the cooperation with renowned chefs, is the most innovative and certified series of professional chambered vacuum sealers. The series embraces a new way of packaging: many innovative functions let you pack the food preserving all its taste. They are top quality vacuum chamber sealers, true excellence in the field.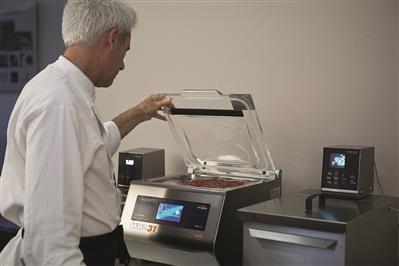 Chambered vacuum sealer with labelling system
Some vacuum chamber machines are equipped with a labelling system, which makes possible to keep always under control the packaging process. The display, mounted on the most advanced chamber machines of the Vacuum series, lets you set many packaging programs in an easy and fast way; in addition, some machines boast a technology by Schneider Electric, letting you program the sealer through a simple app.
The vacuum chamber sealers on this page divide into:
Tabletop vacuum machines – ideal for small businesses in which space-saving is important;
Vacuum machines with carriage, perfect for those who want a single sealer that could be moved easily.
The advantages of the vacuum chamber sealer, the one and only professional vacuum machine
Why and when is it better to choose the chambered vacuum sealer than the one produced by an external suction machine? Because the vacuum produced by the chamber is greater and better, and a chambered machine allows to pack a wider range of products.
In fact, vacuum chamber vacuum sealers reach a vacuum percentage of 99%, and also allow to preserve dressings, sauces and liquids that would be sucked out by an external suction machine.
Discover the packaging vacuum sealer by minipack®-torre: start packaging in the best and simplest way.