MVS41 XP
Tabletop vacuum - Sealing bar 626 mm front / 310 mm side - Process tracking and labeller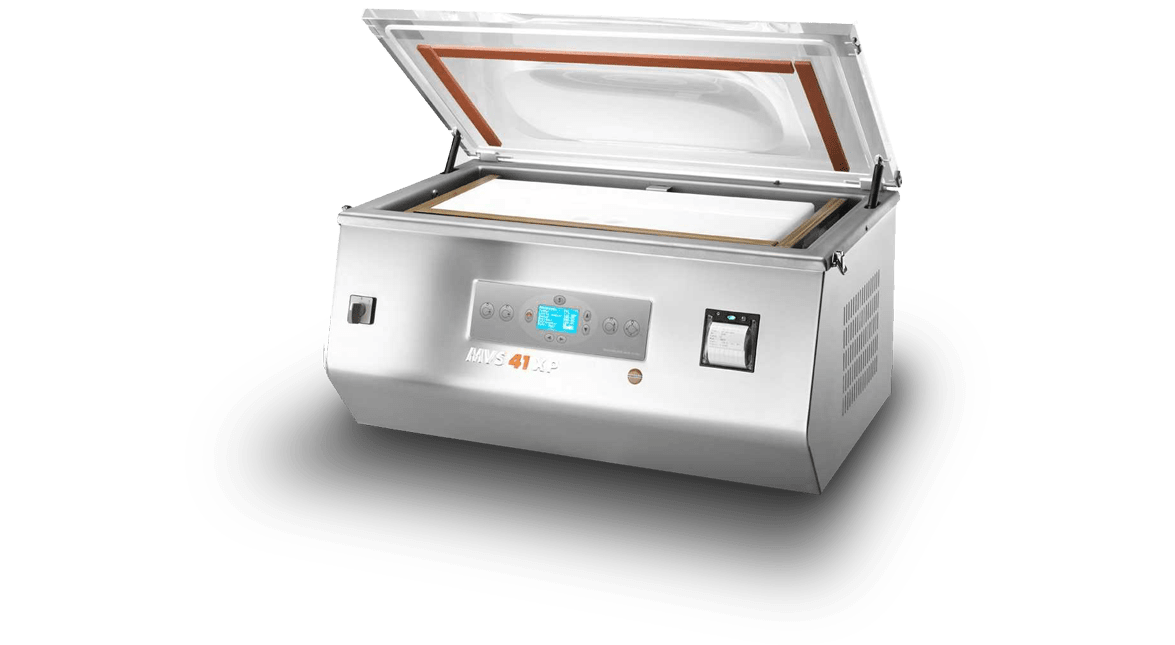 MVS41 XP: compact chamber vacuum sealer with automatic labelling system
The flagship feature of the new line of chamber vacuum sealers MVS XP is the ability to trace the vacuum obtained inside the package: a revolutionary step for controlling the vacuum inside, perfectly consistent with the innovative thrust that has always characterized minipack®-torre.
In some models of the line of vacuum packaging machines, it is possible to obtain specific labels for each packaging, with all the information of the processing.
Another innovative quality of these chamber vacuum sealers is represented by the control panel, which has been enriched with numerous features, with a technological content at the forefront of the food packaging industry. The control panel allows you to quickly set up any operation, helping to understand when it is advisable to intervene with technical assistance; all of this in an interactive and user-friendly display, easy to navigate and use.
All the models in the chamber vacuum sealers XP series are CE/ETL/NSF Certified.
Need more info?

Get in touch now and we'll answer all your queries!
Main new features show on the display

DATE: based on the clock

LANGUAGE: 8 languages

OPERATOR: 0001, the equivalent of Mr. Mario Rossi

WEBSITE

VACUUM DETECTION: % or in mbar (very useful for chefs)

LABEL: YES; NO - printing option with label

SERVICE: e-mail of the retailer with telephone number

CYCLE COUNTER: counter the machine cycles (cannot be edited)

OIL CYCLES: pump oil change

CYCLES OFF: indicates routine maintenance

TOT. HOURS: hours of operation of the machine

TOT. HOURS: hours of operation of the pump
technical features
| | |
| --- | --- |
| Electrical power supply | 230V 50/60Hz 1Ph |
| MAX power installed | 2,3 kW |
| Maximum current | 10 A |
| Dimensions of the sealing bars | 626 mm (no.1 front) + 310 mm (no. 2 side) |
| Packaging cycle (Vacuum 99,9%) | Vacuum= 22 s Air re-immission= 5 s |
| Vacuum pump | 20 mc |
| Machine dimensions (lid open) | 826x543x704 mm |
| Machine dimensions (lid closed) | 826x543x445 mm |
| Machine weight (Net/Gross) | 102/117 kg |
| Available chamber dimensions (Tank+lid) | 637x289,5x101 mm |
minipack®-torre shall not be held liable for typos or printing errors in this catalogue. It also reserves the right to make changes to the specified features without prior notice. All trademarks are property of their respective owners and are hereby acknowledged.
Technical drawing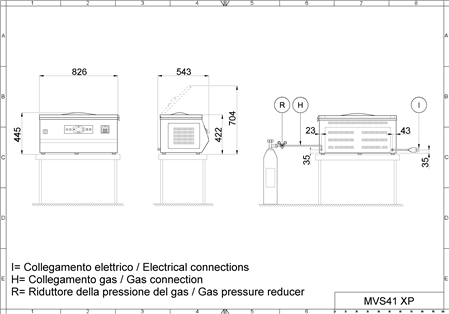 case history
Minipack-torre vacuum machines and cooking virtuosity: a winning synergy for excellent results in the new avant-garde cuisine.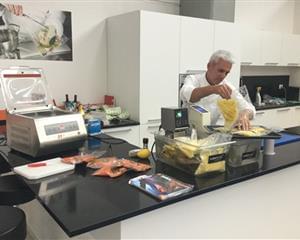 Last week, the well-known Milanese chef, Mr Danilo Angè, renown as culinary consultant and sous-vide cooking technique expert, showed the sous-vide cooking potential to Minipack-torre staff. Minipack-torre vacuum machines are the best ones for the sous vide cooking technique.