Industrial packaging machines, unlike those intended for smaller businesses such as restaurants or supermarkets, are designed to meet highly specific production needs. 
Minipack®-torre offers a wide range of high quality industrial packaging machines suitable for packaging several products of different types.
In this article, we will look at:
The main solutions for the minipack®-torre industry
Let's take a look at the main industrial packaging machines offered by minipack®-torre:
Industrial vacuum sealers - SWING line
In addition to the various models for catering, minipack®-torre has also designed an entire line of industrial vacuum packing machines in order to reach an increasingly wide range of customers. 
The Swingline, in fact, includes a series of models characterised by:
Shifting closure that speeds up the packaging process;
Stainlesssteel structure to ensure maximum resistance;
CEcertification, safety guarantee
The recommended models include:
MV 85 SWING STAINLESS STEEL: equipped with an 840 mm shifting bar, this industrial packaging machine offers a vacuumcyclewithstop, as many as 10 customisedprograms and a Soft-Air device for controlled air return as standard.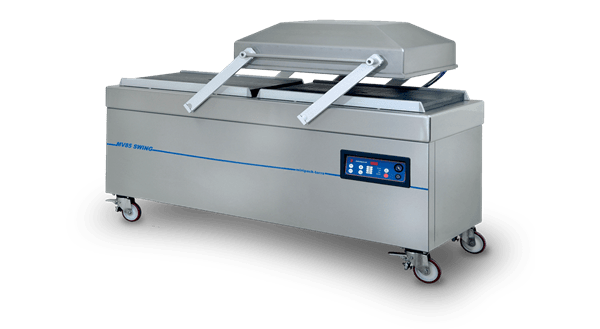 Find out more about our industrial vacuum packing machines!
Industrial vacuum packing machines
Sleeve wrappers
A sleeve wrapper is the ideal solution if packaging fragileproducts that require a thickerfilm. Usually, these industrial machines are used to package plastic bottles, jars and cans, but they can also be safely used to package other products, both in single and multiple packs.
Minipack®-torre produces both semi-automatic models, equipped with automaticpusher, and automatic ones, equipped with motorisedbelt.
The main semi-automatic models include:
SLEEVE WRAPPER MS 70 STAINLESS STEEL: equipped with a 700 MM - PLC 4 sealing bar, the key features of this sleeve are its versatility, reliability and efficiency. Made of STAINLESSsteel, the machine is equipped with a safetyphotocell that blocks the sealing bar if any obstacles are detected in its trajectory.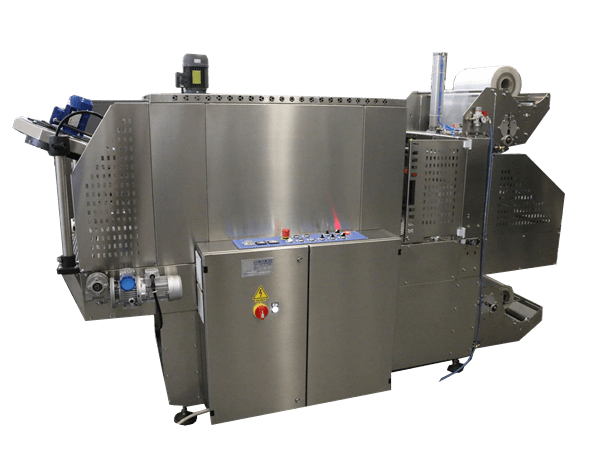 On the other hand, automatic sleeve wrappers include:
SLEEVE WRAPPER MS 115 AL: this automatic model is equipped with a double motorised belt and a 1150mmsealingbar. It can be integrated directly into the production line, in fact it is perfectly set up to manage the exchange signals at the line infeed and outfeed in a fully automatic way.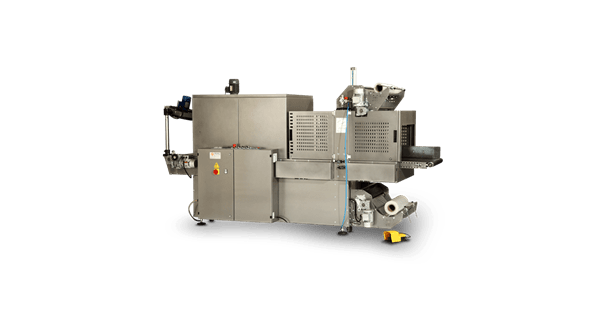 Find out more about our sleeve wrappers!
Industrial shrink wrapping machines
With regard to shrink wrappers, minipack®-torre has developed three different lines: FM and REPLAY, MODULAR and PRATIKA.
In particular, the PRATIKA line, consisting of automatic shrink wrapping machines, offers highly valid industrial packaging solutions, in fact:
They are extremelyeasytouse;
They guarantee highpackagingrates;
They are extremelysafe, thanks to the locking devices ready to intervene if required;
They allow significantenergysavings, thanks to the presence of fans or other cooling systems that prevent energy from being wasted.
The most recommended models include:
PRATIKA 56 MPE X2 STAINLESS STEEL: completely in STAINLESSsteel, this industrial shrink wrapping machine is fully servo-assisted, has a 600x400 mm sealing bar and boasts an excellent technological level. This shrink wrapping machine enables to work on both sides thanks to the presence of a doubledoor and represents the perfect combination of versatility, reliabilityandsafety.
The characteristics of a good industrial packaging machine
Given the huge amount of products to be packaged each hour, it is crucial for an industrial packaging machine to meet certainrequirements in order to guarantee the required production rates. 
It is therefore necessary for a packaging machine intended for industrial use to have the following characteristics:
Highproductivity, a crucial factor for businesses with such significant workloads;
Processautomation, to ensure greater efficiency and speed of the machine;
Hightechnologicallevel, essential for minimising the risk of failure that could compromise industrial activity;
Controlpanels, to facilitate machine management and easily set the various packaging parameters 
Flawlessmaterials such as stainless steel, synonymous with quality and resistance;
Compactness in order to avoid any space related problems within the company's production department.
Minipack®-torre is able to offer several very different but extremely efficient solutions to satisfy the greatest number of requests regardless of production capacity and type of product to be packaged.
Let us help you in choosing the most suitable industrial packaging machine for your business!