Find out how our packaging machines can help you package sweets quickly, accurately and cost-effectively, ensuring your customers' satisfaction.
In the world of the food industry, it is essential to ensure that sweets reach consumers with freshness and impeccable presentation. Our packaging machines are the answer to your needs because they offer state-of-the-art technology and customized features to meet your specific packaging needs.
Some examples offered by minipack®-torre
Miniflow 600 evo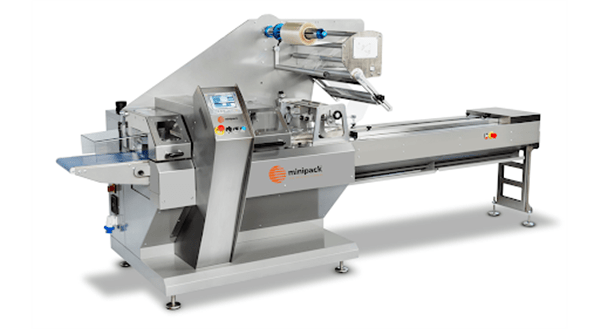 The Miniflow 600 Evo flowpack packaging machine offers a number of features and benefits that make it ideal for the confectionery industry. This advanced packaging system is designed to package a wide range of products, including:
buns and biscuits
candies
chocolates and chocolate
various single-portion sweets
Miniflow 600 Evo stands out for its ability to pack quickly, efficiently and accurately, ensuring the fragrance of the packaged products.
Thanks to its advanced technology, Miniflow 600 Evo offers sealed and secure packaging, maintaining product quality over time. In addition, the machine features a compact, high-quality design, making it easy to integrate into existing production lines.
X-BAG evo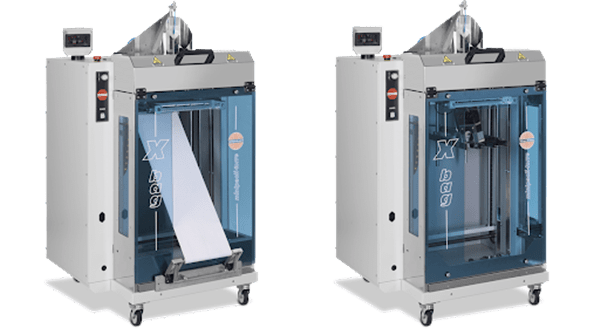 The X-BAG evo bagging machine is ideal for packaging sweets such as buns and baked goods, but it is also suitable for packaging many other types of products quickly and conveniently, always ensuring quality and safety.
This machine simplifies packaging operations, offering an efficient alternative to time-consuming manual baggingand larger, more complex automatic machines that are often excessive for the real packaging needs and have higher operating and maintenance costs.
Freska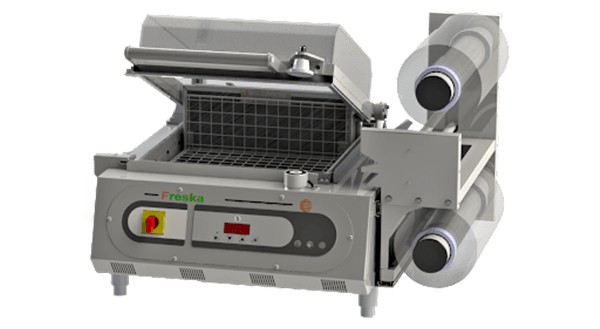 Freska, the innovative tray packaging solution, eliminates the need to create custom molds. Thanks to this model, the film fits perfectly to any product, regardless of the presence or absence of a tray.
In addition, this machine allows a wide range of films and pouches to be packed, offering unlimited versatility.
Its functionality is ideal for the protection and packaging of cakes, as well as meat and various foods.
Freska can simultaneously accommodate two reels, even with different characteristics, always ready for use. This saves time during each reel change.
Pratika 56 MPE X2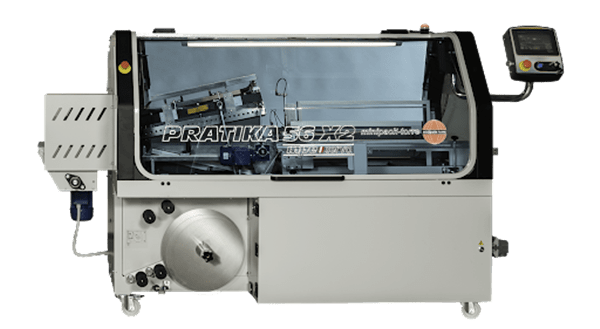 For those who want to achieve a professional end result from shrink-wrapping but have a high production volume, we recommend the Pratika 56 MPE X2 automatic packaging machine.
Pratika 56 MPE X2 has an automatic packaging system that allows the shrink-wrapping process to be handled efficiently and quickly. The machine can handle a wide range of products and sizes, allowing flexibility in the choice of packaging for sweets.
Its automation also reduces the need for operator intervention, improving efficiency and reducing errors.
Why come to us
Choosing minipack®-torre as your sweet packaging machine partner offers you a number of great benefits.
Here are three reasons that will make your choice even easier and more convenient:
minipack®-torre is distinguished by the in-house production of its packaging machines. This means that the company directly controls the entire manufacturing process, ensuring high standards of quality and precision. In-house production also allows for greater flexibility and customization to meet customers' specific needs;
We constantly invest in research and development to maintain a competitive edge and offer innovative solutions. The company is committed to identifying new technologies and improvements for packaging machines, ensuring that customers have access to the latest innovations in the industry. Constant research and development ensures that the machines are at the forefront of performance, function and reliability;
We place a strong focus on customer service. We are committed to high quality customer service, providing technical support, advice and assistance throughout the life cycle of our packaging machines.
Do you want to discover all the features and functions of our packaging machines and choose the best one for you?