If you have a laundromat, a dry cleaning, a hotel, a cleaning company or in general a business with its own laundry, your packaging needs are very accurate; indeed fabrics (clothes, wipes, bed linen, tablecloths) must:
Remain clean and perfumed
Arrive at destination well folded, without wrinkles
Occupy the minimum possible space in areas used for storage.
Depending on the type of laundry you manage, on its workload and the type of packages required, we recommend several packaging machines.
Medium-small sized packaging machine for laundry
If you need a packaging machines in a small, medium-small laundromat, you should choose a semi automatic shrink wrapping machine, with the possibility of passing to manual operation at any time.
We suggest the angular sealer Modular 50S with the option of coupling to a shrink tunnel machine. It is perfect for those who offer different products and want more flexibility compared to fluctuating workloads. Indeed, it allows to choose whether to shrink the film on the product – improving the package appearance and reducing its volume – or simply seal the package.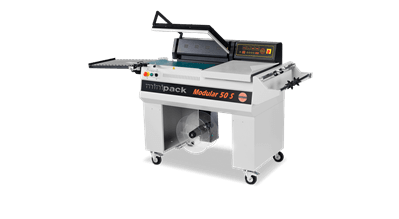 Large-sized packaging machine for laundry
Instead, the perfect machine for more complex activities is an automatic one: For example, Modular 70 combined with Tunnel 70 is able to package perfectly using any material and guarantees, at the same time, a high aesthetic level.
Electronically controlled sealing system
Double sealing bar with shock absorber
Adjustable worktop
Piece counter
Digital panel with 6 programs – perfect for a laundromat that has to pack fabrics of different sizes such as napkins, bed linen, wipes, shirts;
Emergency button.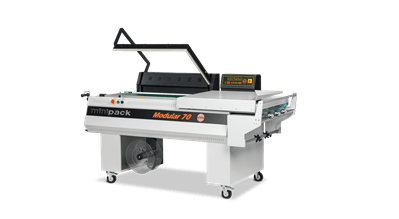 Packaging machine for boxes of fabrics.
Finally, a laundromat may also need to pack cleaned and ironed fabrics in closed or semi-closed boxes to incorporate different boxes in a single product facilitating transport, storage and counting. The suitable packaging machine is an automatic continuous sealer.
Pratika 80-T MPS is an automatic, electric and servo-assisted packaging machine that allows the production of compact, solid and more practical packages. Continuous sealing does not involve length limits, to pack up to 4, 5, 6 meters and products up to 36 cm high. It is very simple to use and has Schneider Electric components with 256 customisable programs and a USB communication interface.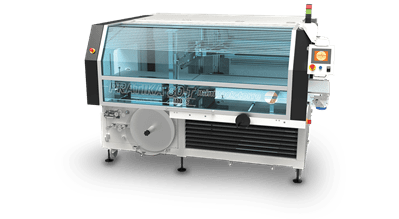 Do you want to discover the whole range of packaging machines for laundry or other?