Minipack®-torre packaging machines offer as many as 4 models of professional bagging machines from among its best pieces that are able to make sachets and bags in shrink film that can contain various types of products.
There are numerous applications. From packing bread, biscuits and other baked products, to bagging newspapers and magazines. Let's discover the potential of our bagging machines by highlighting the advantages of the 2 lines:
X-BAG: universal vertical bagging machine
If, however, your packaging requirements are more focused on small sized products, the X-BAG bagging machines can be the ideal solution.
X-BAG is a vertical bagging machine with numerous advantages:
Its compact size also makes it possible to install in small production spaces
It operates with various types of flat film, which can be found anywhere (Polyethylene and Polyolefin, Macro and Micro-perforated, Cartene, biodegradable)
It is resistant as a result of its painted steel structure and Plexiglass
It is simple to use and maintain
It is quick and, despite all these features, is remarkably cost-effective.
Its applications are also numerous: from bakeries to supermarkets, industrial business to pharmaceutical and hospital sectors, from fruit and vegetable to hardware markets.
Here is a practical example of application in the food industry:
MAILBAG: specific bagging machines for publishing
As the name implies, the bagging machines from the MAILBAG range are specifically designed to create packs of graphic and editorial products: magazines, brochures, catalogues, publications, bulletins, etc.
What are its strong points? First and foremost, its automatic operation that increases the machine's productivity and ease of the operator. This is followed by its simple use: processing with a film assembled on a motorised roller, simply insert the product into the bagging machine and the adapter will fold the shrink film, thus forming an airtight bag that is resistant to tears.
The advantages:
A digital control panel
A self-adjustment mechanism for the length of the bag, with a built-in photocell
Built-in piece counter
Cutting temperature control software.
In other words: high performance, low consumption.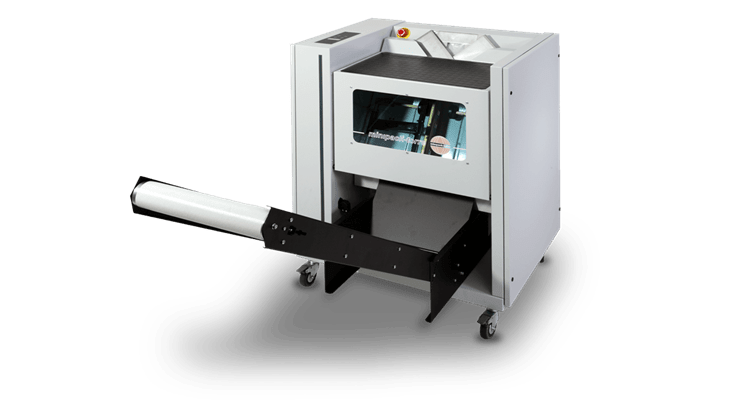 Do you want to discover all the functions of the minipack®-torre bagging machines? Visit the dedicated section!