A vertical form packaging machine is the ideal type of machine for packaging small products, given the machine uses the natural downward movement to move the product.
If, then, the context is that of a small or medium-sized business that requires to quickly and efficiently package package its products, but does not wish to commit to a huge investment (such as the purchase of a large automatic machine), then the ideal choice falls on a vertical form semi automatic packaging machine.
A bagging machine for the food sector, but not only
A vertical form semi automatic packaging machine finds is perfectly suited for the food sector, from supermarkets to fruit packaging: it is ideal for packaging baked, sweet and savoury products, fresh bread, breadsticks, fruit, vegetables, etc.
However, food applications are not the only ones: a vertical bagging machine is also perfect for activities in the electrical or chemical sector, for packaging small components and small pieces in general, for the hospital sector, hardware markets, logistics centres, spare parts warehouses.
Last but not least, the important application in the publishing industry, where it is used to package magazines, newspapers and books.
The minipack-torre
vertical form semi automatic packaging machine range includes two different models of vertical form semi automatic packaging machine:
X-BAG EVO, the most versatile, highly demanded both by the bakery and pastry industries, and by those who deal with electrical or electronic components.
MAILBAG,the bagging machine dedicated to the publishing industry.
X-BAG EVO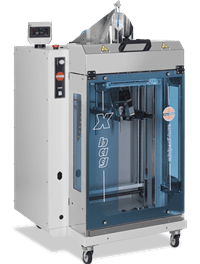 The keyword is: simplicity. X-BAG EVO it is simple to use, simple to service and simple to place.
Structure and operation (continuous or jog) are essential and linear. The format change takes place by simply replacing the collar, so that machine stops are reduced to a minimum. Thanks to the colour Touch Screen panel, the parameter set-up is intuitive and immediate.
It is highly compact, only 140 cm tall on an 80x85 cm base: it can be placed anywhere.
It works with multiple types of various films: polyethylene/polyolefins, macro-perforated, laminated, biodegradable films, Cartene and printed films.
MAILBAG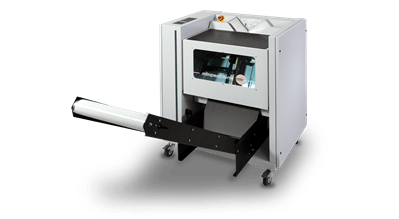 MAILBAG is the vertical form semi automatic packaging machine specifically designed to meet the demands of the publishing sector: it packages magazines, bulletins, catalogues, newspapers, publications, etc. through the adapter that folds the film creating a perfectly sealed bag.
Operation is simplified thanks to some solutions:
automatic ejection of the sealed package
self-adjustment of the length of the file via photocell
electronically controlled cutting temperature
built-in piece counter.
MAILBAG can package up to 1200 pieces/h and, if combined with the heat-shrinking tunnel, it creates perfectly heat-shrinked bags, more beautiful and more resistant.
Do you want more information on our vertical form semi automatic packaging machines? Please feel free to contact us: we will be happy to answer your questions and help you find the perfect solution for your business.