Vertical packaging machines are mainly used to pack any type of item or food, also small and granular. For these requirements, Minipack®-torre offers an innovative machine that has many functions and is designed to make work efficient and quick. This X-BAG machine is a vertical packaging machine that is characterised for its technological and versatile features. Let's discover it together.
Ever since it was designed, X-BAG is a small revolution in the vertical packaging industry, since it incorporates the best modern technologies in a single device. The machine provides a quick, cost-effective and impeccable solution for all packaging requirements of any type of small objects and food. In detail, X-BAG uses flat heat-shrinking film to create packs with three seals, according to the following specifications:
Bag length: adjustable from 50 to 330 mm (can be expanded to 600 mm)
Bag width: manifolds available for widths of 130, 180 or 230 mm
Hourly production: up to 1,000 pieces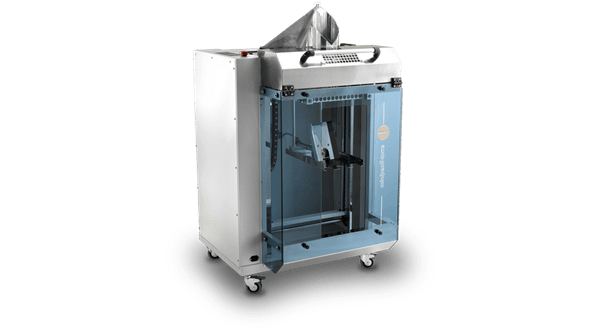 All the advantages of the X-BAG vertical packaging machine
Let's discover them in more detail and see the main advantages of the vertical packaging machine by minipack®-torre:
Format change speed: the innovative adapter allows for a reduction in machine downtime and thus increases production;
Versatile film compatibility: this vertical packaging machine supports different types of film, such as polyethylene, polyolefin, various types of biodegradable film, cartene and macro and micro-perforated film;
Dual supply option: X-BAG can operate via electric power supply as well as with pneumatic supply;
Compact: the packaging machine is compact (800x850x1500 mm) and can therefore, easily fit in small spaces;
Easy to use and service: even if you have never used a vertical packaging machine, X-BAG is extremely intuitive with regard to machine set-up as well as actual packaging operations. X-BAG also requires very little maintenance, which only involves the horizontal sealing wire that can be easily replaced;
Effective: the patented independent sealing system, which automatically executes horizontal sealing, as opposed to vertical sealing, ensures resistant vacuum closure with both light and heavy products (up to 5 kg);
Efficiency also when packaging heavy products: the vertical packaging machine is equipped with a bag-support pusher that also supports heavier products that are then conveyed onto an evacuation belt.
X-BAG also has many other hidden advantages and exclusive functions, which you can discover by visiting the product page or by contacting us for any further information. Alternatively, you can try it directly by booking a free packaging test:
Book your free X-BAG packaging test here