In a world where efficiency and product preservation have become two crucial necessities, commercial vacuum sealing machines have become increasingly important. 
Every company has different needs, and there is no one-size-fits-all solution. In this article you will find out:
How to choose the most suitable vacuum sealing machine
Production volume
The first aspect to consider is definitely the production volume. If your business has a high production volume, you will need a vacuum sealing machine with a faster packaging cycle and higher vacuum capacity.
Type of product to be packed
Not all vacuum sealing machines are suitable for every type of product. For example, there are commercial machines specifically for fresh food products, for dry food products, for liquids, or for non-food products. The type of product also determines the need for total or partial vacuum.
Available space
The size of the vacuum sealing machine is another key factor. If space in your business is limited, opt for compact models that, while small in size, offer excellent performance. Conversely, if your packaging department can accommodate larger models, you can also opt for dual-tank industrial models.
Examples of commercial vacuum sealing machines from the minipack-torre catalog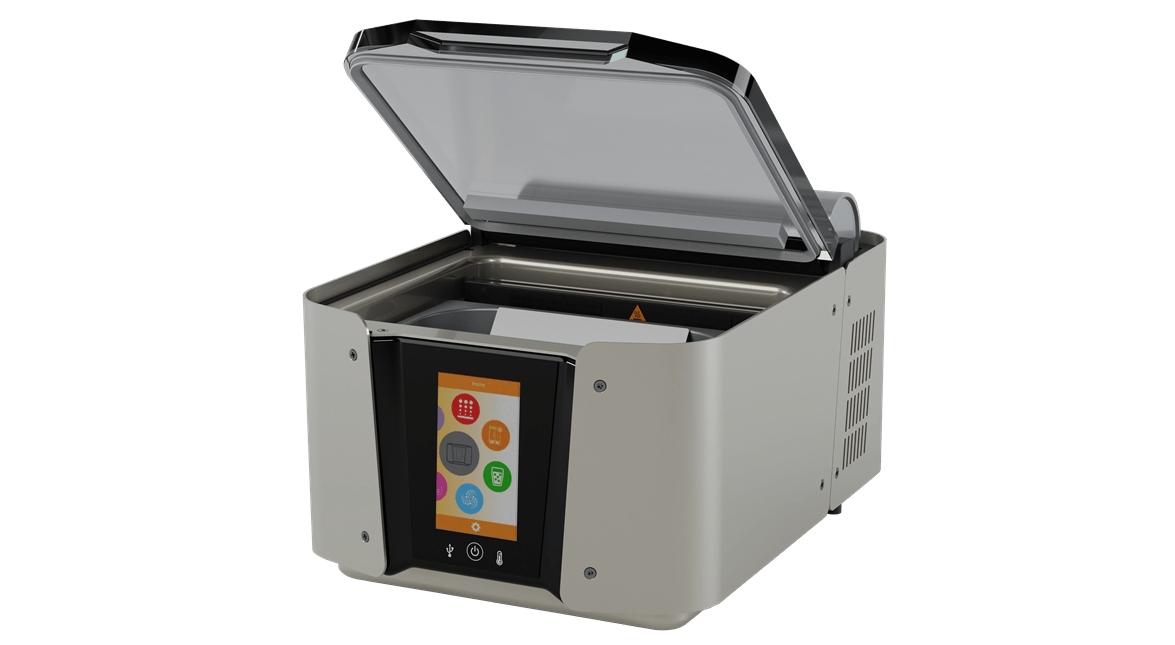 Packaging machine MX-2: This model is ideal for catering or for those who need a versatile and compact machine to vacuum-pack dry, wet, and liquid foods or even for marinading. Due to its small size, it can be placed in any work space.
It ensures perfect vacuum sealing, even of liquids, without leaks and with faster cycle times.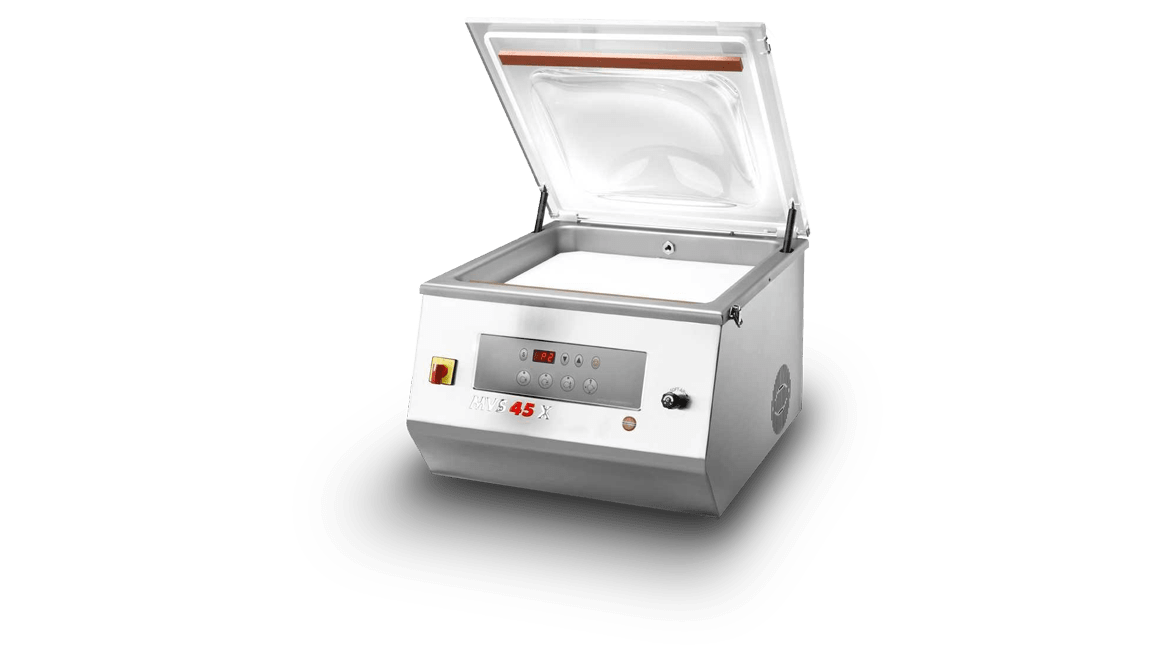 Packaging machine MVS45-X: Perfect for those who need higher vacuum capacity and a faster packaging cycle. Suitable for large productions, it possesses the highest quality technological and functional contents, yet retains the utmost ease of use. 
The control panel allows up to 10 customized programs to be set, and its electronic sensor interprets data directly from the board, reading the level of vacuum achieved inside the chamber.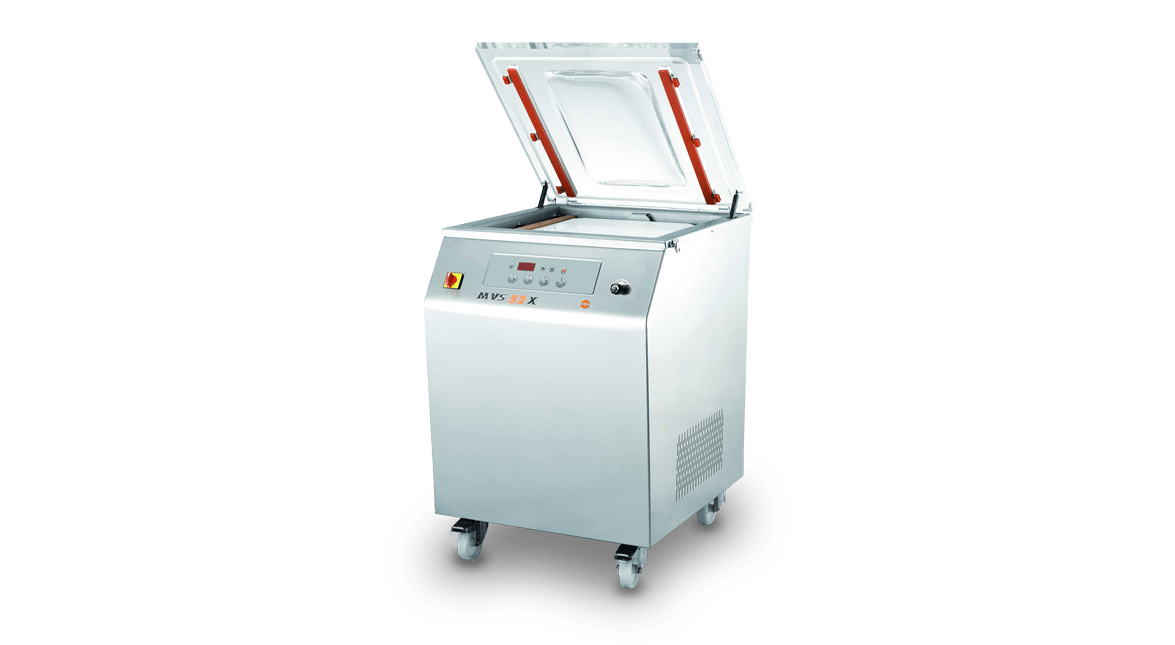 Packaging machine MVS52-X: This is a powerful wheeled machine suitable for different types of products. It offers excellent vacuum capacity and is suitable for medium-high production.
Its most innovative functions include:
Membrane switch keyboard with tactile controls, applied hermetically to the front panel so as to prevent liquids from getting in;
Control panel with 10 different packaging programs customized to the needs of the food industry;
oil change notice;
vacuum reading achieved inside the chamber.
Packaging machine MV-50 SWING INOX: This model offers an innovative design and stainless steel frame that is durable and highly hygienic. It is perfect for people seeking efficiency and robustness.
Minipack-torre's Swing Line is intended for industrial packaging and is equipped with sliding chamber closure, which allows high packaging speeds to be achieved. The machine is built according to CE standards and is equipped with an analog volumetric sensor that allows constant control of vacuum and controlled atmosphere packaging.
 
Discover the entire vacuum sealing range
Advantages of using a commercial vacuum sealing machine
Using a vacuum sealing machine in the commercial setting has many advantages:
preservation of freshness - the elimination of air ensures the preservation of freshness of products, keeping their properties intact;
prevention of bacterial and mold growth - the vacuum process prevents their proliferation, thus extending the shelf life of products;
cost and space efficiency -vacuum packaging allows for better organization of space and reduces waste, thus providing cost savings;
lengthening shelf-life-perhaps the most important aspect, especially for food products, is lengthening product shelf-life, which allows for greater flexibility in inventory management.
Request a personalized consultation
Every business has unique needs, and choosing the ideal vacuum sealing machine is critical to ensure efficiency and quality. If you have concerns or would like specific insights into commercial vacuum sealing machines, please request a personalized consultation. Our experts will be happy to help you find the best solution for your business.