The delicate issue of treatment of pharmaceuticals requires high quality standards to be met during packaging. Using machines made of materials that are not robust can cause deterioration and promote the proliferation of bacteria. Minipack®-torre packaging machines are entirely made of stainless steel or Steel IT, very resistant alloys to corrosive agents.
A packaging machine for the pharmaceutical industry: the advantages of stainless steel
Stainless steel is universally known as the best material to maintain perfectly hygienic conditions. In fact, "inox" means "stainless", a property that is directly due to the elements of the alloy: iron, carbon and some free chromium particles.
It's the chrome that guarantees the anti-oxidant power. When the environment surrounding the steel is particularly oxidising (e.g. damp air or fresh water), free chromium particles can self-passivate, that is cover themselves in a very thin layer of oxides that protect the underlying metal from the corrosive action of the external agents.
In this way, the stainless steel surface remains dense and slightly porous, and therefore unsuitable for the proliferation of bacterial charges. Not only that, it makes it easier to deeply clean the metal surface, such as that of a packaging machine.
Minipack®-torre packaging machines: two versatile lines with excellent performance
All minipack®-torre packaging machines intended for packaging pharmaceuticals are made of stainless steel or Steel IT.
Steel IT is even more resistant than stainless steel. In fact, it is a coating that is more resistant to corrosion, humidity and abrasion. The raw material is easy to process, allowing even the sealing areas of the machines to be covered, which are always the most critical.
The two main packaging machine lines are:
The tunnel versions, made of stainless steel
Modular and Media, made of Steel IT.
The automatic Pratika 56 MPE Reverse Inox packaging machine is added to these.
Tunnel 50 Digit Inox and Tunnel 50 Twin Inox are tunnel packaging machines made entirely of stainless steel: aesthetically pleasing and technologically advanced, both of which are ideal for packaging pharmaceuticals. Tunnel 50 Twin Inox, in particular, is suitable for packaging small, high-speed products.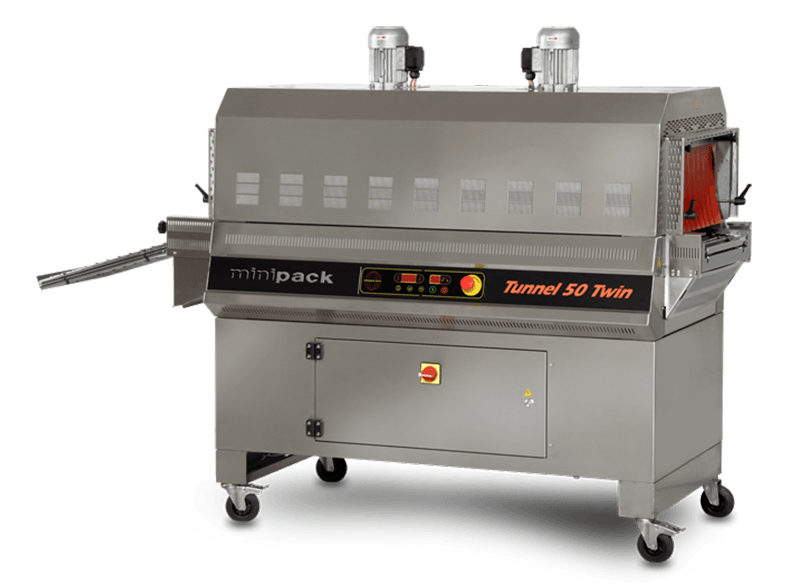 Media Steel IT and Modular 50S Steel IT are instead, two angular packaging machines made of Steel IT, both with heat-shrink wrapping and semi-automatic. The first, a compact single-unit, is the perfect packaging machine for large companies. Modular is instead designed to fulfil flexibility, quality and high aesthetic performance requirements, but at lower costs.  Thanks to the heat-shrinking mechanism, they are ideal for packaging ampoules, syringes, vials and blisters.
The automatic heat-shrink packaging machine Pratika 56 MPE Reverse Inox is one of a kind. Its main feature is practicality: the double infeed hatch in fact, allows the work to be carried out from right to left or vice versa.
Contact us with no obligation to find the optimal packaging solution for your needs!