Food tray packaging machines are the most used in the food sector to pack a number of easily perishable products. The advantages of food tray packaging range from safety to practicality, from aesthetics to efficiency; let's see them all, and find out which are the most suitable food tray packaging machines for:
small shops
supermarkets
industrial production lines.
Why choose packaging on packed trays
90% of those who work in the food sector request food tray packaging machines as they promptly fulfil the requirements of retail ready packaging: the tray+transparent film combination is in fact the most suitable for packaging fruit, vegetables, fresh pasta, handmade biscuits and fresh meat and fish.
But why is it the most suitable? For various reasons:
it is a very robust package, which combines the resistance of plastic film (food-grade) with the solidity of a cardboard or PVC base;
it allows the consumer to instantly appreciate the appearance and freshness of the product;
it simplifies the orderly storage of goods on shelves.
Let's now see the most effective machines for packaging trays.
Food tray packaging machines: advice from the minipack-torre experts
The ideal food tray packaging machines are shrink wrap machines; the models vary according to production, that is: it is one thing to produce tray packaging for a small shop, and another is to respond to the rate and requirements of an industrial production.
The minipack-torre experts recommend these tray packaging machines:
FRUIT AND VEGETABLES, DELICATESSENS, SMALL HYPERMARKETS
We recommend a manual shrink wrap machine for the requirements of small shops, where space is limited and stock procurement is slower. An example is our Minima EVO, a manual counter-top packaging machine distinguished by high efficiency and a small footprint. It is very simple to use and guarantees reduced electricity consumption.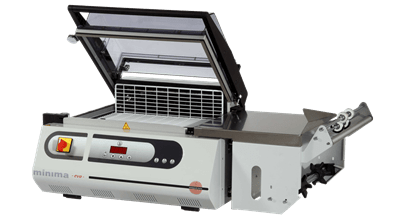 Instead, if there is space in the shop for a trolley-mounted packaging machine, we recommend Synthesis Inox:
a stainless steel structure, ideal for the food sector
a forced ventilation system for a constant temperature, without overheating
the absence of motors, fans and felt on the bottom of the hood guarantees simpler cleaning and hygiene at the highest level
the sealing and shrinking, offering high yield with all kinds of films, are carried out at the same time, with the setting of values which can be directly displayed on the screen.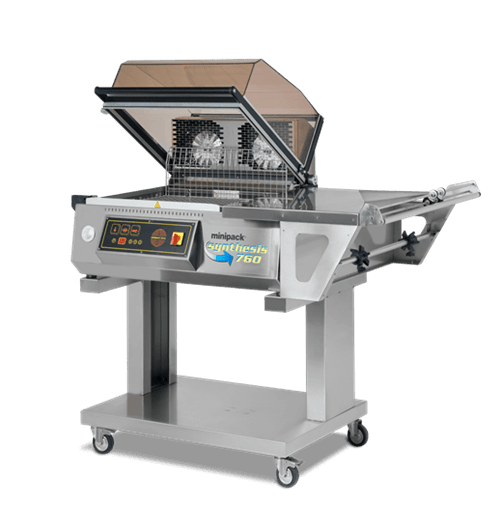 LARGE SUPERMARKETS
To support the production rate of a supermarket, the ideal machine is semi-automatic which packs trays, such as the MEDIA shrink wrap angular packaging machine:
L-sealing
single-unit structure with integrated tunnel
electronic regulation of the sealing time and Teflon coated blades to guarantee complete absence of smoke
sealing bar and motorised scrap winder
production up to 750 pcs/hour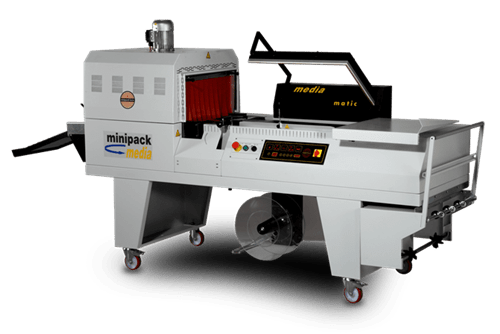 INDUSTRIES
To fulfil the need for speed and efficiency of industrial lines, an automatic shrink wrap machine, such as our Pratika 55 Smart, with integrated tunnel is essential:
technologically advanced product (Schneider Electric PLC), flexible but extremely compact (2.2 m2)
patented "come back" option for a single operator
L-sealing
colour touch screen panel, with simple and intuitive graphics
30% less consumption
increased speed
versatile in format changes
brushless motor
electric power supply, no pneumatic connection needed
incorporated tunnel with reduced energy consumption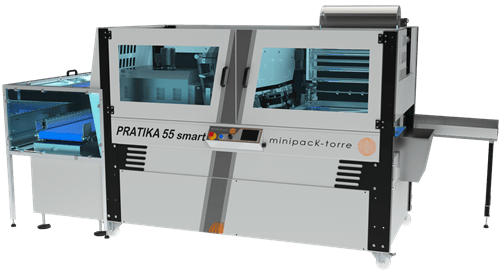 These are our offers for food tray packaging machines. For more information on the range, or to request a free consultation, freely contact our team of experts.