By "double chamber packaging machine" we mean a vacuum machine fitted with two chambers, instead of just one. The reason for this configuration is simple and obvious: a double chamber means double the speed, greater productivity, and better efficiency. Consequently, a benefit-cost ratio that clearly leans towards the benefits side.
The minipack-torre range includes both manual and automatic double chamber machines: let's see them.
Manual double chamber packaging machines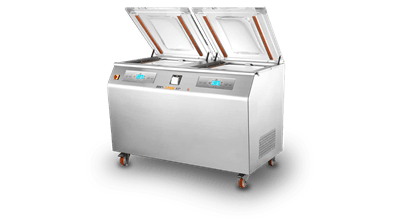 You can choose MVS52 DV X or MVS52 DV XP from the manual models; these are double chamber packaging machines that have the same features, such as:
4 sealing bars 530 mm long
99.9% vacuum level obtained
vacuum time 22 seconds, air return 5 seconds
electric sensor for the vacuum degree to be read
However, the X model is the basic model and the XP version has a few additional features.
keyboard with anti-infiltration touch controls
touch screen panel with 10 customisable programs
a specific message on the display indicates when an oil change is required
keyboard with anti-infiltration touch controls
touch screen panel, with 10 customised programs and the possibility of recalling the types of product to be packaged (fish, meat, vegetables, cheese, liquids, etc.) + sub-categories (e.g. veal, pork, chicken, beef, etc.)
possibility of inserting inert gas per pack in a modified atmosphere
gradual air return to prevent the packages from collapsing
print option to issue the vacuum certification label
"external vacuum" option to vacuum external containers
Automatic double chamber packaging machine
As for the automatic models, we present the Swing range: these are double chamber packaging machines with translating closure, which doubles the packaging speed.
The Swing products are made of two different materials:
the INOX range is made of AISI 304 stainless steel for maximum reliability, strength and durability. Available in different models, depending on the length of the sealing bar.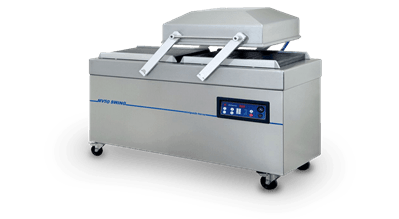 the ALL range is made of aluminium, which is cheaper but just as sturdy, particularly ideal for small production companies. Available in different models, depending on the length of the sealing bar.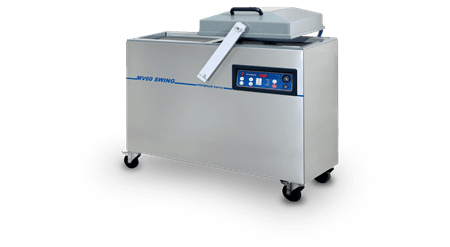 Why does the double chamber double the efficiency?
Because a double chamber packaging machine works as follows: while product 1 is packaged in the first chamber, the second chamber can be loaded with product 2, and vice versa. The double chamber makes the process much faster and, therefore, much more efficient: the productivity of the machine is significantly increased. In fact, such a packaging machine is an ultra-professional version of the classic vacuum chamber machine.
The double chamber packaging machines are designed to fulfil the requirements of medium-large businesses (such as production workshops and butcher/delicatessen sections in supermarkets) and large industries which may or may not be related to food.
Do you want more accurate information on the double chamber packaging machines and their applications? Write to us: we will provide you with every detail.