In this article, we will look at:
The flow pack machines by minipack®-torre
Minipack®-torre offers two flow pack machines that are perfect for packaging food and non-food products. Let's see them in detail:
MINIFLOW 400 EVO: this flow pack packaging machine is one of the new ones of minipack®-torre and boasts great versatility. In fact, it is ideal for baked food products as well as for various objects and pharmaceutical products. It has 3 Brushless motors and a 7" Touch-Screen panel that facilitates format changes and simplifies machine use.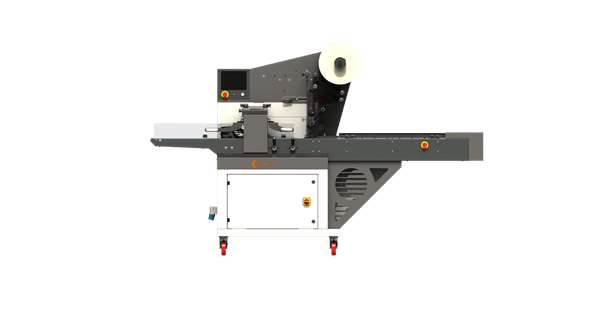 MINIFLOW 600: this model can pack products with a maximum 600 mm band and can reach 120 packs a minute. It represents the perfect balance of quality and technology and guarantees reliability, practicality and efficiency. This model also has a control panel for format changes and 3 Brushless motors.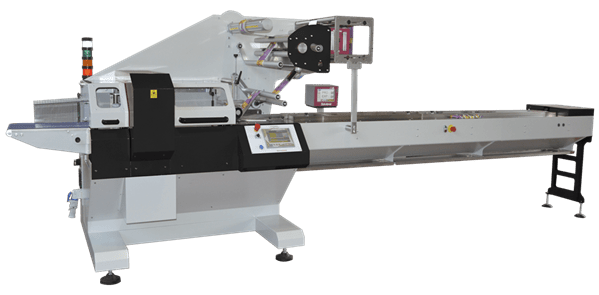 Find out more about our flow pack packaging machines!
The accessory machines for customised systems
To offer an even more complete service, minipack®-torre supplies innovative conveyor belts and labelling machines that can be integrated with the machines to create even more equipped, efficient and easy-to-use solutions. 
Furthermore, the various optional features that can be integrated into a flow pack system are:
Thermal printer;
Rotary printer;
Loading belt extension;
"No product no bag" photocell;
Fixed forming device;
Zig zag blade
How does a flow pack system work
Here is how a flow pack system works:
The product is first placed in the machine, ready to be wrapped in a single packaging film;
Subsequently, the machine will seal the package in three points: two transversal along the short sides and one longitudinal on the longer side;
The result will be a package that is not only safe, but also aesthetically pleasing, similar to a cushion, a typical wrapper for biscuits and candy, but also for various individually wrapped items.
Why choose a minipack®-torre flow pack system
Relying on a minipack®-torre flow pack system is advantageous from several perspectives; in fact:
It is extremely versatile as it can pack different types of products, including food-grade ones. This shows how flow pack packages can guarantee an excellent level of safety in terms of preservation;
It can be used with different types of films, further expanding the range of products that can be packaged;
It is compact and can therefore be placed in the smallest of spaces;
It boasts a high technological level, in fact, thanks to a practical touch display it is possible to conveniently control all the packaging operations;
It is fast and highly productive;
It requires little maintenance, thanks to the excellent quality of the materials;
It allows you to customise the various packages thanks to a practical logo printing function.
A flow pack system is therefore the perfect solution for those who need packages that are distinguished by speed, safety and a high aesthetic effect.
 
Do you want to know more about minipack®-torre flow pack packaging systems?