In this article, we will delve into:
Minipack's Product Range
Shrink Wrapping Machines

Shrink wrapping machines are essential for product protection and presentation. Minipack offers a wide range of machines suitable for various product sizes and production needs. Shrink wrapping is a widely-used packaging method, known for its aesthetics and practicality.
The process is simple: the product is wrapped in a specific film that, when exposed to heat, shrinks to adhere perfectly to the product, achieving an aesthetically pleasing result.
Vacuum Packaging Machines

If you have vacuum packaging needs, Minipack has the perfect solution. Vacuum packaging machines remove air from packages, achieving a vacuum percentage of up to 99%, keeping your products fresh and oxygen-free. This is crucial for preserving food and items sensitive to oxidation.
Bundle Wrapping Machines

Bundle wrapping machines are used for secondary packaging of plastic bottles, various types of jars, and cans. However, these machines are flexible enough to package single or multiple products of any kind.
Flow Pack Machines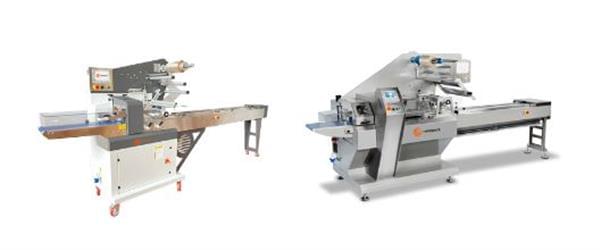 Our flow pack machines are dedicated to the horizontal packaging of both food and non-food products. In a flow pack machine, products slide directly within a single packaging film that is sealed at three points: two transverse seals and one longitudinal seal.
Taping Machines

The latest addition to the Minipack family, taping machines play an essential role in the packaging department by efficiently and precisely applying adhesive tape (in this case, gummed paper tape) to packages. This simplifies and speeds up the packaging process, ensuring a secure and quality seal. Notably, a 100% recyclable package can be achieved, tape included.
 
Discover all the packaging machines in our catalog
A Story of Over 50 Years
Minipack, founded in 1969, boasts over 50 years of illustrious history in the packaging machinery sector. Since its inception, the company has embarked on a journey of continuous innovation, constantly improving its products.
A pivotal moment in this evolution occurred in 1975 when the first bell-shaped shrink wrapping machine was conceived and realized. This innovation completely revolutionized the packaging market, integrating and simplifying existing technology into a single system, making it accessible even to small shops and artisans. Recognizing the revolutionary potential of his invention, engineer Francesco Torre filed for an international patent.
Minipack's unwavering commitment to excellence has solidified its impeccable reputation among customers. Choosing their products means relying on decades of experience and established success in the industry.
Quality and Innovation at the Core of Our Work
When it comes to packaging machines, quality and innovation are paramount, and Minipack emphasizes both aspects. Each product is meticulously designed to ensure reliable performance and exceptional results.
With minipack®️LAB and minipack®️STEEL, our in-house technical department and metalwork division, we design and build every component of our packaging machines, ensuring the utmost care and precision.
Additionally, we constantly invest in research and development to remain at the forefront of packaging technology.
Customer Service and Post-Sales Support
Minipack goes beyond providing high-quality packaging machines. Pre and post-sales service is crucial in building and maintaining good relationships with our customers. To support each business step by step, we offer various services such as:
Machine installation in Italy and abroad
Global remote assistance
Repairs by specialized technicians
On-site technical support
Pre-commissioning and packaging tests by appointment
Daily support from experienced technicians

To find the ideal machine for your company's specific needs, we invite you to request a personalized consultation with Minipack. Our experienced team will guide you in choosing the best solution, considering your unique requirements.
Trust those who have turned packaging machines into a true passion and cultivate it with dedication and consistency.