Photo by Ioris Premoli
Chamber vacuum sealers are among the mostly used models of vacuum packaging machines, especially in restaurants, delicatessens or food laboratories that need long-term preservation of food or to experiment alternative cooking.
There are two versions of machines available: the tabletop and trolley models, and each one is suitable for different needs. Lets explore the differences and advantages of each one:
Chamber vacuum sealers: tabletop models
The tabletop machines are extremely compact, which are ideal for small places with little space available. Their set-up and compact size allow them to be on the counter of your shop or on any table where they are always available for use. Also, the compact size and aesthetic value of these vacuum machines make them perfect to be in full view in front of customers, portraying a highly professional image.
These values are enhanced in the minipack®-torre chamber vacuum sealer machines, which include high visual impact tabletop models with highly technological features. We will discuss two of the most requested chamber machines as an example:
The MVS45 X is a chamber vacuum sealer that combines quality operation with maximum ease of use. Everything is accessible from the touch screen keyboard and it is possible to set up to 10 customised programs. The display also assists with maintenance: for example, it indicates the need to change the oil from time to time. All you have to do is insert the product to package inside the machine's chamber and wait for the vacuum sealer to complete the operation.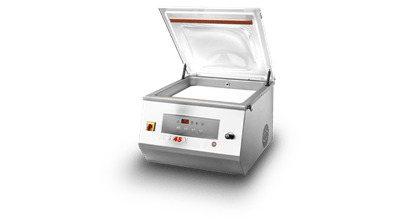 The MVS45 XP machine has the same functions as the previous one, but with extra features. In fact, this chamber vacuum sealer can trace all packaging data, starting from the vacuum percentage, and print it on special labels. This way, you will be able to provide your customers with all the information regarding your products on sale.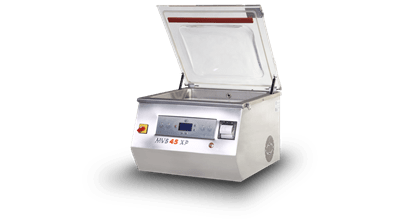 Chamber vacuum sealers: trolley models
The trolley chamber machines are ideal for large places where several operators usually make use of the machine: in these cases, the option to move the sealer from one place to another in the room is very useful. These machines are obviously larger than tabletop sealers, however, they can be easily transported and thus, offer maximum space optimisation.
The minipack®-torre range has different models of trolley chamber vacuum sealers, some of which also have a double chamber, which can be seen on the page dedicated to trolley sealers.
The machines are also available with different sizes of chambers, suitable for every sealing requirement, and include the same technological features and operation of the tabletop machines seen above.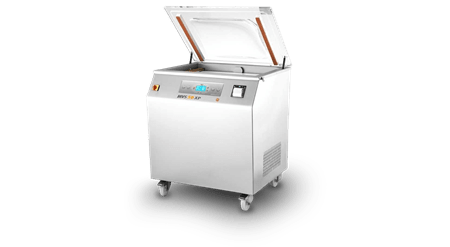 MVS50 XP trolley chamber vacuum sealer
Lastly, trolley machines are also available in XP versions with the option to trace vacuum operation and automatically print information labels.
Discover the whole range of minipack®-torre chamber vacuum sealers here!