The flow pack machines produce pillow-shaped packages: packages of crackers, brioches, snacks, confectionery, breadsticks, chocolate bars, cakes, wafers, etc.
This type of packaging guarantees:
Extreme air tightness
Good aesthetic results
Fast packaging.
Let's look in more detail at the features of a flowpack package and some models of packaging machines.
The pillow-shaped pouches of a flowpack machine
We said that a package produced by a horizontal flowpack machine is instantly recognisable because it is pillow-shaped, but also by another unique detail: the fin. The fin is the flap that forms at the longitudinal seal between the two sides of the thermoplastic film: the two edges are joined and then folded, to form the central fin.
Therefore, each package involves a total of 3 seals and one fold. The pouches may have different sizes and various films may be used:
BOPP
Shrink film
OPA/PE laminates and similar.
The products you can pack with a flowpack machine
Flowpack machines are among the most sought after on the market due to the great variety of food and non-food products that they can package, quickly and with low operating costs:
Brioches, chocolate bars, candy, sweets, chewing gum, bars, cakes, wafers – the sealing temperature is always controlled, to prevent melting parts of the most delicate products;
Sandwiches, panini, dry bakery products such as crackers, breadsticks, schiacciata, focaccia, etc.;
Some pharmaceutical products, such as pills or tablets in single packs, or sachets of water-soluble medicine;
Small objects, stationery products, dishwasher or washing machine tablets, soap bars, single-dose detergents, etc.
The minipack-torre flowpack machines
We have expanded our range with two models of flowpack machines, which operate in the same way but with different packaging ranges; here are our:
Miniflow 400 EVO
Miniflow 600
Miniflow 400 EVO is the smallest one: fully electronic flowpack machine, with 3 Brushless motors and 3 digital drives. The product loading unit includes a 140 cm long AISI 304 stainless steel top and an emergency stop at the end; it is fitted with lateral guides that are adjustable in width, plastic conveyor flights that are suitable for contact with food, crumb collecting casing and a conveyor.
The touch screen panel is extremely user-friendly and versatile in format changes.
Machine dimensions: 2400 mm x 800 mm x 1800 mm in height
Sealing bar with a useful width of 190 mm
Max 100 packages per minute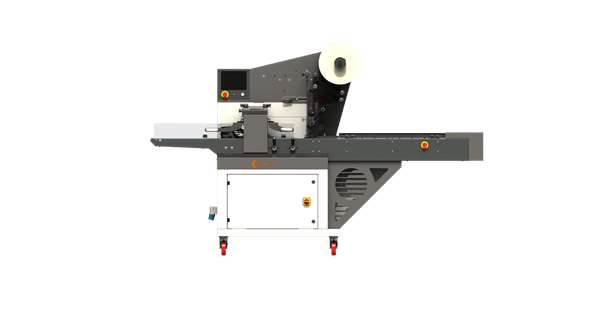 Miniflow 600 is the older sister, bigger and more high-tech: it allows the packaging processes to be optimised and all operations, including maintenance and cleaning, to be simplified. It is integrated with a pneumatic telescopic shaft to support the film, a photocell to centre the film and 3 pairs of drive rollers, the last of which is used to bend the fin. The touch screen panel is 7".
Machine dimensions: 3300 mm x 1150 mm x 1750 mm in height
Sealing bar with a useful width of 300 mm
Products up to 600 mm
Max 120 packages per minute.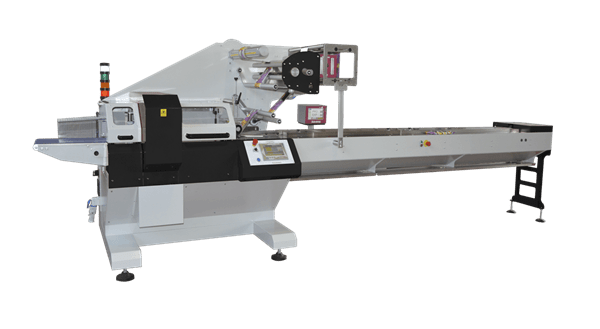 Discover all the features of our flowpack machines by visiting the specific section. Contact us for more information or a free quote!