Liquid packaging machines fulfil the requirements of medium-small businesses, such as cocktail bars, coffee shops, restaurants or small artisanal productions. They are always vacuum chamber machines, capable of creating a vacuum inside the package without causing the liquid to leak. The degree of vacuum obtained is very high (about 99.9%) and the result is impeccable.
In addition to this, liquid packaging machines allow you to make special and highly requested preparations, infusions, marinades and sous-vide cooking. minipack®-torre has developed a special machine, dedicated to chefs, barmen and mixologists, which allows them to marinate food products and prepare optimal infusions very quickly.
MX 2 is not just a liquid packaging machine
MX 2 was designed as a vacuum packaging machine for liquid products, but it does much, much more.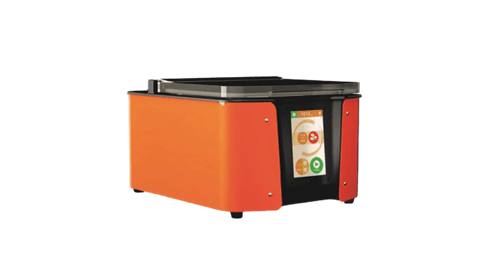 Primarily, you can choose to pack in a bag, in a jar or in a bottle.
Then you can choose whether to prepare an infusion, a marinade (meat, fish, vegetables, etc.) or a cocktail base. All within a few minutes and by simply choosing the desired option via the touch screen panel.
Furthermore, it allows you to also pack hot liquids, an option that is not present in most machines on the market.
Every process takes place within a few minutes, and the result is even better than the traditional infusion or 48-hour-long marinating process.
Benefits of MX 2 for your business
The efficiency and versatility of MX 2 add benefits from all perspectives:
reduces the waste of raw material
improves the storage of the preparations
extends the shelf life of the products
maintains the right moisture and humidity (for meat, fish and vegetables) and texture
enhances all the organoleptic properties
controls odours in the kitchen.
But the advantages of our new liquid packaging machine do not end here.
In addition, also design and usability
MX 2 is equipped with a 5" colour touch screen control panel, on which large icons with intuitive graphics lead you to the operation you want, with just one touch. In one second you can choose whether to activate the complete vacuum for solid foods, a softer vacuum for more delicate products, a step vacuum for fragile products, the vacuum for liquids or the packaging of products in bottles and containers.
Neither is the design left to chance: the chamber is 175 mm deep, with soft-closing. And you can choose from 9 different colours.
Lastly, thanks to WiFi and Bluetooth, you can program the cycle you want with a simple touch from your smartphone.
This is just one of our offers for liquid packaging. If you want to know more, ask for an individual consultation or a free, non-binding packaging test.