Minipack®-torre produces both professional vacuum packaging machine models, offering high-tech products for the catering and the industrial packaging industries.
Let us go into detail:
Professional vacuum packaging machines for catering
As we have said, vacuum packaging machines for the catering industry are optimised both for preservation packaging and for sous-vide cooking or marinating. Minipack®-torre meets these requirements with its MVS line, a range of professional machines available in both tabletop and wheeled versions: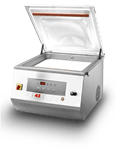 MVS45 X is a vacuum packaging machine designed for restaurants and delicatessens. Minimal dimensions, elegant design, special programs for vacuum cooking and marinating, minimised maintenance: these are just some of the benefits of this gem in the minipack®-torre range. The size of the sealing bars is 450 mm.

MVS45 XP offers the features of the machine above, but with an additional feature: internal vacuum tracking. This feature lets you print important packaging information on the label, including the vacuum percentage, the packaging date, the assigned operator. Once printed, the label can be affixed to the packaged food: a transparency choice that customers appreciate more and more.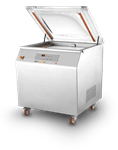 MVS65 X is a professional wheeled vacuum packaging machine for easier storage and bringing it out as needed. Like the models seen earlier, this machine also has special programs for vacuum cooking and marinating, but has a larger chamber with 656 mm sealing bars.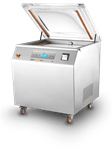 MVS65 XP this model offers the vacuum tracking program that, with a simple touch, allows you to print labels with complete packaging information. As for the rest, the machine offers all the professional features of the models above.
Professional vacuum packaging machines for industrial shops
For the needs of large-scale industrial packaging, minipack® torre has created a line of fully automated industrial vacuum packaging machines: the SWING LTD range, a line that includes 6 machines with different packaging capacities: the available sealing bars vary from 450 mm to 1100 mm.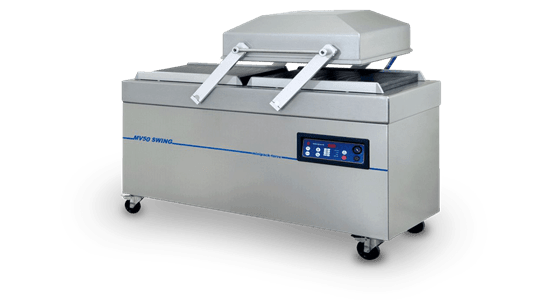 The strengths of the SWING line are:
Maximum speed thanks to the sliding closing of the chamber
Aluminium or AISI 304 stainless steel surfaces
Sealing bar with double strip
Customisable programs
EC certification
And many other qualities you can find out by looking at single models.
Want to see all the professional vacuum packaging machine models?
Visit the page dedicated to the minipack®torre vacuum machines!