As those operating in the food sector know well, there are various professional vacuum packaging techniques, depending on the specific packaging requirements of the product. Each method requires different machines and consumables to ensure the process is carried out effectively.
One can generally divide professional vacuum packaging into three big categories, each of which involves a different kind of bag:
Vacuum packaging with external suction machines: in this case embossed bags, i.e. with a relief pattern – usually small lozenges – on either side of the bag, are used. The raised surfaces ensure maximum efficiency when the machine draws in the air, thereby optimising food preservation and ensuring resistance up to 60-70°C.
 
Professional vacuum packaging with bell-shaped packing machines: with these machines, it is possible to use smooth bags instead, since there is no need to optimise air suction. The thickness and composition of the bags must ensure food can be stored for long periods of time, either in a vacuum or ATM (modified atmosphere).
 
Vacuum packaging for sous-vide cooking: an innovative application of professional vacuum packaging is sous-vide cooking, a method experimented by starred chefs and now available for everyone. In this type of cooking, the dishes are packaged in a vacuum before being cooked at low temperatures, using smooth bags specially designed for this application. These bags are extremely resistant and allow you to preserve all the organoleptic properties of food. Moreover, sous-vide cooking gives a particular softness to packaged products.
Along with the special bags, vacuum cooking also requires a specific machine to cook the food evenly in a low temperature bath without thermal shocks.
Minipack®-torre recently introduced precisely this kind of product as part of its range: MINI COOK 15, an innovative solution for professional vacuum cooking. MINI COOK 15 comes with a display and sensors that allow you to constantly monitor the cooking process and 10 customisable programs to save and recreate the most successful recipes. An innovative guided cooking system allows you to set temperature deltas and thereby consistently obtain even and controlled cooking.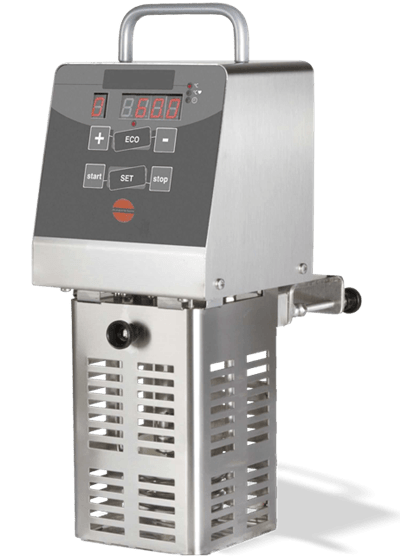 Of course, this is all subject to the possibility of vacuum packaging in a professional and reliable way, using packaging machines that guarantee high quality performance. Take a look at the range of minipack®-tower vacuum packaging machines to find the most suitable machine for any professional vacuum packaging requirement.
Find out more about vacuum machines by minipack®-torre here!