You cannot always use the same packaging machine to pack different types of products. Everything depends on the type of product and its storage requirements: it is therefore important to ensure that the chosen method can guarantee perfect preservation of all the properties of the product concerned. The solution? Use a vacuum chamber machine by minipackⓇ-torre.
In this article you will find out about:
The models of the minipack®-torre vacuum chamber machine
MinipackⓇ-torre offers two types of vacuum chamber machine: worktop and trolley. Let's see the characteristics of several models:
MVS41 X
The MVS41 X is a worktop vacuum chamber machine with a 626 mm front sealing bar and 310 mm side sealing bar.
It is sufficiently compact to be placed on a shelf or worktop. This vacuum machine is widely used in the world of catering due to its convenience and ease of use. It has a membrane switch keyboard with tactile controls for choosing a customisable program best suited to your needs, from among the 10 available.
MVS45L XP
The MVS 45 L XP is a trolley vacuum chamber machine with 450 mm sealing bar.
Unlike the worktop machine, the trolley vacuum machine has wheels so it can be moved easily and is ideal for packing bulky products.
This model of vacuum chamber machine allows tracking of the vacuum inside the package and it is possible to print, for each operation carried out, a label with all the most important information of the packaging.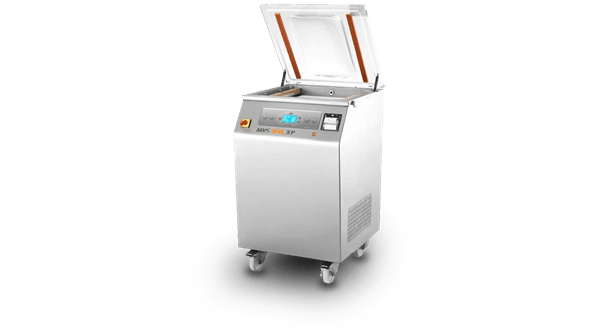 How a vacuum chamber machine works
A vacuum chamber machine is able to obtain a very high degree of vacuum, equal to 99%, thus ensuring the perfect preservation of a product. But how does it do this?
The answer lies in the operating principle of the machine.
The chamber generates a vacuum through pressure. This type of packaging machine consists of a tank in which the packaging to be used is placed. Once the lid is closed, the machine creates a vacuum inside the tank and consequently, also in the package, removing all the air.
Which products are suitable for vacuum packing and why
The main advantage of a vacuum chamber machine is its versatility. Not for nothing is it the favourite in the world of catering: whether solid, semi-liquid, liquid or even in powder form, there is no food product that a chamber packaging machine cannot pack to perfection. An external suction machine, instead, is not able to adapt to all these types of consistency because there is the risk of sucking in the product as well as air.
A vacuum chamber machine is perfect for packaging meat, fruit and vegetables, fish, cheese and powdered foods.
Vacuum packing protects all these foods against the formation of bacteria, simply because the total elimination of oxygen prevents their multiplication. Oxidation is also slowed down, allowing food to be preserved for longer without sacrificing any of its organoleptic properties.
In the case of meat and fish, in particular, impeccable preservation methods are essential because these are fresh foods that, if spoiled, risk endangering people's health, e.g. with food poisoning.
There is also one no less important aspect to consider about the use of a vacuum chamber machine: fragrance. Cheeses are the most obvious food in this sense, but so too are fruit and vegetables. The different properties that a vacuum can preserve are, in fact, not only taste but also smell, which is certainly just as important.
If we still have not convinced you, our experts are happy to answer any questions you may have.
Request a packaging test to see for yourself how the minipackⓇ-torre packaging machines treat your fresh products. Seeing is believing!