There are various sectors in which a professional automated packing machine is essential. This is because it is necessary to ensure the product in question is perfectly preserved and will not decline in quality over time. In this article we will analyse the main models offered by minipack®-torre with a wide range of products to meet every need.
The main types of minipack®-torre automated packing machines
There are many different types of automated packing machine for preserving all kinds of products. Below is a description of the main ones offered by minipack®-torre.
Automated shrink wrapping machine
An automated shrink wrapping machine is the perfect solution for anyone who wants a system that offers the best in terms of programs and functions.
This type of machine offers the following main advantages:
Cost-effective: the fact that it is an automated machine makes it possible to greatly optimise the company's production processes and therefore reduce running costs;
Better for the environment: the advanced technology of this machine ensures considerable energy savings;
Safety: the machine carries out all operations that are most dangerous to humans, and personnel only need to do the safest operations. There are also precise safety devices that stop the machine if there are obstacles;
Efficiency: the machine can package products very quickly and in bulk.
And that's not all. There are various types of automated shrink wrapping machine:
Angular shrink wrapping machines: these are versatile and extremely user-friendly. They can be adapted to any type of packaging in an easy and intuitive manner.
Continuous sealing shrink wrapping machines: they not set any limits in terms of length and can therefore produce an extremely large number of packages using a minimal amount of energy and ensuring top performance.
Here is an example. The PRATIKA 56 MPE X2 automated shrink wrapping machine has an advanced electronic, mechanical and technological content which makes it particularly user friendly. It can work on both sides thanks to the double hatch and it represents the perfect combination of reliability, high performance, versatility and safety.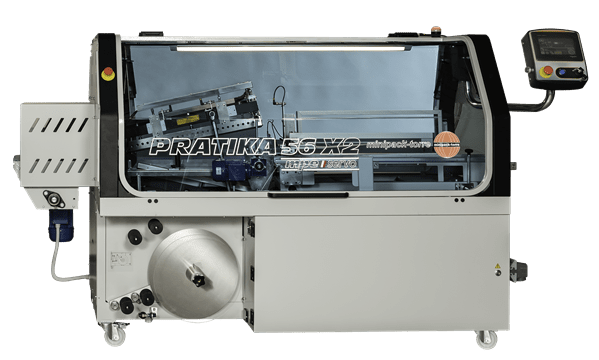 Automated flow pack machine
Automated flow pack machines are designed for small packages and single packs. These are horizontal packers for packing fresh food but also non-food products, normally small objects and medicines.
Automated flow pack machines offer many advantages, including in particular:
Compared to other types of packs, they are aesthetically pleasing and much more familiar to consumers. It is also possible to print graphics or text directly on the sealed film, allowing for personalisation of the packaging;
They are safe as the packaging is perfectly sealed;
They are versatile, fast and reliable and ensure excellent performance over the long term;
They are easy to use thanks to a PLC panel with 7'' touch screen;
They are easy to clean and maintain as they are completely electronic.
The MINIFLOW 400 EVO flow pack machine is ideal for baked goods, pharmaceuticals and various small objects. Cleaning and maintenance are very easy and the touch screen panel makes packaging with this packer both versatile and practical. It can package strapped products, max 180 mm , and can reach 100 packages per minute.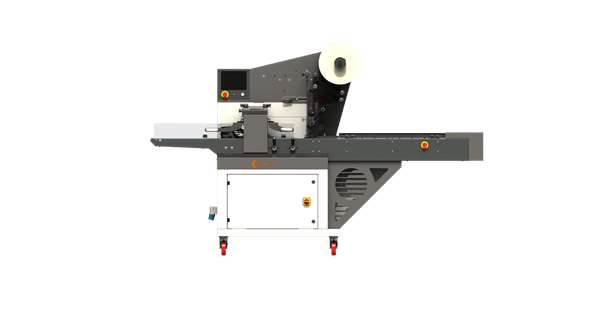 Vertical bagging machines
Vertical bagging machines are generally designed for the food industry (e.g. baked goods) but can also be used to package books, magazines, pharmaceutical products, etc.
The main advantage of these bagging machines is their ease of use with the very simple and intuitive "form-fill-seal" mechanism.
The X-BAG EVO vertical bagging machine is the ideal solution for quickly packing small quantities of material (fresh food, small parts, spare parts, instruction manuals, small industrial components, etc.), in airtight packages of different sizes and with different types of film. Due to its very small size, it takes up very little space and can be placed almost anywhere.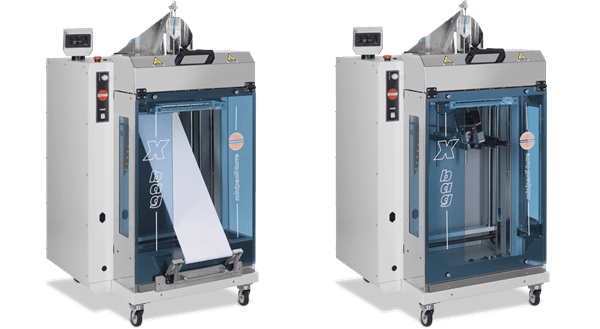 Contact our professionals to test the packing of your product and find out which model offers the best result!