Chamber vacuum packing machines are the best choice for any business. Thanks to the pressure applied outside of the bag, they in fact prevent the product from leaking and provide a higher vacuum degree, basically 99.9%.
These types of professional vacuum machines are therefore the most reliable and performing available. But which model should you choose for your business?
The various types of chamber vacuum machines
Depending on your business, you can choose the perfect model from several chamber vacuum machines: 
tabletop - compact, aesthetically impeccable and easy to use, they are ideal for small food businesses, restaurants and bars;
trolley - designed for mass retail, they are perfect for packaging larger products;
double tank trolley - for even faster professional packaging.
Examples of the minipack®-torre chamber vacuum range
Tabletop vacuum sealers
We recommend choosing this type of packaging machine if you need to vacuum pack small and medium-sized food (or even non-food) products.
If space is limited, tabletop vacuum sealers are the most convenient choice, since their compact and minimalist design means they can be placed practically anywhere and without taking up space. This type of vacuum packaging machine can also be easily used by anyone, even the most inexperienced users.
Two examples in the minipack®-torre range that perfectly adhere to these requirements are provided below:

This packaging machine has been designed with the collaboration of the greatest chefs to prepare recipes, infusions, marinades in a few minutes thanks to the vacuum technology that makes it possible to package also liquid products (unlike normal external suction packaging machines).
Customisable with your favourite colour, it is equipped with Wi-Fi and Bluetooth: simply touch the touch screen or your smartphone to program the perfect vacuum cycle for your preparations.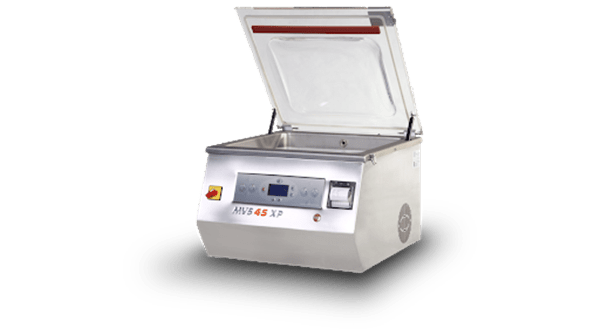 Equipped with a 450 mm sealing bar, this type of packaging machine offers the option of providing, for each packaging operation, a label featuring all the essential processing information. In addition to being able to monitor the entire packaging process, you will have the added security of being in compliance with the strict hygiene rules required by law.
Trolley vacuum sealer
Those who have a larger space available can choose the high-performance and easy-to-use chamber trolley vacuum machines. They can be custom programmed thanks to the help of an intuitive control display.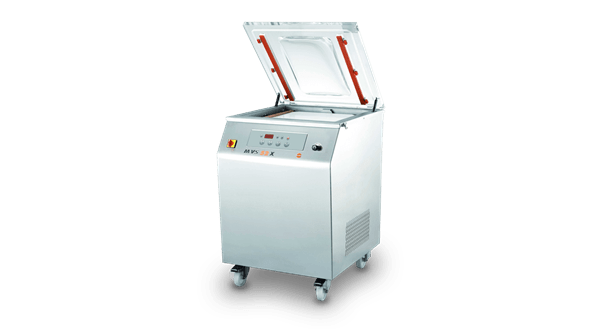 The strengths of this trolley packaging machine include:
control panel with 10 different packaging programs, customised to the needs of the food sector;
reading of the vacuum degree achieved inside the chamber;
keyboard hermetically applied to the front in order to prevent liquid infiltrations;
calibration on atmospheric pressure variations present at different altitudes.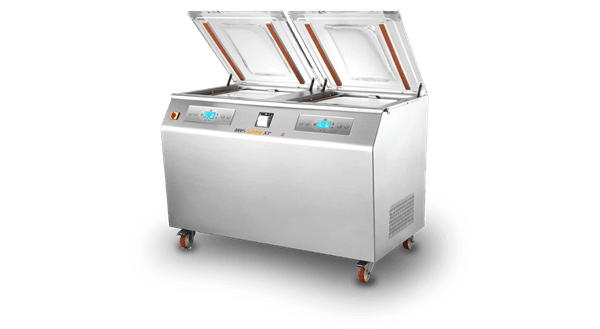 For businesses with a higher production rate, a double chamber solution easily solves the vacuum packaging needs for any product.
Furthermore, thanks to a model of this type, it is possible to obtain:
simple and fast management of operational settings thanks to the control display;
option of scheduling technical interventions and assistance on the machine at the end user's premises and preliminary diagnosis of technical issues;
option of inserting inert gas to further increase the shelf life of food products.
Request a packaging test to find the best chamber vacuum packaging machine for your needs.