There are 3 types of heat shrink wrap machine:
Manual (with chamber), with manual product loading and unloading;
Semi-automatic, i.e. with manual loading but unloading by means of a belt;
Automatic, where product handling is fully automatic.
Each type has advantages with respect to the others and is better suited to certain applications. A description for each is provided, so that you may find the wrapping machine most suitable for your business.
Heat shrink wrap machine with chamber
The shrink wrappers with chamber can be easily recognised by the presence of the chamber which remains closed during the heat-shrinking process.
The chamber has 2 main advantages:
It is highly insulating and achieves maximum heat retention during heat-shrinking; therefore thermal dispersion is virtually zero and electrical energy consumption is reduced to a minimum.
It is suitable for wrapping products of all sizes, even very large ones, depending on the size of the sealing bar. Despite all that, the machine is compact and takes up very little space.
Wrapping machines with chamber can be: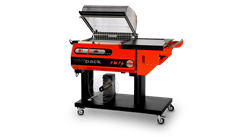 Manual, indicated for small scale businesses which require heat sealing rarely and of few pieces;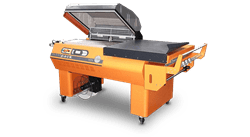 Semi-automatic and automatic, designed for larger businesses which require quick packing and standard packaging production, such as small and medium-sized companies in the food industry.
Angular semi-automatic heat shrink wrap machine
The angular heat shrink wrap machines are equipped with a square sealing bar instead of the chamber; they are fitted with a heat-shrinking tunnel, which can be integrated or added to the wrap machine as needed.
Angular machines are characterised by:
High packing speeds (they are able to shrink wrap up to 750 pieces per hours);
The simplicity of use, both in terms of operation and of set-up;
The flexibility with which they adapt to various contexts, being able to literally mark any material.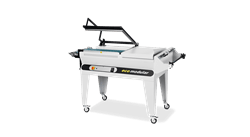 The minipack®-torre range includes manual angular heat shrink wrap machine, such as Ecomodular with a sealing surface of 570x420 mm, as well as semi-automatic and automatic machines, required in all sectors. In fact, their versatility makes them useful in diverse sectors from food to the textile industry, as well as the industrial sector.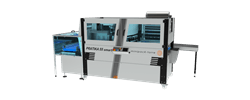 Among automatic machines, the PRATIKA range stands out, being the most technological and certified 4.0 compliant: Pratika Smart is the latest model with built-in tunnel. The choice of integrating the tunnel results in space savings and lower labour costs, also thanks to the "come back" option that requires the presence of a single operator.
Continuous sealing automatic heat shrink wrap machine
Lastly, there are the continuous sealing heat shrink wrap machines: the Side Seal device solves the length limit problem and, paired to the Centre Sealing, assures perfect seals.
In addition to the option of wrapping packages of any length, the continuous wrap machines also ensure high productivity thanks to the high sealing speed, the piece counter and the option to seal single packs or groups of products. Operation is fully electric and automatic: they are designed specifically for industrial environments, where maximum speed and efficiency are required.
There are 2 continuous sealing models: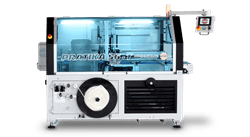 They are both equipped with Brushless servomotor Schneider Electric, control logic managed by PLC Schneider Electric, electric power supply, not pneumatic.
Energy consumption is low and the machines comply with CE regulations.
The difference between the 2 lies in the sizes of the products to be sealed: the first one is able to wrap formats up to 400 mm in width x 240 mm in height, reaching up to 3600 pieces per hour; the second wraps large packages up to 700 mm wide by 360 mm in height.