With horizontal packaging machines, the products being packaged travel along a belt, either single or double (i.e. before and after the sealing bar). The mechanism is therefore designed to guarantee greater packaging control, i.e. to avoid damaging or even breaking the product.
Horizontal machines are therefore suited for all products that: 
require gentle handling 
are too large and voluminous to be pushed through a vertical packaging machine.
Here is our complete range.
Flow pack, the finest horizontal packaging machines
Flow pack machines are considered to be the finest horizontal packaging machines. They package a vast variety of products in "a pillow-type" format (two horizontal and one longitudinal seals, creating a soft package).
These are the ideal packaging systems for small items, specific for food products such as chocolate, single-portion sweets, baked goods.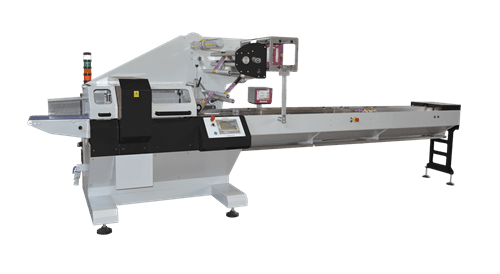 MINIFLOW 600: FULLY ELECTRONIC FLOW PACK HORIZONTAL PACKAGING MACHINE
Heat-shrink, maximum efficiency
The horizontal packaging machines for heat-shrink film are among the most appreciated for their efficiency, aesthetic appeal and practicality.
Efficiency because they work quickly and offer excellent results;
Aesthetic appeal because the packages are pleasing to the eye, orderly, neat, perfect for display on shop shelves;
Practical because they are easy to use and can package many types of articles, not only food but non-food as well. They are ideal for special packaging, such as blister packs or trays.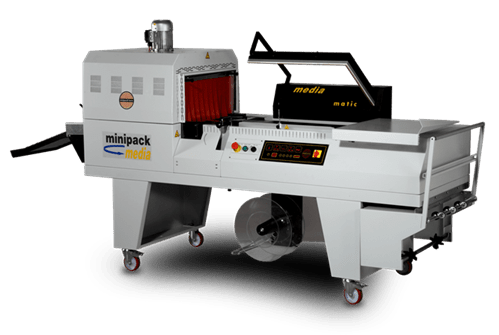 MEDIA: SEMI-AUTOMATIC PACKAGING MACHINE WITH L-SHAPED SEALING and BUILT-IN TUNNEL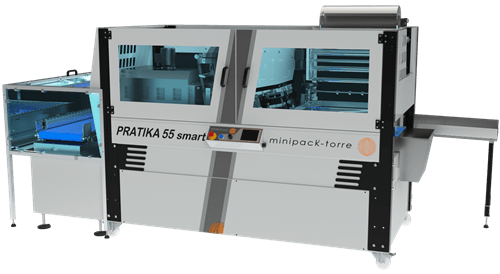 PRATIKA 55 SMART: AUTOMATIC PACKAGING MACHINE WITH L-SHAPED SEALING and BUILT-IN TUNNEL
SEE ALL OF THE HEAT-SHRINK MODELS
Sleeve wrappers, for large formats and multipacks
Sleeve wrappers stand out on the range of horizontal packaging machines for their capacity to package large and very large formats. But most of all they are the only kind to create multipacks.
The minipack®-torre range of packaging machines includes machines of simple operation as well as those with more advanced technologies and innovative solutions, engineered to streamline industrial production. These are high speed models with inverters, 90 degree belts or seamless auto-sealing film.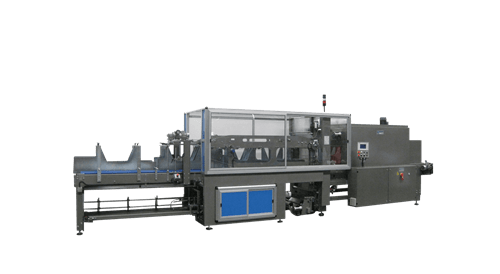 R 70 F SEALING BAR SLEEVE WRAPPER: AUTOMATIC SEALING BAR WITH PLC, MULTI-LINE DIVIDER AND AUTOMATIC LOADING OF CARDBOARD FLAPS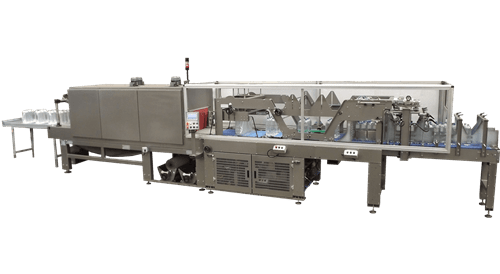 WRAPJET 20 SEAMLESS FILM SLEEVE WRAPPER: AUTOMATIC SEAMLESS FILM WITH PLC AND MULTI-LINE DIVIDER (6 TRACKS)
Horizontal bagging machine, dedicated to factories
Lastly, our vast range includes horizontal bagging machines, ideal for packaging delicate products in pouches and bags (not suitable for "gravity" packaging). As automatic packaging systems, they are especially designed for bagging at very high production rates, i.e. for industrial productions.
Do you want more information on our horizontal packaging machines? Contact us: together we will find the most suitable packaging system for your business.