The best vacuum machine for food is undoubtedly the vacuum chamber machine. Only the chamber guarantees professional performance, with very high vacuum levels, sealed packages and perfectly preserved products.
Not only that, but only a vacuum chamber machine allows you to package foods of all consistencies.
Only the vacuum chamber machine packs all foods
Soup, broth, minestrone, gravy, sauce, juice, liqueur, syrup, infusion: these are all types of food that cannot be vacuum-sealed with an external suction machine. A common vacuum packaging machine would generate the suction by air and, therefore, the liquid food would leak.
The vacuum chamber machine, on the other hand, applies pressure from the outside of the bag, generating a vacuum, or rather no atmosphere: the product is not drawn off and does not leak. By doing so, it also guarantees a much higher degree of vacuum, practically 99.9%.
That explains why the best vacuum machine for food is the vacuum chamber machine.
Who is a vacuum chamber machine suitable for?
The chamber machines are the ideal tool for all fields of the vast food sector, from the small artisan businesses to large-scale production.
restaurants and hotels
catering
Mass Retail
delicatessens
butchers
fruit and vegetables
coffee bars
cocktail bars
fast food
food truck
The best vacuum machines for food in our range
So let's see which is the best vacuum machine for food in our range, or rather, which machines are. In fact, we suggest 3, different in size and functions:
MVS 31 X, a tabletop vacuum machine with a 31 cm sealing bar.
MVS 45 X, a tabletop vacuum machine with a 45 cm sealing bar.
MX2, a tabletop vacuum machine to prepare recipes, infusions and marinades.
MVS 31 X and MVS 45 X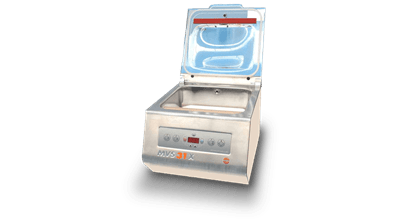 The most popular of the range, thanks to features, such as:
Front control panel
Possibility to set up to 10 customised programs
Adhesive touch control keyboard, hermetically applied to prevent the infiltration of liquids
Electronic sensor that reads the degree of vacuum obtained
Anti-overheating system of the sealing bars
The optional features include a kit for inert gas to be inserted
In the XP version, these two vacuum machines are fitted with additional functions, the first of which is that of labelling. The machine issues a label which bears all the info related to the packaging process, including the date.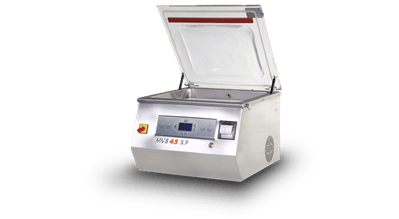 MX2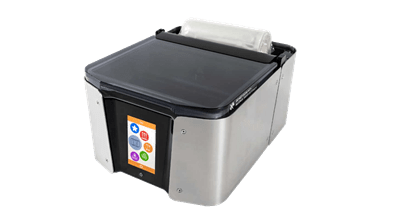 MX2 is the new arrival in the minipack-torre home: it is the only machine that uses vacuum technology to prepare sous vide recipes, marinades, infusions and cocktails. Simply choose the desired preparation from the touch screen, and the packaging machine produces it within a few minutes in a bag, glass or container.
Thanks to WiFi and Bluetooth connectivity, MX2 can also be controlled via a smartphone.
Do you wish to know all the details of our best vacuum machines for food? Contact us: we are at your complete disposal.